So, I finally got a chance to sit and gather all the stuff together and write about acquiring my R. It's a long story, and I hope it continues for some time. Give me advice, feedback, and I'll be happy. Thank you in advance.
Lots to do to this car in the next year, and I've only scratched the surface. My wife and I also own the two other P2s in my signature. I've been around SS since 2005, and in the last year have had a lot more activity. I've learned a lot here, and continue to treasure a lot of the friendships I've gained, and the knowledge base you all have.
The story starts here: My Dad is from Burma, and my Mom is from Scotland and they meet here in DC in 1961. My mom doesn't drive, and so he teaches her. She's 18. Buys her a used Chevy II wagon. After my older sister and I are born in early to mid sixties, my Mom gets a new Pontiac every so often. Firebird and Grand Prix. Both have the 400. They are terrible, but my Dad knows them well, got a good deal as an employee, and certainly knows how to fix them. It's now 1975 and my Dad has been working for about 15 years at DC area GM dealers as a mechanic. He and my Mom decide they're done with GM, and go look at Volvos while they're out to dinner. My Dad proceeds to sell his Swedish made Hasselblad camera + six lenses and buys my Mom a 1974 164E in maroon, with maroon leather. He pays for it in cash. Still seems crazy, but that's what he did. Swede traded for Swede. We are the talk of our little town in the northern Maryland area, with almost everyone driving American cars. Our town is called a 'cow town' by our competing swim teams closer in towards DC, with the amount of farming around us, but it's wide open and clean. Our Volvo stands out among the trucks and fake wood decal-ed wagons. My little sister is born. I love this car, and dream of driving it. It seems so much more refined than the big, heavy door-ed 2 door Pontiacs we've had. It's smooth, it's quick, and it passenger seating position is higher and it has much more glass (well, it is a 4 door, by comparison). I am poring over the car magazines and reading about the cars of the day, and see ad ad in the back of C&D or R&T for a company called IPD who makes performance parts for Volvos. Whoa! My initials! I request a catalog and remain on their list for a long time. Sadly, it is the last Volvo my parents buy for the family car. A series of Hondas, Acuras and now (today) a Jaguar XJ are now in the driveway today (along with my old CR-V). Eventually, without any purchases, my name drops off the mailing list at IPD, but I still have my hat with their logo.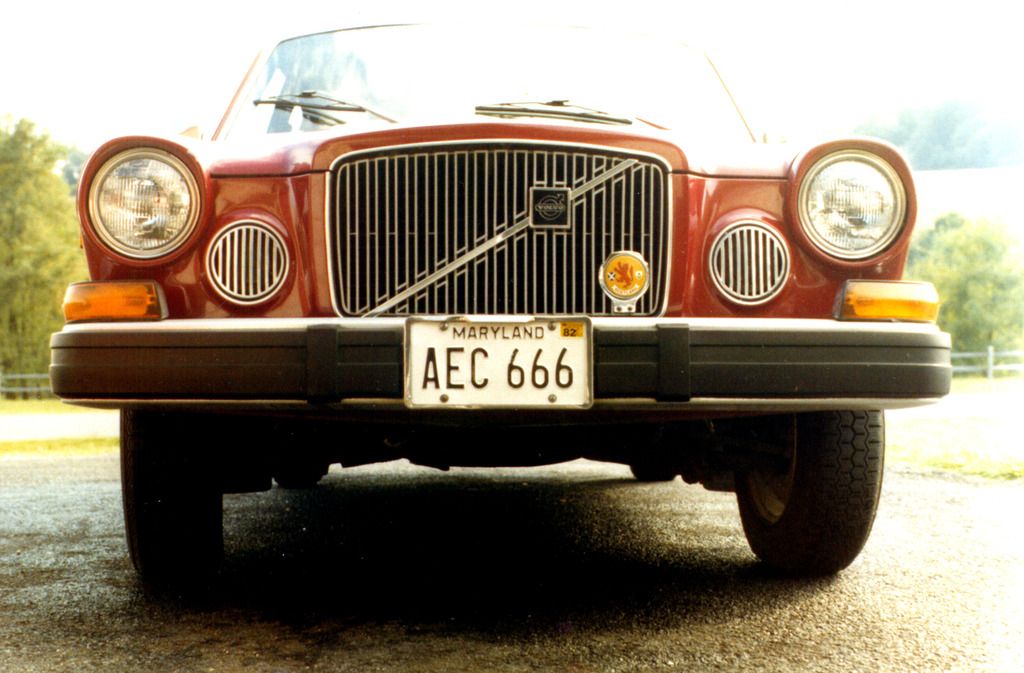 In HS, I begin to search for an affordable car to use for personal transportation, and share my Dad's 74 Vega (auto). It's not a terrible car by my standards at the time, and so I search for one. We look at LOTS of different things, including 70s Mercury Capris (german?) and a bad 68 Mustang fastback in green (I had recently watched Bullitt). The kids in my school are buying lots of cool stuff, and some are getting new cars. I find a 74 Vega for 500 bucks and recall the seller's name to this day. Terry Schubring in Bowie. It's white with black interior, and a muncie 4 speed. I try and mimic the Z28s of the day and find a set of GT wheels, and paint them white. My birthday is July 22, and coincidence gives me new tags that say HAP 722. It overheats a little just after graduation, and starts to become a problem. I happen to find another on the way home from work, that is a 75, but titled as a 74. It's freshly painted in blue and is in much better shape. I get new tires on the white wheels, paint a white GT stripe on instead of factory decals, re-badge the fenders with the GT emblem which had been left off in the repaint, and enjoy it for about 2 years while I work full time.
Then I get the hankering for a new car with the cash filling my pockets. I immediately look at the Turbo 240 sedan, and lust over the grey with tan leather in a manual. The salesman in the showroom shows me zero respect until I tell him I have 10K saved and I'm ready to drop it as a downpayment. It's 1986. The sticker is 24K, which is pricey. My parents convince me to visit the Chevy dealer next door, where my Dad works to consider a z24. Ummmm..... no. The z28, however, looks pretty. It's in all the car magazines I have been subscribing to, and is always head to head with the Mustang GT. I hate the Mustang. Maybe a z28 in IROC-Z form with the 16" wheels is the way to go. My Dad can get me a 100 dollars over cost deal, so the manager throws me sets of keys. "Go get the stock number, and tell me which one." I drive several, knowing the one I really want hasn't been touched by anyone and is buried behind three other cars, next to a fence. I finish, ahem 'test' driving some cars, and come back to settle at the table with a red over grey IROC. I pay 16.3 vs the 19k sticker. Employee discounts are awesome. I own this car about 2.5 years and am terrified to take it anywhere for fear that someone will touch it or get it dirty. It's not me. I have no mullet, I am not italian (no offense), and I get picked on quite a bit by my friends, one of which lives down a horrible dirt and gravel driveway. I visit his house very infrequently.
This is the car that gets the ZZZZZZZ tags, wax once a month and almost daily washes, even in very cold weather. My chamois is having trouble picking off ice crystals, and my hands are bright red, but I have a clean car! Insurance is almost as much as the car payment. Gas is sucked down in about three days from a full tank. It's a fuel injected v8, with fat tires and I'm 19.
2.5 years later: At this point, with a half inch of snow at any point in northern MD disabling my car (which wore Corvette width gatorbacks), and the fact that I'm too anxious and freaked out to actually enjoy my car, I traded it in on an 88 Toyota 4x4 pickup. By comparison, it is spartan! A big engine and a chrome package, but vinyl seats, no a/c, vinyl floor, no power windows or locks. I add a CD player by myself, fog lights, great speakers, carpet. I put my Z tags on it, and say they are tire tracks, sideways. It's the best vehicle I ever bought, and it went from 30 miles on the ODO to 220K plus without ever - EVER - letting me down. Original clutch, one set of brakes, two sets of tires. Three mufflers. It can't get stuck in snow, and my bikes fit in the back. Fuel consumption is great, and it's got a v6, so can surprise people. Power at highway speeds is good. It is an awesome, trouble free (bullet proof) vehicle. I have it for a little more than ten years, or a third or my life.
I meet my wife in 1995. We go on our first date, and we're married ten months later. About a year and a half later, we are expecting our first child. I have always loved wagons, and decide to look for one. I hate the minivan scene. I won't have one. Kill me first. I see a used 240 turbo wagon for sale in town (black) at an indy shop, and remember the icon. I drive it and it's clean, but I'm non-plussed. Maybe it wasn't running well? Anyway, when we are out to dinner one night, I spot a 93 Accord wagon in a used lot at the local Honda dealer. That's the last year they made that body style, and I think it is the best. A clean long, flat roof like the v70. No rack. We stop by the next day and drive it. It's flawless, and has low mileage. I am sold, and then have to spill the beans to co-workers and family that we're expecting... I cry when I leave my truck at the dealer trade in, but I haven't got the space for it at the TH development where we live. It is a sad moment, but I move on. The tags get moved to this new wagon. My sister buys a new s60 in 2002 or 2003. I am amazed by the fit and finish, and the sleekness. I've seen these on the road, but have never driven one. It is a stunner. I can't afford it.
My wife starts telling me her fond memories of a neighbor's Volvo. I tell her we had one. I begin a new search (when did I ever stop?
), and find a clean (seemingly) used 99 v70 nearby at a dealer. It's a N/A wagon, but it has decent pep. Not as snappy as my Honda, but the Honda needs a fair amount of work done soon, so I trade it on this car, and am amazed and in love again with the solid tank feel, the sound of the 5 cylinder, the click of the doors, and the fact that not many of these seem to be in my area. I like different. We enjoy it for 7 or 8 years, maintain it well, and slowly, my lack of carfax inspection begins to show. It has been in an accident at some point up front, and it's hood is fading, bumper peeling some cheap clear coat. Mechanically it is fair and I think it was abused by the PO, but we maintain it. I try desperately to keep it looking good, and do OK. It begins to have small niggling issues, and so I search the internet and find SwedeSpeed. I sign up and get my answers from friendly people. I take care of the issues, and all is well. Almost instantly, my wife and I fight over who drives the v70, and ultimately she commandeers it to drive in town, and I have to drive the CR-V she chose around the same time frame back and forth as my commuter. It's not horrible, and proves to be very decent, but has little finesse or power. At least it's a 5 speed. Then 2012 comes...
I give you a compilation of my cars before the s60 purchase. Story continues below...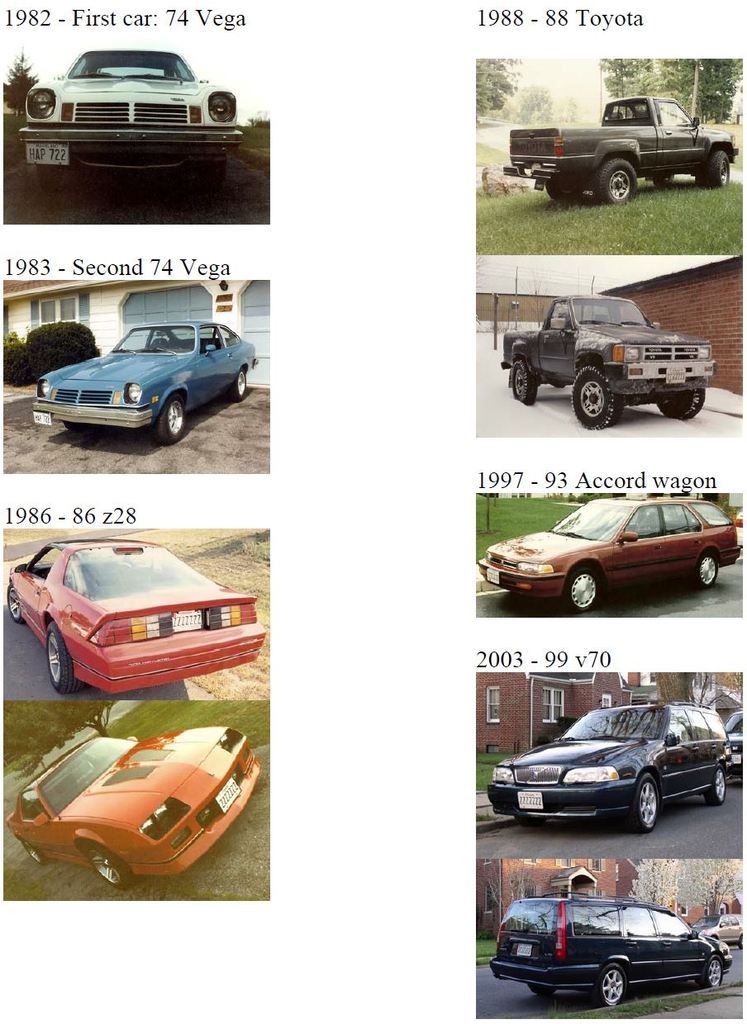 In 2012 or so, my company decides the associates should be getting a little extra something. We have a little meeting with the small group. I will now get an extra check once a month. It's time again to search, now that I have funds to spend on stuff, and it helps with the purchase of my first real car for me in 15 years. It'll be mine. I find a few Rs, but out of my price range, and run hard + put away wet. I am looking at used, all over the area, and have a spreadsheet. For some reason I don't push hard for a wagon, because the good ones I find are all more expensive that the sedans. My wife seems to like the look of the s40, but I'm not sold. It's too junior to me. s80s are in the price range, but they don't look as sporty. I find only two, with thors which are my favorite wheel aside from the peg. I didn't realize in my search for cars with this wheel that they're typically also AWD. One in blue, an 06 with about 50K miles in Rockville at Scan, and a silver 05 in Baltimore at a dealer. I pore over the details and the pictures hard. The CR-V would go back to my wife, and the 99 v70 would be traded. It's got a few new issues which have recently popped up, and I just don't have the heart to get into it with the fading hood. I could get it painted, but the back bumper is now crunched some from a misjudgment my wife had in a parking lot and the parked trailer won. The interior is grimy from her allowing the kids to drink things & eat snacks (apple juice boxes and cheerios, chocolate and goldfish). Vacuuming and leather cleaner and tuff stuff spray just don't do it justice. I wash it one last time. The silver s60 is my choice, and so I move ahead...
I get up early on a Saturday morning on Father's Day weekend and head to the dealer in Baltimore with my daughter to 'have a look'. My wife rolls her eyes. "Just in case," I say, "I need to take the wagon. It makes sense to trade it, and save the AWD CR-V for town." She agrees. On the way out route 70, the car starts acting oddly. Throttle is off a bit, and it's worrying me. I get half way there, and then a fair number of lights come on the dash. I am in terror, not only because this is happening in the middle of nowhere, but because my daughter is with me. We stop at the side of the road briefly and shut the car off. I wince, say a small prayer, and start her back up again. All is good, and we continue to the dealer, where I park over by the used car area and walk over to the new prospect. It's really clean, and almost flawless. I drive it and am surprised by the lack of little squeaks with the brittle plastics of the 99. No way anyone ate in this car, or drank coffee. My kind of owner. I pore over everything very carefully in broad daylight, along with the carfax. Clean underneath, inside and out. Spare has never been used. Trunk is unused in the slightest. The thors have some rash, but minor and only on edges. I cry a little once again on the way home without my daughter seeing me, because it's the first real car I've had for myself. Not a toy, but a grown up car, with a trunk that I've always wanted (but will rarely use)! I snapped a pic of the lady adding my Z tags to the new ride, aside the beloved v70 as we leave, the 4th car to wear the Zs. It was a good car, but it was time to let it go! Car 5 with the Zs rolls off...
One more of the v70 as new to me, and then the new s60.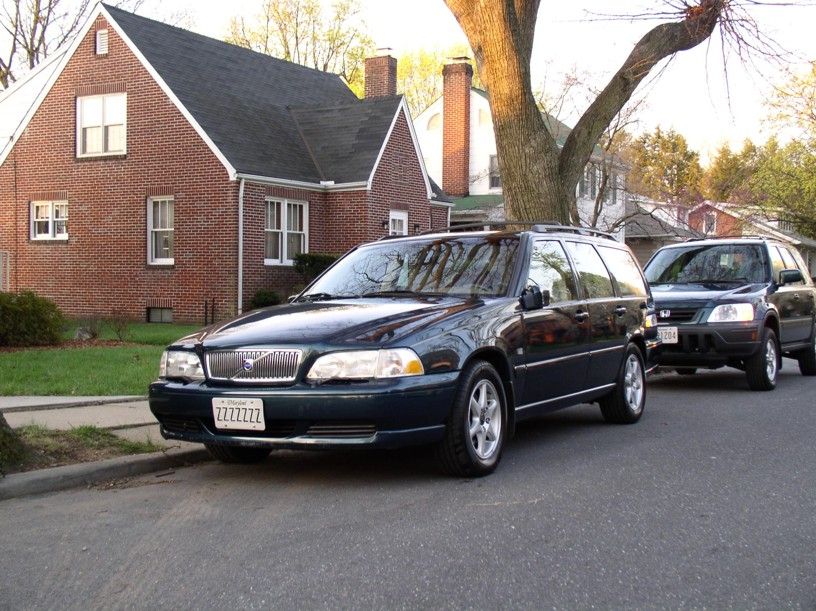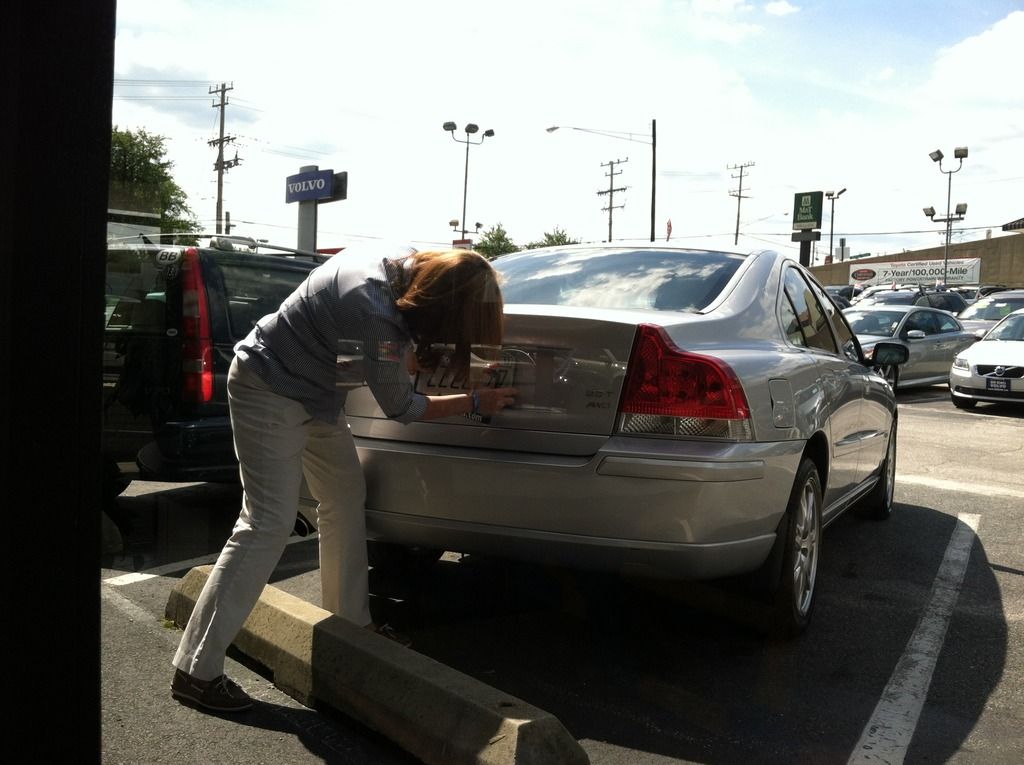 My wife is impressed. "So this is how the other half lives!", she says. She tries to commandeer this new car, even if only for a day or two a week. We argue, and I selfishly win. About two years+ later, we search for a nice XC that she likes better than my car, and we sell the CR-V to my Dad for pennies, as he's retired. I detail it and ship it to my parents in SC with a stack of receipts for all the work I had done to it in the last 14 years and he is thrilled. Not bad looking for an 18 year old...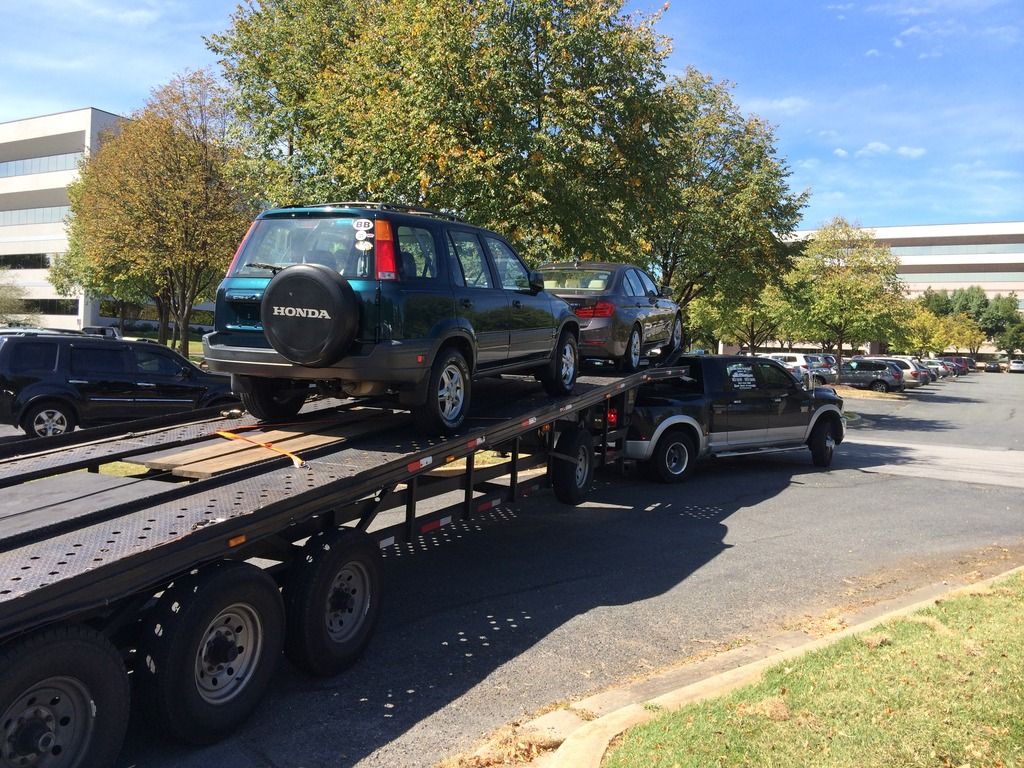 Then 2016 comes...