Discussion Starter
·
#1
·
I come from a long line of Volvos in my family, beginning with the '67 Volvo my parents owned when I was a babe. Got my first when I had my son 2.5 yrs back; a Silver '04 XC70 with 115K (as of today) that I bought off my stepfather for a token price. At the time it had about 83K on the odometer, and had been garage kept and strictly dealer maintained for its entire life. Since coming to live with me, things haven't been quite as cushy. While I change the oil regularly, I have taken it for its regular service intervals intermittently at best, it lives outdoors, and i seldom wash it or offer it any preventative or cosmetic maintenance at all
With the sale of my 1987 Toyota 4Runner to a good friend, I've resolved to renew my commitment to the Volvo by treating it better, learning more about it, and doing a few things to it to turn it into the vehicle it deserves to be: a bad-ass Adventure-Dad Utility Vehicle that can get me and the boys up mountains, onto the beach, out to the trailhead, into the powder, and beyond.
Here it is below in its current state; bone stock save for a new set of tires I put on there after the Scorpions on it nearly shredded themselves off the rims from overwear.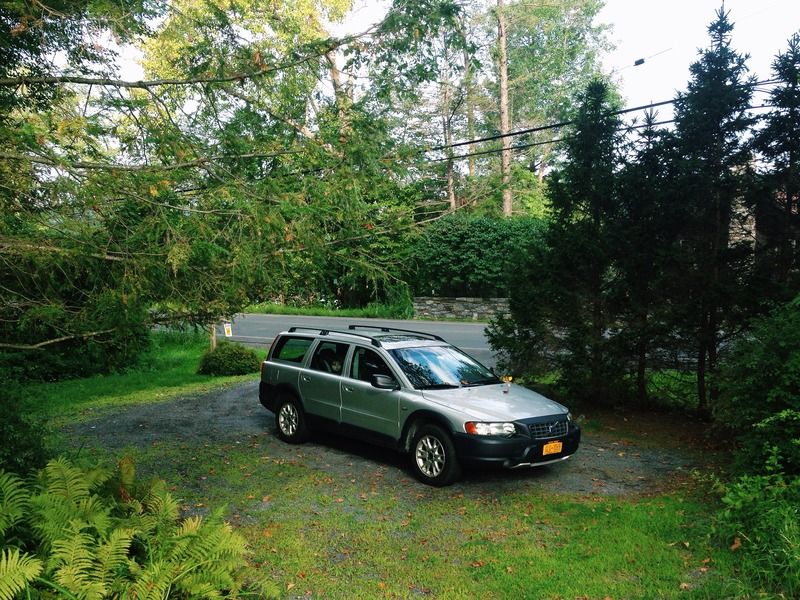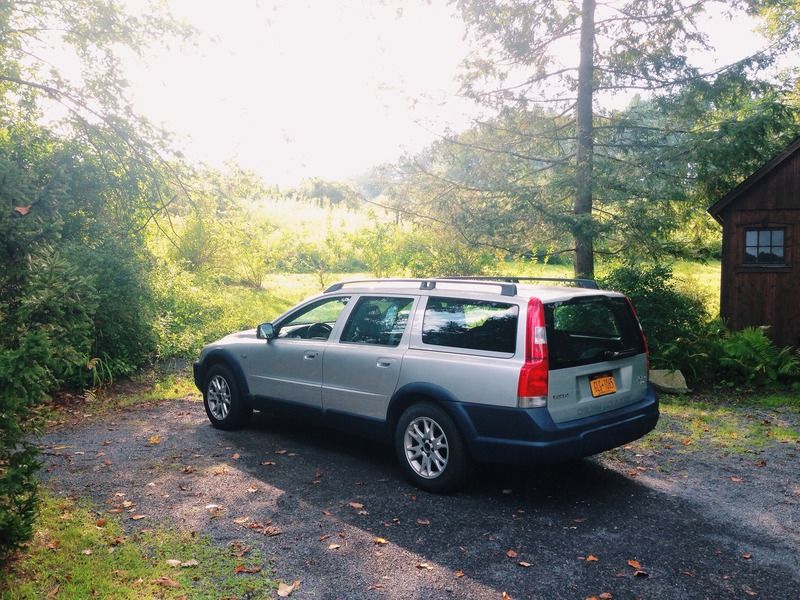 Despite a couple years of relative neglect in my hands, it remains in pretty excellent shape--in large part due to it's stellar service record. At around 70K or so, it was crashed on the Taconic State Parkway, a narrow, windy road in New York's Hudson Valley. It apparently skipped the center rail, and ended up in the opposite passing lane. It didn't flip, all the occupants were completely unharmed, and other than some nasty dings, dents, and scrapes, the car was relatively intact. After some body work and servicing at the dealer, it was back on the road and served my parents for another 13K before coming my way.
As you can see from the 3rd pic, it gets dadded-out on the regular. That's just two strollers and what my wife calls a "small shop". First on the list of upgrades will be a few simple bolt-on and clip in utility items to increase usable cargo space, and weatherize a bit. Crossbars and a roof basket are on their way right now, as are a set of OEM all-weather rubber mats for front and passenger seats, and an OEM net Cargo/dog barrier so I can pack the **** out of the rear cargo area with no fear of the boys being crushed
Future plans include:
- Getting the 105K service I skipped done at my Indy
- Suspension overhaul around 120K or sooner with added Bad Swede 2" lift
- IPD Sways
- New wheels with more aggressive tires for better all-terrain capability
- Possible bumper/Body-cladding modifications or reinforcements
- Skid Plate (s)
- Some fun-stupid cosmetic stuff (blacked out grill, Flaps, A few decals, LED cabin upgrades etc)
If you're into engine tunes, exhaust, and performance upgrades, I'm afraid I'll be a disappointment, (at least for the time being) I have a lot to more to learn about all that stuff before I feel comfortable and confident taking it on. But if you like fun, dirt roads, and adventure, feel free to follow along and see if I can actually manage to make some or all of the above happen!