Discussion Starter
·
#1
·
Well, yesterday was a terrible day. After a doctors appointment, I was on my way home. My wife called me to tell me that our oldest greyhound, Wendi, had passed away from the cancerous tumor we knew she had. We expected it to eventually kill her, but we've been monitoring it as recently as Monday and the vet said she thought we were still talking months, not days.
Poor Wendi was 9 years old. She came to us after a life filled with no love, and discovered what it was like to have a family. She learned to play at our home, at the age of 8 years old. And if she did something wrong, she would just look at you with this "I'm sorry, I just don't know any better" look on her face that you couldn't be mad at.
My wife loaded her up into the car to take her to the vet's office for a necropsy and eventual cremation. While waiting in the parking lot, a woman in a large Infinity SUV backed out of a space directly into our V70's front driver's side fender. Damage isn't terrible, but it's not great, and it's on a car that was flawless until this. We had actually just gotten the first ding on it (parked in Charleston, SC in a parallel parking space, someone had dinged our driver's side door on the street side!).
Anyway, here's the damage. What a crummy day.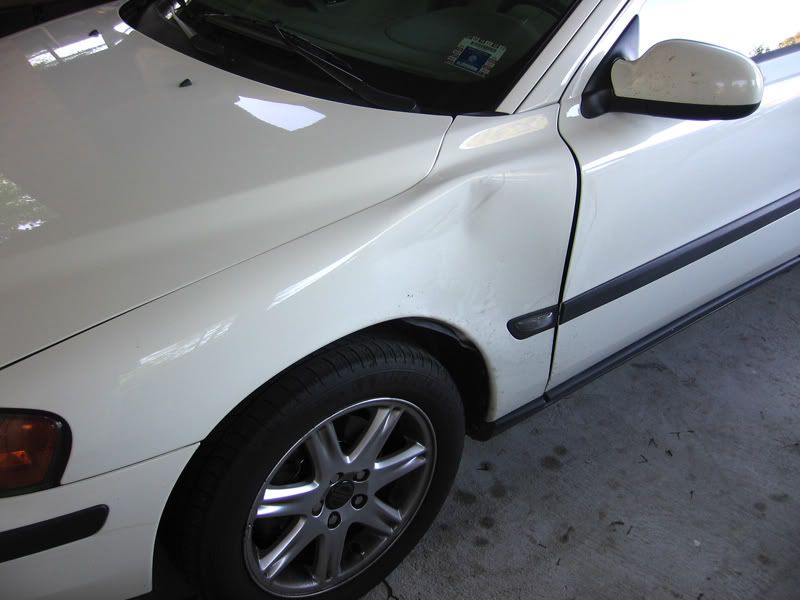 Now I have to call the woman's insurance agency and fight them. Since it was "private property" the South Carolina Highway Patrol can't "investigate it" so no one gave us anything stating it was the woman's fault and not my wife's. Pretty clear thought that Emily didn't move her car sideways into the back of the woman's car.