Hello folks,
Bit of background; I've had my eye on this subwoofer for nearly a year on eBay. They command stupid money (when compared to other marques) which is why I had not pulled the trigger to date.
To install you need the following items, which themselves all come at a fair price:
Subwoofer + ancillaries. £200 GBP
CEM PIN. £150 GBP
A means of changing your car config. Vdash £30 or...... DIY.
Now regarding DIY... Back in February I decided I didn't want to pay for steps 2/3 and thus set about finding out what others (Vdash) already knew. The result with the help of some exceptional minds (
@Power6
looking at you Sir
) we have acquired the the necessary knowledge to make changes to your car config. Many hours work have gone into this, and it's not perfect by any means. But tooling exists to create you a valid CEM00/1 PIN (read: working and 1/65536 possible) from a seed / key pair.
Now if you have VIDA
waves at US members, you lucky bunch
then this is easy enough - and cheap enough for that matter. If you're not, then you have to get creative. VPNs and US Prepaid cards are your friend
So now we've figured out how to change my car configuration to allow the subwoofer - and a whole host of other things, check signature - it's time to get down to the physical stuff.
Introducing Mr BOOM.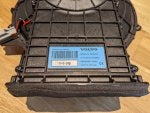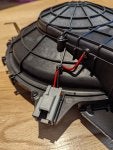 I've done some reading, there are many a thread 'here' such as this:
Installing Stock B&W Subwoofer
But none ever seem to go full OEM. They install and use a external amp, install and tap in to another speaker cable. Nobody ever seems to install and fully OEM the thing back to the factory amp and then enable to sub control on the IHU.
So what needs done.
Change car config to enable control of the Subwoofer
Install the Subwoofer in place (use above mentioned for reference / official VIDA doc.)
Cables.
Boom boom, shake the room.
Now, on step 3. I'd love to go full OEM but it's impossible. That's include ripping out the entire vehicles harness and replacing with one that has the elusive Subwoofer. Therefore I need to go for a as close as install. I've got the part number for the nice plug (Yey for VIDA!). But that may take weeks / may never arrive - I haven't spoken to my local dealer yet.
I'm going to source my cable, but it seems a bit of a minefield if I'm honest. AWG figures are banded round the internet telling me I need <12 for a subwoofer, that'd be 4mm2 but then I look at the sub itself and note the black and white cable exposed are sub 2mm even with the outer sleeve. I've plumped for some 1.5mm2 pure copper cabling. No point putting beefy cable into an adapter that is not going to push it out the other side. So with that wire and a couple of gold plate female spade crimps I've got most of what I need (and 238 crimps I don't...).
I finally need to pull the Amps plug and see if the Pins are present for me to connect to and suspect I'll need to crimp those too. We'll see, that's tonights job.
Any suggestions welcome, I'm going in to this project blind - soon to be deaf...
x119