Discussion Starter
·
#1
·
I normally race a Merkur XR4Ti in D Street Prepared. In fact, here's me driving one now: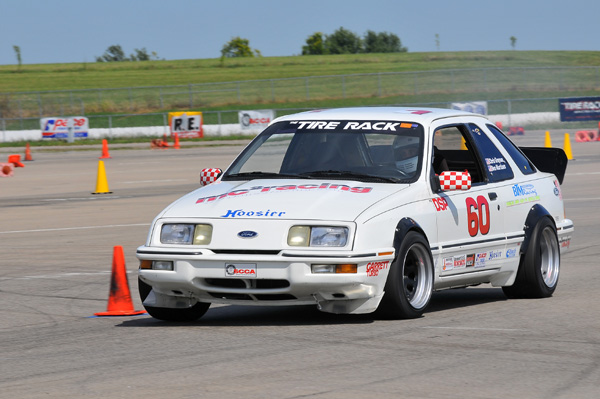 However, this year at Nationals, I drove a stock class car - an H Stock MINI Cooper:
Well, it turns out that driving a stock class car was pretty fun, and seeing as I've been thinking of picking up a new daily driver recently, I figured that I would start driving something that I could use as a backup to my autocrosser. Earlier this season an engine rebuild took a little longer than anticipated and I ended up having to scrounge up another ride...which I wouldn't have needed to do if I had two racey cars in my stable. Anyway, as you can tell from the fact that I race an XR4Ti, I don't exactly choose normal cars to drive. Rather than picking up something obvious like a WRX or a 3-series BMW, I thumbed through the rule book, and the a G Stock Volvo S60 R seems to be sufficiently unusual for autocrossing.
So let's chat! The topic of conversation shall involve exactly which S60 R you would pick if you wanted to be as fast as possible. Now, I'm not an S60 R guru (a nOOb, actually), so shower me with your knowledge. Pretty much any car is faster without a sun roof/moon roof. Are there S60 Rs out there with solid roofs? Do you think the cloth or leather interior is lighter? Would a 2004 be faster than a 2007 for some reason? Which options would you demand or avoid to go faster? Generally, you want the car to be as de-optioned as possible to keep weight down. What do you think is the fastest-optioned S60 R?
Though the S60 R sounds exciting, the 4C suspension scares me a little. Despite driving in "Stock" class, you can pretty much use any shock or strut. That basically means that everyone swaps in adjustable shocks. Now, I've made my own strut housings for Bilstein inserts before on the lathe, so I don't fear availability issues, but I cannot swap springs by rule. Since this means that I basically cannot swap out the 4C shocks (or else I'm forced to race on known weak springs), that may be a big issue. Anyway, I'm at least aware of this already. Are there any other gotchas?
Grayson