Discussion Starter
·
#1
·
I now have installed powerflex bushings #11 and #13.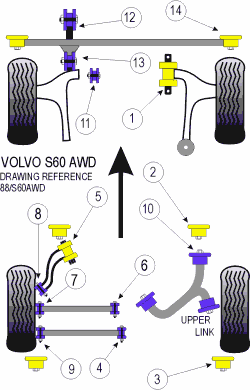 The difference is incredible! If you complain about the vibration from installing the Evolve/Powerflex Engine mount Bushing, I would recommend installing these! The vibration is now gone but the better steering feel is still there. The vibration is literally 90% back to the stock level. I was actually worried about installing these first, so KVB was the first experiment.
After riding with him and feeling the vibration difference I had to install mine. I highly recommend these!
Little side note:
Bushing #13 is a royal pain in the ASS ... Within 2 hours I tried screwdrivers, chisels, a drill and finally sockets trying to get it out and I BROKE A NAIL!
I highly suggest having a bushing press available or at least plenty of time and patience.
KVB will most likely back up this claim that the vibration is 90% gone.
Once again, If you complained about the changing the Engine mount bushing you should install these! If you have the Black Evolve bush I'd even go back to the Blue.
By the way I have the Evolve Blue bushing.
Denny
Modified by wrxownr at 8:58 AM 4-6-2006