Discussion Starter
·
#1
·
Finally got my car dynoed on a Dynapack (like what MTE does for its published figures). Car set-up is equivalent to MTE's/IPD's stage 3 kit, MTE tuned.
Power numbers are 438.1 ps or 432 bhp at 5940 rpm on fly wheel which is equivalent to crank hp (not taking into account losses by the accessories).
Torque numbers are 61.2 Kg/m or 600 Nm or 442 lb/ft of torque at 4260 rpm on fly wheel / crank.
This works out to be an estimated 337 ps or 332.4 whp at 5940 rpm.
Outside Air Temps during the runs were building from 35.2 to 36.5 degC or 95.4 to 97.7 degF.
Charts are shown below:
First one shows the Boost levels achieved for the runs. For the first run, the boost sensor was tee'ed by mistake to the wastegate line instead of the boost line, but it benefitted me by showing how the TCV cannot handle the rate of boost increase (it was not laggy afterall, it just could not handle the rate of increase imo) and hence the benefit of the Manual Boost Valve "wired in parallel" for overboost control.
Second pic shows the fly wheel torque and power graphs. You can see that the first 2 runs produced the best graphs when outside air temp was showing 35.2 degC or 95.4 degF. The subsequent runs saw temps rising from 36 to 36.5 degC or 96.8 to 97.7 degF.
The combined effects of higher OAT (rise of 1.3 degC or 2.3 degF) as well as some heat soak in the FMIC resulted in a loss of about 23 bhp.
Bottom line is that a larger front bumper opening like the Evolve front bumper plus a larger FMIC is still critical in getting intake air temps down and is more an issue than say pressure loss due to a larger IC.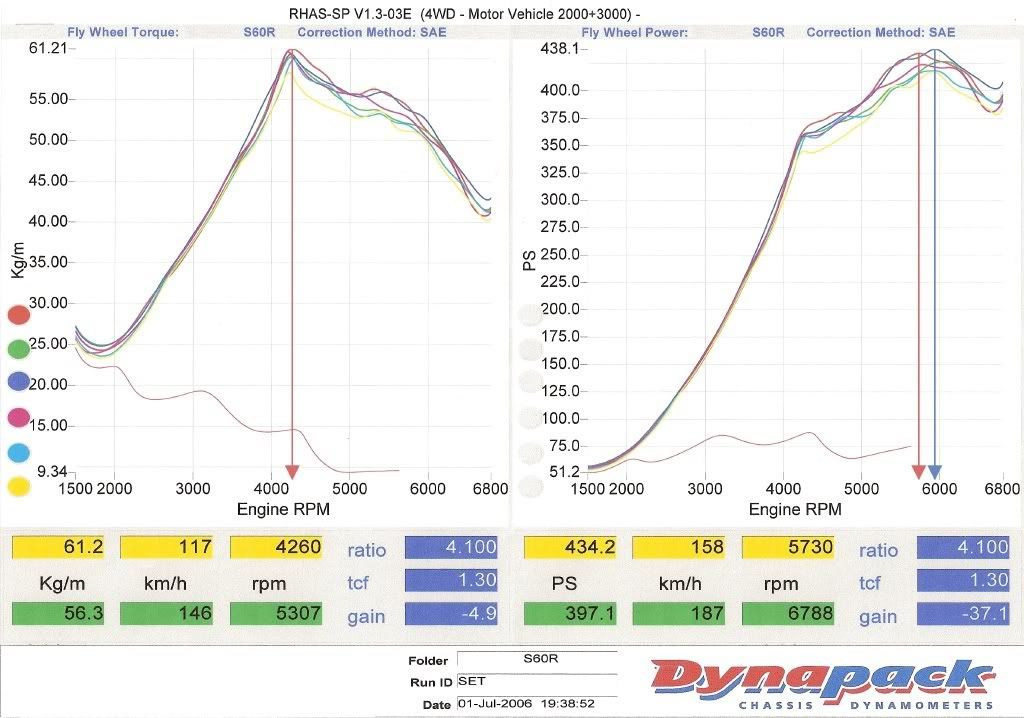 Third pic shows the estimated WHP, the dynapack system could not properly convert the fly wheel torque to Wheel torque as the graph (not shown here) indicated Wheel torque of 193 Kg/m or 1893Nm.
Also shown is the AFR. This is taken at the exhaust end pipes (post Cat). Could be a little too lean for tracking (but great for drag) as a failure in the Aquamist system could result in disaster.