Spark Plug change at 59000 kms
I changed the spark plugs on two cars this week.
A 2013 Toyota RAV 4 2.5 ltr 4 Cylinder and the 2016 XC90 2 ltr.
Referenced the Volvo maintenance from here:
https://youtu.be/RJBID9_u2O8
and found it to be a simple 15-20 min job.
The new plugs have a smaller insulator than the original ones (as per spec change after the multiple fails in the US)
The RAV 4 has solid ignition coils which gave a more positive connection feel over the soft Volvo ones. It was harder to tell if the Volvo ones had actually connected.
The RAV also had a 2 part rubber seal at the head/ignition coil seat that prevented dust/dirt going down to the spark plug seat.
The Volvo has a seal at the base of the ignition coil but this still allowed dirt to sit at the spark plug seat. An easy blow out with compressed air was required.
Both cars had oil on one plug, the RAV was worse. Here are some pics of the Volvo plugs: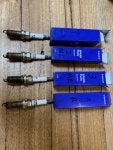 #3 spark plug (3rd from left - rotate pic anticlockwise 90º) is the oily one. The initial 'break' from the seal was EASIER, yet it felt different unscrewing the remainder (stiff...) and re-seating the new one also felt funny...like I could have kept tightening if I wanted to!
I'll check in with the service dept next week to let them know.