I installed this today, thought I would post some pictures that other folks might find useful if they decide to do the same.
Removed strut bar, air box, charge air pipe, Viva strut brace before I took this pict. I did plugs as well as was thinking about installing the Viva CBV I have had sitting on my workbench for the last 6 months or so, so I removed whatever would need to be removed for all 3 jobs..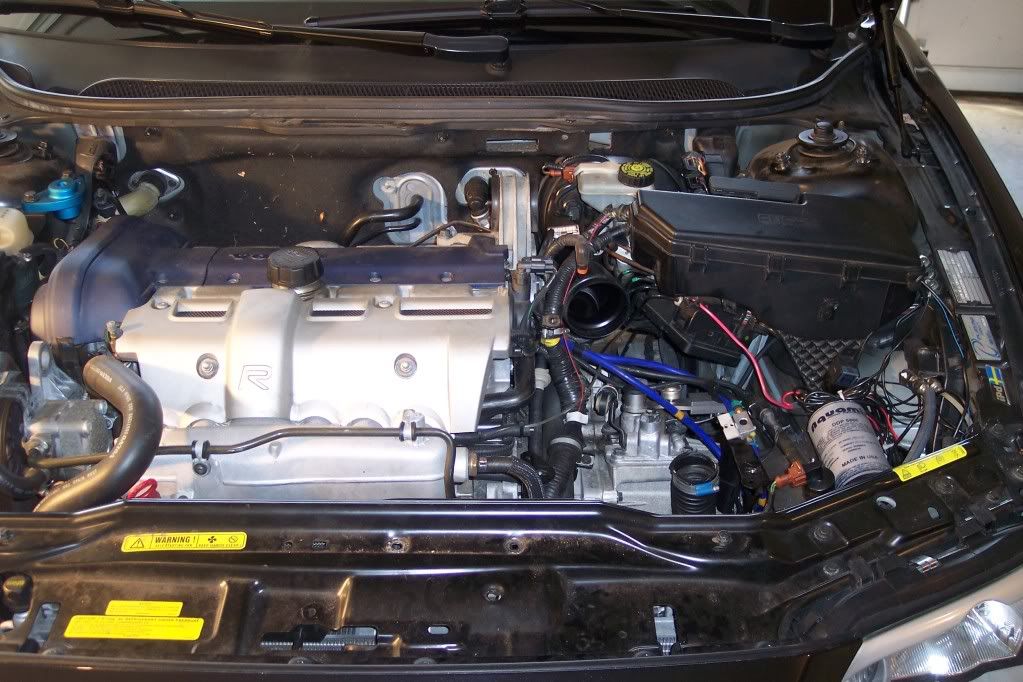 The hardest part was getting to the clamp that holds the stock intake pipe to the turbo - is in there somewhere...
I ended up removing the WG, which is not big deal as I have a mityvac pressure tester so was able to set it back to 7psi easily enough. Finally I was able to see the damn clamp
Here is a close up ( and a blurry one at that) it is worm clamp that there is VERY little room to do anything down there. The part of the clamp I needed to reach was facing the firewall, I do not think I would have been able to remove it with the waste gate still attached. I was able to orient the new clamp so that the screw was facing up so I could access it after the WG was reinstalled
Success! - you can't really tell in this picture but the stock intake is oval shaped and narrows to about 2 in right before it goes into the turbo while the Snabb one if 3" its entire length
The Snabb intake goes on piece by piece, here it is about 1/2 way done
One word of advice, don't shove the silicone couplers on all the way or the intake will be too short to reach the air box. The instruction say to leave the clamps loose so you can adjust as necessary as you go.
That is a bit tricky because as you are working on the top section, the bottom section that you thought you were done with will separate and much swearing ensues. I ended up snugging up the clamps pretty good after I learned the hard way what happens if you keep then too loose.
I also had to switch the clamp around on the PTC so it would be accessible to tighten. I bought the pipe with the PTC already installed and had to adjust it to get it in a position that would work.
Here are pictures of the intake installed
I was able to see the CBV and am convinced that it would be easier to remove the turbo to install it, my hat is off to the guys who have managed to install it with the turbo still on the car.
Snabb rates this installation as medium difficulty - I think it was a little harder to do than that, the absolute lack of space is th biggest challenge, but it is doable in a few hours with basic hand tools