Discussion Starter
·
#1
·
Just recently it started to rain heavily in Seattle again, so I have been using my wipers a lot. I haven't changed then since I got my car back in April 2005. The blades were getting really old and they weren't giving me a clean swipe anymore and it was really impairing my driving vision, so I decided to go to the Volvo dealer and get myself a new pair of blades. The OEM blades that come on all the new S40's cost $45 including tax. (part # 30699635) You can find them cheaper on line if you Google it. But I found out a better way, you can still use the existing wiper and just change the blade in it.
First you got to take off the annoying clips off of the end of the wiper blades. I found shoving a small flat head screw driver in it works the best. Be careful not to break the clips, but they can take quite a beating before they break.
There is a clip on in side of it. Here is a close up of how it looks like on the inside of the clip. It might help when taking them off to better position the screw driver.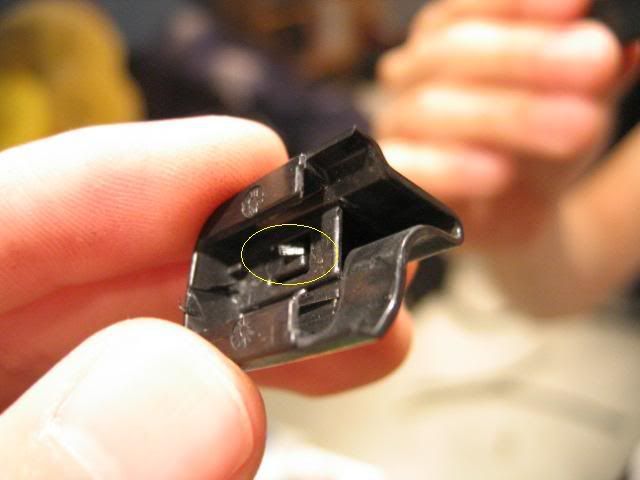 Once you get the clips off the ends, there is a hook on one of the ends that keeps the rubber blade in place. You got to bend it a bit in order to free the blade.
Once that is done then rubber blade comes out just fine. Go to the store and find any good brand wiper refill blade that you like. The size you need is a 26" for the driver and a 20" for the passenger.
Slide the new blades in, push the hook back down, and but the end clips on and you got new wipers!