On 142 and 144 Volvos until the late styling refresh, there was a visor that covered the lights for the rear license plate.
This visor isn't terribly robust and as the material loses its plasticizers it doesn't withstand getting leaned against when one is loading or unloading the trunk. It's not uncommon to see them broken.
So, I decided to make my stand up.
Three rivets need to be carefully drilled out so that all of the innards can be removed. The metal parts were tossed in a vibratory cleaner.
Using CAD we create the shape for the reinforcement ribs.
A bit of cutting.
And now a bit of shaping on a Rockwell Finisher we have four ribs out of 3/16" polycarbonate.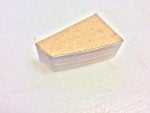 Each of these is cemented in with SciGrip/WeldOn #3 once the light sockets have been repainted and riveted back in.
Now ready for painting the top side.