typos0 T5 developed a knock after the vacuum line to the wastegate came off and it boosted to 30-35psi for a second or two. It was shut off almost immediately, and sat for 2 months while my mechanic tried to find a replacement T5. After not having much luck sourcing a replacement, we decided to take a look inside.
I stopped by today to help him push the car in to the garage and get started on the teardown. He pulled the cams out and oil pan, and we couldn't see any issues. All of the lifters and valve springs seem fine with a quick visual, and same goes for the bottom end. We removed the rod caps and main caps one by one and the bearings look fine (well, normal for 300,000km of wear), but couldn't see any obvious damage or metal in the pan.
I am fine with day to day maintenance, and would even go as far as swapping a motor out, but I am pretty clueless once I get inside of the motor. I understand how it all works, but my experience in there is very limited. Could someone offer some pointers for what else I should be looking in to under there?
This was shot right after we parked the car at the shop: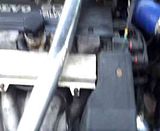 These were taken today: