This shouldve been done a LONG time ago. It's hard to find wheels for these cars because of the max width they can accommodate, the bolt pattern, and ESPECIALLY the brake caliper clearance. This thread will become a list of wheels that fit our cars without any modification to the fender.
How do you contribute? You will have to copy and fill the info below then post picture(s) that
YOU
have taken of the wheels installed on your car. Also, if you have spacers please include the size and where (example: 10mm front & 15 rear). Please don't forget to post a link of where you purchased them or at least the manufacturer's page of the wheel. Once this post picks up, I will be editing this post with the ones you've posted. So the first post will become a list of wheels people have installed.
Here's how to post your wheels:

Make:
Model:
Size:
Offset:
Hub Size:
Color:
Spacers needed?:
Link to site:
Tires/Size:
Car lowered?: (Yes or No & put the kit's name)
Does it rub?:
Picture(s):

[HR][/HR]

First up is the pegs, replicas made in China available from RockAuto.com
Make: Keystone
Model: ALY70267U - 18" Pegasus Replica
Size: 18" x 8"
Offset: +42mm
Hub Size: 65.1mm
Color: Hyper Silver
Spacers needed?: None
Link to site: Intermittently Available from Rockauto.com
Forum post about wheels: http://forums.swedespeed.com/showthr...ough-Rock-Auto
Tires/Size: 235/40ZR18
Car lowered?: No
Does it rub?: No
Post #:http://forums.swedespeed.com/showth...bility-Guide&p=3134569&viewfull=1#post3134569
Picture(s):



[HR][/HR]

Make: Heico
Model: Volution VII
Size: 19x8
Offset: 47mm
Color: Graphite Matte Diamond Cut
Spacers needed?: Yes, 14mm front, 16mm rear
Link to site: http://www.vivaperformance.com/heico...on-vii-wheels/
Tires/Size: Michelin Pilot Super Sport 245/35/19
Does it rub?: No
Post #:http://forums.swedespeed.com/showth...bility-Guide&p=3105785&viewfull=1#post3105785
Picture(s):




[HR][/HR]


Make: SSR
Model: GT-10
Size: 19x8
Offset: +49
Color: forged
Spacers needed?: yes 10mm
Link to site: discontinued
Tires/Size: 235/35
hub 72.16
Does it rub?: no
Post #: http://forums.swedespeed.com/showth...bility-Guide&p=3106273&viewfull=1#post3106273
Picture(s):




[HR][/HR]


Make: Rotiform
Model: VCE
Size: 18x8.5
Offset: +45 (with spacers, +20 front, +5 rear)
Color: Machined
Spacers needed?: Not with proper centerbore, I am running 25mm front, 40mm rear
Link to site: www.rotiform.com
Tires/Size: 215/40/18
Does it rub?: No
Further notes: 100mm wheel studs installed
Post #: http://forums.swedespeed.com/showth...bility-Guide&p=3108113&viewfull=1#post3108113
Picture(s):




[HR][/HR]


Make: Niche
Model: Targa M130
Size: 19x8.5 / 19x9.5 centerbore is 63.5, needs to be machined to 65.1
Offset: 42 / 40
Color: Black
Spacers needed?: No
Link to site: http://www.nicheroadwheels.com
Tires/Size: 235/35 and 265/30 Michelin PSS
Does it rub?: yes, at the front inner wheel well at full lock
Post #: http://forums.swedespeed.com/showth...bility-Guide&p=3108113&viewfull=1#post3108113
Picture(s):




[HR][/HR]


Make: Tire Rack's Sport Edition
Model: F7
Size: 17" x 7.5"
Offset: ET40
Color: Silver (thin, cheap paint). Plastidipped them black.
Spacers needed?: No, but removal of the screw that holds the brake rotor in place is required.
Link to site: Tire Rack Sport Edition F7
Tires/Size: 215/50R17 Bridgestone Blizzak WS70
Does it rub?: No
Post #: http://forums.swedespeed.com/showth...bility-Guide&p=3110505&viewfull=1#post3110505
Picture(s):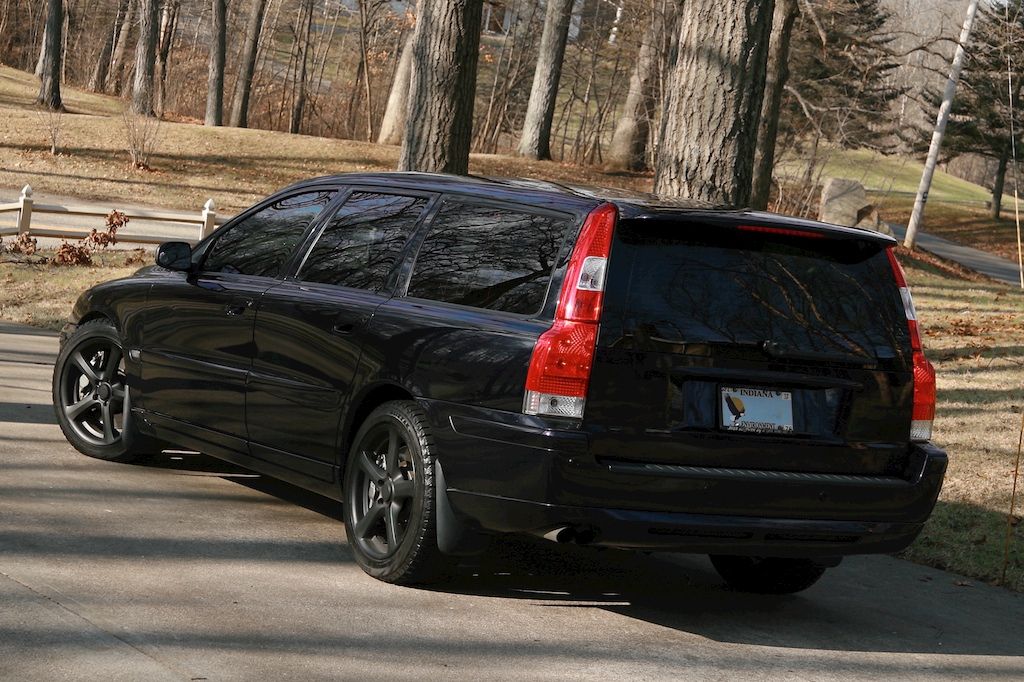 [HR][/HR]


Make: FastCo
Model: Hayaku
Size: 18x8.5
Offset: +40
Color: satin grey
Spacers needed?: already had 10mm fronts and 20mm rear
Link to site: EurosportTuning.com
Tires/Size: 235/45/18
Car lowered?: Yes, CXracing coilovers
Does it rub?: , had to cut fenders rubs when running hard in canyons.
Post #: http://forums.swedespeed.com/showth...bility-Guide&p=3111201&viewfull=1#post3111201
Picture(s):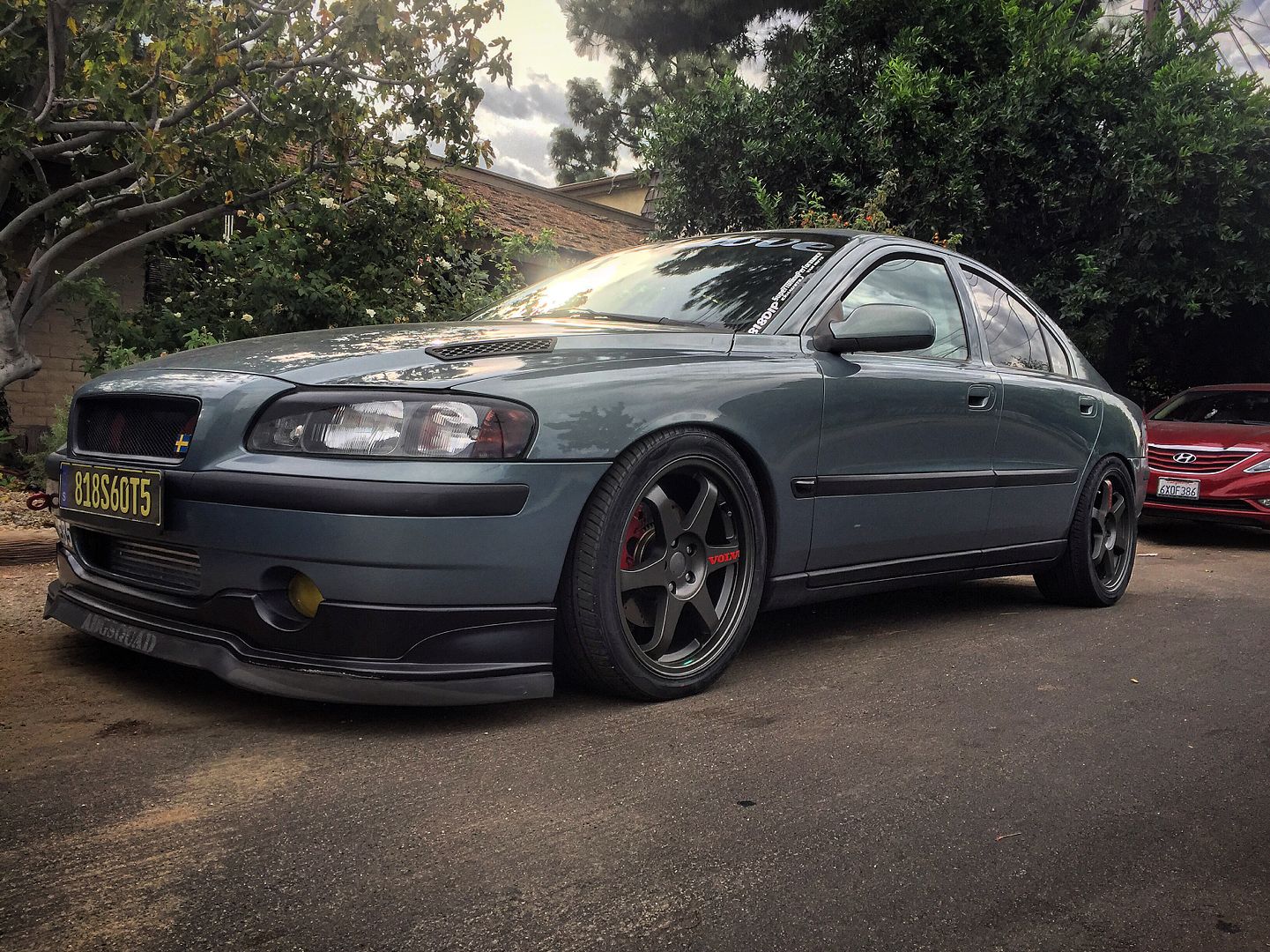 [HR][/HR]


Make: Voxx
Model: Misano
Size: 18x8
Offset: +40
Hub Size: 72.16
Color: Silver
Spacers needed?: No
Link to site: Discontinued
Tires/Size: 235/40
Does it rub?: No
Post #: http://forums.swedespeed.com/showth...bility-Guide&p=3112369&viewfull=1#post3112369
Picture(s):




[HR][/HR]


Make: BBS
Model: CK
Size: 19x8
Offset: +42 ET42
Hub Size: BBS C-ring, must order to fit. 65.1
Color: Graphite
Spacers needed?: Yes. 5mm Fronts
Link to site: Discontinued.
Tires/Size: 235/35
Does it rub?: No
Post #: http://forums.swedespeed.com/showth...bility-Guide&p=3112409&viewfull=1#post3112409
Picture(s):




[HR][/HR]


Make: MRR
Model: Ground Force 7
Size: 18x8
Offset: +38
Hub Size: 73.1mm
Color: Silver (black available)
Spacers needed?: No
Link to site: mrrwheels.com
Tire size: 235/40/18
Lowered: No
Does it rub?: No
Post #: http://forums.swedespeed.com/showth...bility-Guide&p=3115985&viewfull=1#post3115985
Picture(s):




[HR][/HR]


Make: Vanilla Performance
Model: BRC
Size: 19"X8.5"
Offset: 30mm
Hub Size: 65.1mm
Color: Silver
Spacers needed?: No.
Link to site: https://www.facebook.com/vanillaperformance
Tires/Size: 255/35-19
Car lowered?: Yes, KW V2 Coilovers
Does it rub?: Yes, a little on the front fender during hard turns. All fenders are rolled, rears probably didn't need it.
Post #: http://forums.swedespeed.com/showth...bility-Guide&p=3118145&viewfull=1#post3118145
Picture(s):




[HR][/HR]


Make: Touren
Model: TR60
Size: 17x7.5
Offset: 42
Hub Size: 72.62
Color: Machined Black
Spacers needed?: None
Link to site: There are currently several sets on eBay for under $600 shipped: http://vi.raptor.ebaydesc.com/ws/eBa...=1452956990535
Tires/Size: 235/45 17
Car lowered?: No
Does it rub?: Never
Post #: http://forums.swedespeed.com/showth...bility-Guide&p=3123817&viewfull=1#post3123817
Picture(s):




[HR][/HR]


Make: VST
Model: Monoblock R
Size: 18x8, 19x8 available
Offset: +35mm
Hub Size: 65.1mm
Color: Silver
Spacers needed?: No
Link to site: available from ViVA Performance
Tires/Size: 235/40-18, 235/35-19
Car lowered?: Yes, TME springs
Does it rub?: No
Post #: http://forums.swedespeed.com/showth...bility-Guide&p=3124377&viewfull=1#post3124377
Picture(s):




[HR][/HR]


Make: Rota
Model: Grid
Size: 18x8.5
Offset: +42
Hub: 73.1mm
Color: Hyper Black
Spacers needed?: No, but I am running 10mm H&R in front and 20mm H&R in rear
Link to site: Wheeldude.com
Tire size: 235/40/18
Lowered: Very
Does it rub?: No
Post #: http://forums.swedespeed.com/showth...bility-Guide&p=3134329&viewfull=1#post3134329
Picture(s):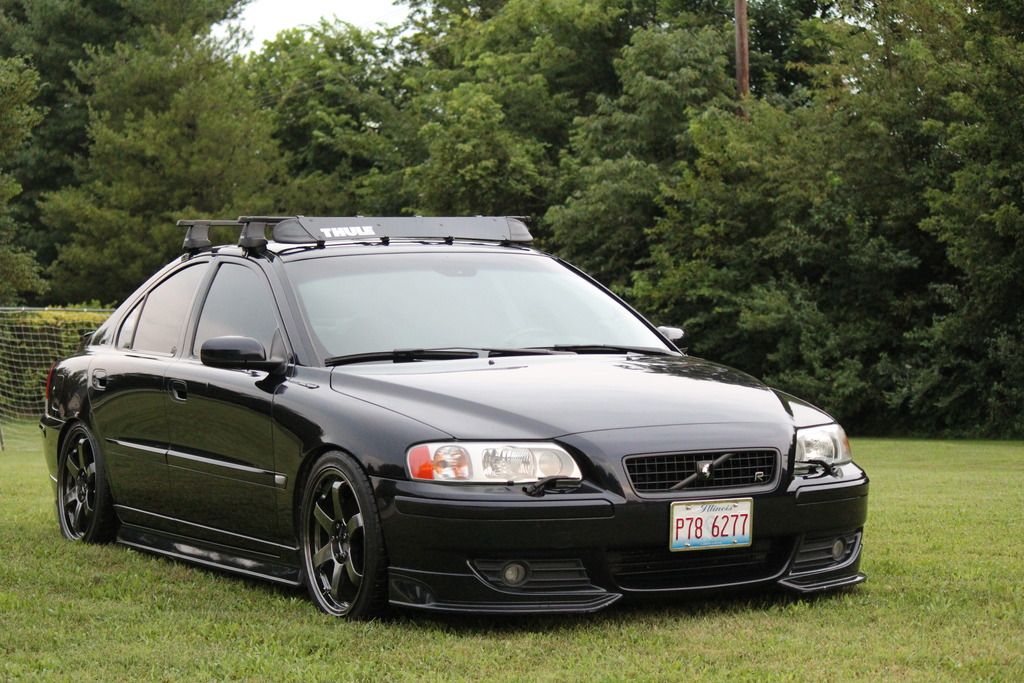 [HR][/HR]


Make: STR
Model: 606
Size: 18x9
Offset: +35
Hub Size: 73.1
Color: Gold Mesh/Machined lip
Spacers needed?: Yes: 25mm fr/rr (actually were custom drilled for 5x108/5x120 so I used adapters)
Link to site: http://www.str-racing.net/
Tires/Size: 245/40ZR18
Car lowered?: Sometimes, in photos, no. If yes, H&R springs
Does it rub?: Yes, must roll fenders.
Post #: http://forums.swedespeed.com/showth...bility-Guide&p=3136097&viewfull=1#post3136097
Picture(s):




[HR][/HR]


Make: Enkei
Model: RSF5
Size: 18x8
Offset: +40mm
Hub: 72.6mm
Color: Hyper Silver
Spacers needed?: No
Link to site: ebay
Tire size: 235/40/18
Lowered: No
Does it rub?: No
Post #: http://forums.swedespeed.com/showth...bility-Guide&p=3140289&viewfull=1#post3140289
Picture(s):




[HR][/HR]


Make: HRE
Model: 890R
Size: 19x8.5 Front 19x9.5 Rear
Offset: 36.5 Front and 33.9 Rear
Hub Size: 65.1mm
Color: Volvo Titanium Grey with Satin Clear Centers. Machined Lip. Black Barrells
Spacers needed?: No
Link to site: HRE or Elevate Cars
Tires/Size: 235/35 Front and 265/30 Rear
Car lowered?: KW V2
Does it rub?: Only at full turn. Rear 1/4's are rolled.
Post #: http://forums.swedespeed.com/showth...bility-Guide&p=3149809&viewfull=1#post3149809
Picture(s):




[HR][/HR]


Make: TSW
Model: RIVAGE
Size:18x8
Offset: 40
Hub Size: 73.1
Color: Gloss Black with Milled Spokes
Spacers needed: No
Link to site:
Tires/Size: 245 40 18
Car lowered: No
Does it rub: No
Post #: http://forums.swedespeed.com/showth...bility-Guide&p=3154689&viewfull=1#post3154689
Picture(s):




[HR][/HR]


Make: FORGESTAR
Model:F14
Size:18x8.5
Offset:+37
Hub Size:73
Color:Black
Spacers needed?: No
Link to site: http://www.forgestar.com (Custom ordered with your specs through most wheel vendors)
Tires/Size: Yokohama envigor 235/40/18
Car lowered?: (Yes eibachs in the pics)
Does it rub?: No
Post #: http://forums.swedespeed.com/showth...bility-Guide&p=3185649&viewfull=1#post3185649
Picture(s):




[HR][/HR]


Make:Custom/Vossen
Model: CV4
Size:18x9
Offset: 35
Hub Size: 73.1
Color: Hyper silver with machined face
Spacers needed?: Yes Rear:none Front:5mm
Link to site: Ebay
Tires/Size: 245/40R18
Car lowered?: Yes, Eibach springs
Does it rub?: With 15mm spacers yes, Fenders rolled and pulled.
Post #: http://forums.swedespeed.com/showth...-Wheel-Guide&p=3308033&viewfull=1#post3308033
Picture(s):



Saw these in person, and I can say they look WAY better in person, didn't like them at first when he said hes getting them.


[HR][/HR]


Make: Fast Co.
Model: FC04a
Size: 19"x8.5"
Offset: 35 ET
Hub Size: 72.6mm
Color: Titanium
Spacers needed?: No (but I have 5mm spacers all around)
Link to site: http://www.fastco.ca/
Tires/Size: 255/35-19"
Car lowered?: Yes, KW V2 Coilovers
Does it rub?: A bit at full lock, I need new steering stops.
Post #: http://forums.swedespeed.com/showth...-Wheel-Guide&p=3435081&viewfull=1#post3435081
Picture(s):




[HR][/HR]


Make: Unknown
Model: Audi RS replica
Size: 19"x8.5"
Offset: 35 ET
Hub Size: 73.1mm
Color: Silver
Spacers needed?: No (but I have 5mm spacers all around)
Link to site: -
Tires/Size: 245/35/19
Car lowered?: No
Does it rub?: No front rub, rear rubs slightly over large bumps
Post #: http://forums.swedespeed.com/showth...-Wheel-Guide&p=3450657&viewfull=1#post3450657
Picture(s):