Discussion Starter
·
#1
·
Couple of months ago I got a pretty good leak coming front the engine side facing front of car. Looked like the the oil pressure sensor, so I replaced it. Recently I saw that it is still leaking, tightened it some more, no luck.
Looking at it, I'm wondering if the old washer is still on the block. Tried to knock it off with a screwdriver, but afraid of damaging it if it's part of the block. Anybody have a good picture or memory of what it should look like?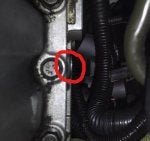 Hard to find any good photos on the web. These were the best, but the engine was so corroded it is hard to tell.
https://cdn4.pelicanparts.com/techarticles/Volvo-V70/80-ENGINE-Oil_Pressure_Sensor_Replacement/images_med/pic06.jpg
https://cdn4.pelicanparts.com/techarticles/Volvo-V70/80-ENGINE-Oil_Pressure_Sensor_Replacement/images_med/pic07.jpg
2005 S60 AWD 119k miles