This time I removed the engine cover and found this!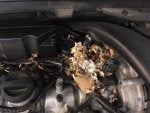 I checked the wiring very closely and didn't find any damage. Have not had any SES messages either. I surely hope I dodged one this time. Guess I will have to check under the cover more often.
Oh, and I have changed the oil many times and still find it PITA to remove the oil filter cap even with the engine cover removed and the reservoir loose.