Hi everyone,
Just got a new (to me) 2009 S60 T5 the other day! This is my second Volvo; I owned a '98 S70 T5 for a while but eventually got rid of the car after getting tired of the floppy, noisy, rattly mess that the P80 platform is.
Some details:
2009 S60 T5, 5 speed GT, Titanium Grey, 96,xxx miles
Interesting options: Bending xenons, parking sensors
Recent maintenance: timing belt, LCA bushings, fuel filter, spark plugs, fuel filter, PCV cleaning
This is the only 09 T5 I've seen for sale, and while this one isn't the cleanest with some cosmetic blemishes from being a NYC dweller, I think it's a solid starting point.
After putting my first several hundred miles on the car, I have found some little quibbles/annoyances that I could use some insight on:
Once in a while on starting, the car will crank fine, feel like it's going to fire upon release of key, stumble, and then recover and start fine. The throttle pedal also has a very jumpy response; nothing and then it takes off sudenly. Do these late model P2s still suffer from throttle body issues?
The driver's side seat has a click/creak noise going around turns and on hard braking/accelerating. I've seen the TNNs for felt strips being put in between the SIPS seat bushings, but this car is long out of warranty...
The tires suck. They're some cheap knock of brand of Cooper, but have plenty of tread...
The brakes suck. The car has a fresh brake flush, so I'm going to check the front and rear calipers and look for sticking slide pins.
Some pictures: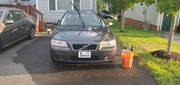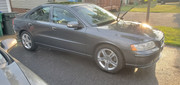 The worst damage is here; there are scratches all down both doors and some polisher burn through on the B pillars. I'll have to see what options I have without spending a ton of money.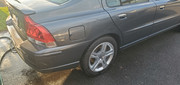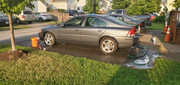 The car originally came with a sport steering wheel and shift knob, as well as some unique sport seats with suede inserts, but sadly these were removed and swapped for regular sport seats. I'd love to swap in a Nordkapp R interior someday, if I keep the car long enough.
Looking forward to being more active on the forum!
-James