A quick intro with some attached questions. After driving our V70R for 10 years (and 170k miles of perfect reliability) we needed to refresh the wagon stable. After looking for awhile, considering a Poleastar but not loving the stiffness of the chassis, we went with a '15 R-Design, 7k miles, Polestar tune, and Certified (7 yrs/100k miles - what a setup!). Miss the 6MT, but that is sadly a broader concern.
Neighbors say we have a fetish - I have no idea what they are talking about...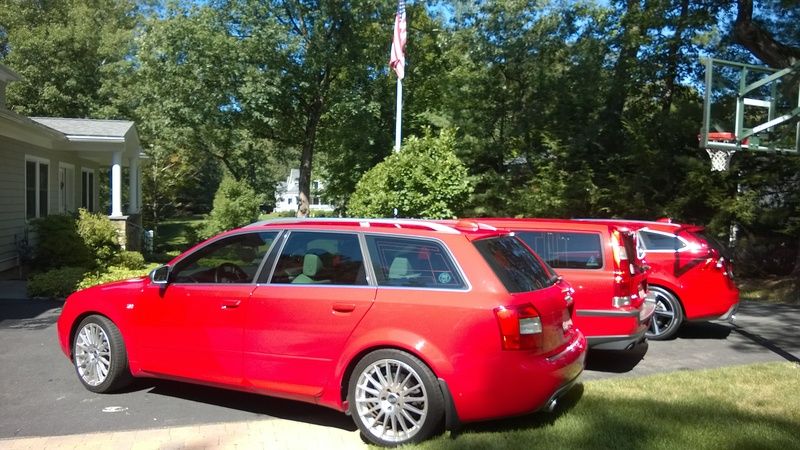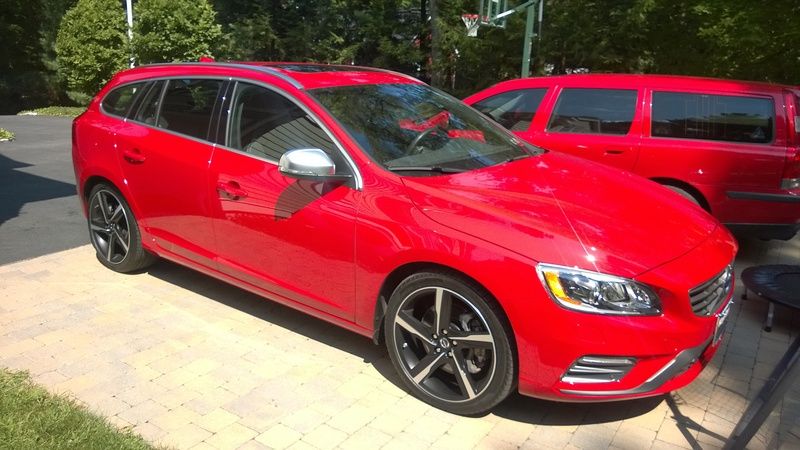 We are likely the only family in the US that could claim we had three red, Euro performance wagons at one time.....
We decided to keep the V70R, and sell the S4 Avant 6MT, proving the old saying that right car, well maintain and at right price, sells fast. We had 20+ buyers lined up. Ad went up Friday, first guy that looked at car Sat morning at 8.30 put down the cash. Original first buyer (that was scheduled to arrive at 7.30 AM!) later called, told me he overslept, and beg and asked if he could please buy it.
Already did the spare tire modifications
http://forums.swedespeed.com/showthread.php?227013-2015-V60-RD-Spare-Tire-Installed!&highlight=spare+tire
.
Now a few questions:
1. Anybody here install the Rear Seat entertainment package post delivery? I think it's fairly straight forward but does anyone know if the car is prewired for it? Part number 39825250? The installation instructions look pretty daunting...
http://accessories.volvocars.com/sv-se/V60/InstallationInstruction/Document/VCC-466430-6/2015
2. The exhaust on the car is very quiet. I have heard the Polestar one and it is wonderful. Is it possible to install a Polestar exhaust on our car? Any other aftermarket exhausts people have warm feelings for?
3. What is the *smallest* wheels you can have on this car? Would like to go with 17" for snow tires. Size and ET etc?
4. TPMS - is there any hidden menu or sim where you can see the actual tire pressures? Anyone know which frequency the TPMS sensors are (to be used for snow tires)?
5. This car has Citysafe. Is it possible to upgrade this to the 15.5 models with pedestrian recognition etc? Modules / software only etc?
6. What is the motor code for the T6 engine? It says B6304T4 on it, but int he service manual it only talk about 6 cyl engines being 90,94, and 95?
7. I realized the spare tire is quite as lot smaller than the standard tires. On the V70R the solution was to always put the spare on the rear and pull a fuse for the Haldex and hence making the car FWD (if you need to drive any kind of distance). Any similar advice for the V60 platform?
For those looking to hardware a radar detector - I read the threads online but there was some confusion around switched power. There is none in the connector for the overhead lights (only low voltage, likely pulsed), but at the sunroof connector there is a good one. Second wire from the left in the picture - blue.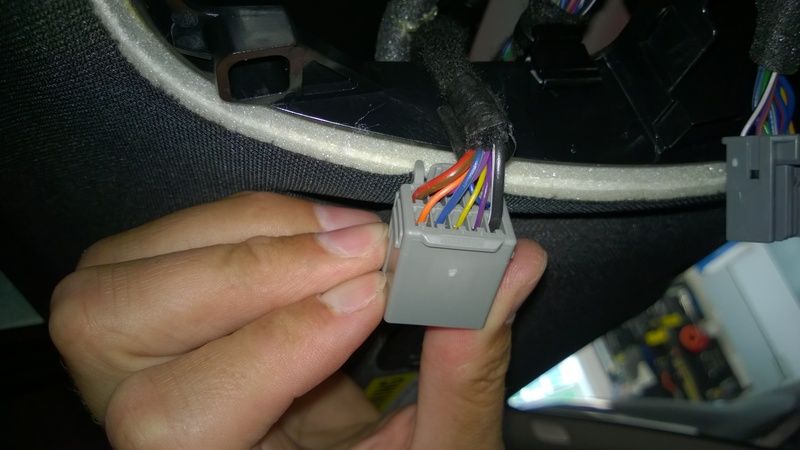 Also - when removing the center lights - just pull the entire unit down - I first tried prying out the inside, clear plastic. Works - but a hell of a lot harder... You can see the black clips in this picture - just pulls right out.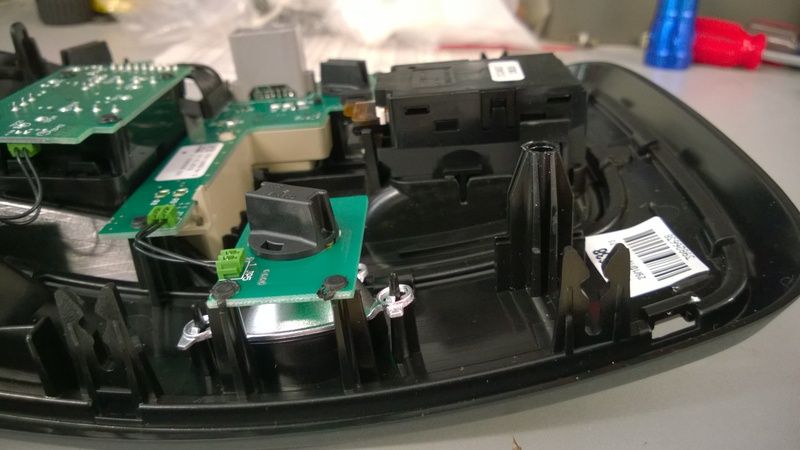 Thank you in advance for any info and advice!