Discussion Starter
·
#1
·
Well since I have been getting so much harrasment lately I suppose it is time to start up the thread.
Please read the whole thread even if you "know" the details...
IF YOU ARE UNSURE PLEASE DECIDE YES OR NO ASAP (marked with "EH")
Well guys its that time of year again. Last 3 years went so well I think continuing the tradition this year is completely suiting.
4th annual Beer, BS and BBQ.
Date: 7/25/09
Location: Newtown CT, 06470
Here are details on the last 3
http://volvospeed.co..._1#entry1297794
http://volvospeed.co...p;hl=directions
http://volvospeed.co...&hl=newtown
Just like previous years, I'll provide burgers and dogs (and anything else my mom makes which is normally a ton as she used to run a catering buiz)...the rest is up to us, more beer the better.
Please no "maybe's" "I'll try's" "hmmm possibly". This is for food reason, the closer to the correct amount of people I have on the list the easier my life is!
VS
v4lve
FIORE
flyfishing3
brick-a-brac
Ian Carr
greekone
Mahi
B Mac
Big Will
Ride R
VolvoGrrrr
Owned
C70 T5M
NGB
rodrigo -eh
Prezman26 -eh
vlvfreak -eh
Gregg - eh
--Aaron-- - eh
InitialDriveGTR
fightinchunk - eh
maciekb2002
JoshV70 - eh
JVW855R - eh
volvo940tuner - eh
moosepower
DHV70
MAG
TB
project volvo
BoostedSwede
24DinCT
Blackbrick - eh
voca164e - eh
00Penguin
MattW
Mstadt
HolyCrapItsDawson
Bob- eh
mikep - eh
fisky52688
voca164e - eh
SS
cmurphy2266
bpray9223
dizzyd89
jdsr917 - eh
crimnlmnded
QnsMostWanted
1989cbradio
George
Here's the list of stuff
As previously stated big things like dogs, burgers, pulled pork, maybe fried chicken - me
We will also have a vegetarian thing for those who want it
WHAT IS NEEDED
CHIPS
PAPER PLATES
SODA
BEER
CUPS
PLASTIC FORKS/SILVERWARE
NAPKINS
ANY OTHER MISC SNACKS
BEER - everyone encouraged to bring some of their favorite in large quantities
shenanigans start at....
12:00
Lastly, since one of the main components of this meet is BEER, people are ENCOURAGED to stay if they are drinking. We had a great time with the fire pit last year and its only going to be bigger this year!
For good measure here is a shot with the driveway LINED with cars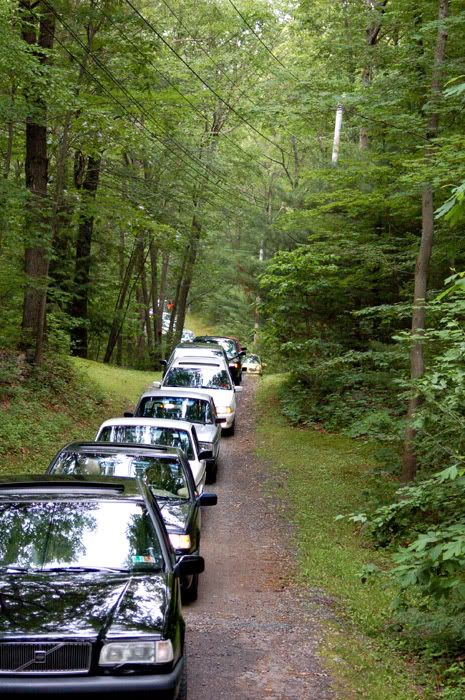 DIRECTIONS
From 84
Take exit 11
Take RIGHT at end of ramp at light (long off ramp)
Take RIGHT at light
Take RIGHT at light onto TODDY HILL RD
(follow toddy hill to end BE CAREFUL OF POLICE ON THIS ROAD)
Take LEFT at end of toddy hill onto Rt25 (south)
Follow to top of hill (about .25mi)
Take RIGHT onto BEAR HILLS RD
Follow Bear Hills till number 27 on LEFT side of road
(long dirt driveway, dark green mailbox)
From 95
Take rt25 /rt 8 exit (forget the number, 25/28 something like that)
Follow signs to RT 25 south
Follow RT 25south for about 6mi (quite a few lights)
You will see the Stepney Fire Department on the LEFT (its actually the 2nd fire department you pass)
At this light (about .25 mi up road) This is the last light before my road
Follow for about 1.5mi Bear Hills RD will be on LEFT (it's a hidden drive, so as you go up the hill to the road you will have to approach slow, its easy to miss if you are not paying attention)
If you start going downhill and pass SWANKY FRANKS on the LEFT you missed it
Turn around at the light and go back up the hill
Modified by Mesoam at 10:49 AM 5-22-2009
Modified by Mesoam at 6:58 AM 6-1-2009
Modified by Mesoam at 7:38 AM 6-9-2009
Modified by Mesoam at 8:24 AM 6-22-2009
Modified by Mesoam at 7:14 AM 6-29-2009