First of all, sorry for the photo bombing!
Anyway:
I'm quite new to this forum but have been lurking around A LOT. Thought that I should do a progress thread as well. Nothing fancy to be honest...
In May 2012 I bought a really basic Volvo V50 with the small 1.8F engine. Was looking for a R-design to start with but they're a bit more expensive.
After a while I saw that there was quite a market for scrapped Volvos and if you're lucky, you could get the parts for almost nothing!
So it began.. My inner child was born! I'm getting a R-design on my own! I have NO expertise regarding cars other than a high interest for it but I've never done anything to a car before. #yolo?
What's been done:
Roof spoiler [x]
Newer trunk handle with chromed stripe and and spaced out VOLVO [x]
Fully LED conversion inside and outside [x]
Silver rails [x]
R-design mirror caps [x]
R-design front spoiler [x]
R-design rear spoiler [x]
R-design side skirts [x]
New rims, Dotz Roadster HG 19" [x]
Lower it! Eibach Pro 25mm [x]
New brake pads all around [x]
Paint brake callipers, silver [x]
Iron badge grille [x]
R-design grille badge [x]
Replaced the foglights with OEM DRL modules [x]
R-design pedals [x]
Future plans:
Dual exhaust []
R-design gear knob []
R-design steering wheel []
R-design gauges []
Strip the car of the silver rails (Something for 2014) []
Replace the waterfall, door handles etc since the old ones are quite worn out []
Any other ideas?
This is how it looked when I bought it: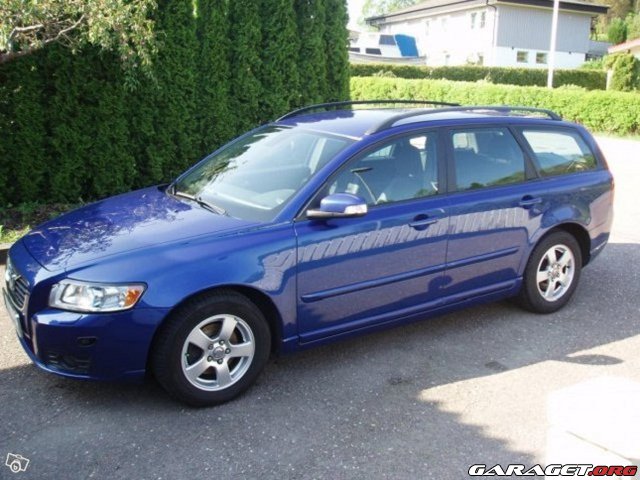 At first I just bought the things that I came across and through eBay.co.uk I found a roof spoiler which already was painted in the right color, and in good condition too. ~£100 with shipping included.
I have A LOT of pictures going through each steps when I'm modifying the car so I'll be carefull with uploading them since they might take a lot of bandwidth for you. But if you'd like to see those pictures I'll just upload them.
Looking waaaay better with the spoiler!
After a while I got a hold on the newer trunk handle with wider spacing between the letters and also the chromed trim. ~£60 shipping included.
Before:
After:
Then I got this baby, also in the right color, maybe you can guess which one I'm changing to. ~£100 including shipping. Gotta love the R-design!
Had a haaaard time to remove the front bumper to be able to remove the spoiler from it but then it just went like a charm.
After:
Decided to change some bulbs, here you can see the foglights. Original to the left and new LED to the right:
Left foglight changed:
Both foglights and left parking light changed:
Since the more updated models of V50 came out I really would like to have those silver roof bars but they're damn expensive! Even at scrappers! But one day I got a hold of a guy in my town who recently bought a black V50 and he didn't like the silver bars at all and wondered if I'd like to just swap my black ones right off!
"I'll be there in 10 minutes" I said, lol. £0!
Got a new rear spoiler, R-design of course with cut-outs for double pipes and towing hook.
Until now I still havn't got time or money to get the double pipe-exhaust but the plan is to get it done this summer. ~£60 including shipping, had to get it re-painted ~£30.
Removed the rear bumper:
New one vs old one:
Found a guy who had a pair of these R-design mirror caps for a cheap one. ~£50.
After:
More R-design! Got these from a S40N, fitted right off! ~£80, re-paint ~£40.
Got the side skirts really cheap but these little buggers ruined me! £60 for small plastic thingies!!!
But I had to get them to be able to fit the new side skirts... Oh well.
New vs old:
Got her a bit of cleaning:
I saw you guys talking about road salt earlier this year, this is how the Swedish motorway is treating you after 500 miles in 2 days.
And at last... This is were I am today with the new wheels on. Dotz Roadster 19" with 225/35 tires. £small fortune.