New to Volvo, coming from the Audi/BMW wagon world. Loved and lowered them all. Recently purchased a 2020 T5 V60 R-Design. (Non-Sport Chassis
)
Been doing quite a bit of reading/digging on the forums in regards to lowering the US spec V60. While there is a fair amount of info, it's scattered and mixed across and into general conversations. I'm still left with gaps and questions unanswered. I hope to use this post as a more focused notepad to gather info and leave it for others on the same quest.
Context
For this exercise, I'm writing from what I think is the most common setup in the US, non-Sport Chassis V60. Euros, count yourselves lucky.
Purposely excluding the Cross Country trim from this post. Assumption being, if you bought a CC, you're not interested in lowering.
Starting Info
Model/Trim/Motor variation factors into options. (Ex: R-Design Sport Chassis vs. Momentum going to achieve different results with same aftermarket product.)
Obviously larger motors, AWD versions are going to be heavier, thus changing outcomes.
SPA V60 uses a leaf spring in the rear, adjusted by replacing w/shorter spacer and a traditional coiled spring up front.
Dealership labor prices to install vary, but general consensus is that it's pricey. Private shops hit or miss on installing.
Main issue, releasing rear leaf spring. Volvo uses a proprietary tool to un-spring.
Heico and others have got around that. See page 18 here. (Thank you @Symtom ) Video here. Further discussion here. (Thanks @AJS1KR ) @EMRtek did it too, link.
Also, due to the way the TPMS works...Lowering requires 1 hour of dealership time to reprogram the headlight level. Source.
Most common Lowering options for the SPA V60.
(Great in-depth resource
here
with links. Thank you
@AJS1KR
)
Heico Springs & rear leaf spacers. - Lowers "up to 30mm" depending. Heico's site shows a very low car. Forum members show otherwise.
Eibach Springs - US market needs to order from Europe. - Lowers 20-25mm front & Rear - Spring rates are softer than Volvo Sport Chassis springs.
H&R Springs - US market needs to order from Europe. - Lowers 30mm Front & 20mm Rear - Spring rates are softer than Volvo Sport Chassis springs.
Full coil-over sets from the big brands obviously. KW, Bilstein, H&R, Heico, etc. One note, Heico's coil system is a rebranded KW V3.
Bags of course...contact @thiccc.wagon
Volvo Rear Leaf Spacers
(Thanks
@EMRtek
)
Link
31406523 - 30mm​
31406521 - 24mm​
31406528 - 21mm​
31429578 - 15mm​
31429579 - 12mm​
31429580 - 9mm​
31429581 - 6mm​
Going from a 30mm rear spacer to a 15mm lowers the car roughly 10-12mm. Per @EMRtek
Source
Sport Chassis -
If it's a listed feature, buy it. (Big thanks to
@Power6
- full write up
here
.)
V60 Sport Chassis is standard on R-Design trim in non-US markets. Lucky.
It was a $200 option for a while in US while V60s were sold new. (Non-CC, non-Polestar V60s are no longer imported to US.)
Reports are that it's real deal sport suspension setup. Tight, responsive and full of feel. Swede's didn't skimp on this design.
Sport Chassis sits about .5" lower than regular Momentum, Inscription, non-optioned R-Design trim lines. Great explanation by @Power6 here.
Higher spring rates (more stiff), matched dampers, lower ride height, bigger/stiffer sway bars. Technically the Sport Chassis springs are stiffer than both Eibach & H&R.
If you have the Sport Chassis, after market springs like H&R and Eibach won't lower much and be a somewhat softer ride.
Wanna swap out your Dynamic suspension for the Sport Chassis? It's been discussed. Good luck.
Photos.
This is the most instructive part for me...
Heico Springs Example Photos
Heico promo photos - Looking low...can't be sure if these are the springs or the coilovers that Heico sells.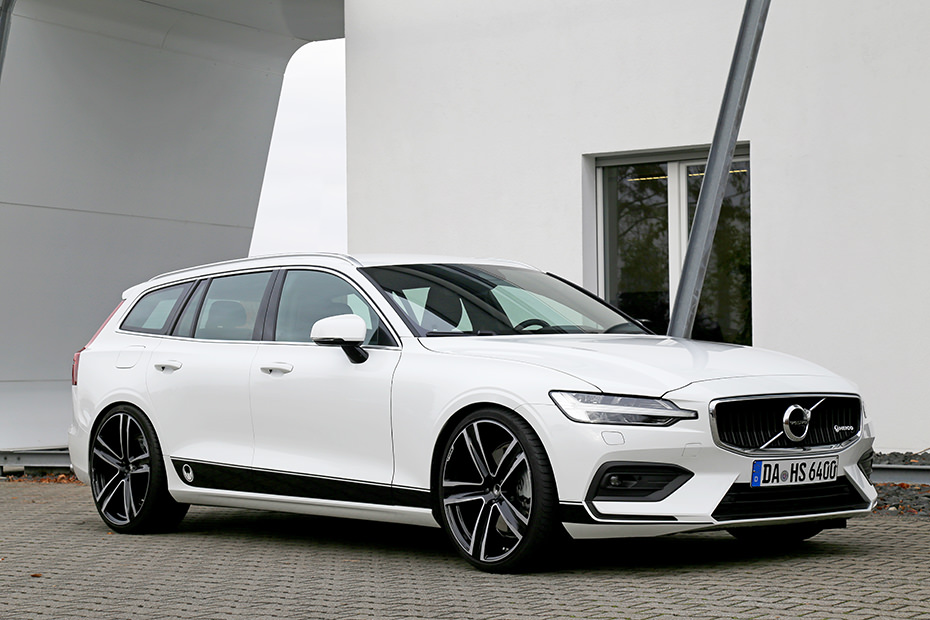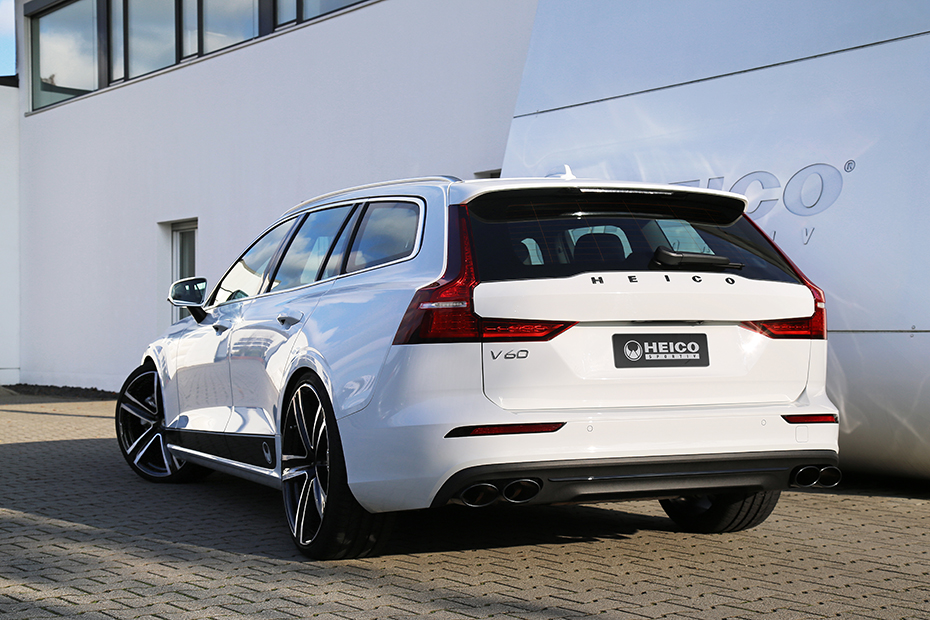 Source unknown here. Random internet find. Filename says Heico
@kemmons
S60 T6 on a Heico setup.
@Red Hammer
V60 T8 on Heico setup - (looks considerably lower than the S60 above. Unclear if he's got coils or the spring/space setup.)
@Dodd
S60 on Heico Springs - does not looks slammed like Heico's site show. He's running a 21mm spacer in the rear leaf setup.
Sport Chassis Photos
@easyhunter
V60 T6 looks like euro-spec Sport Chassis
@aonarch
sport chassis V60 T5
@Symtom
S60 with Sport Chassis and rear spacer removed.
@EMRtek
S60 with Sport Chassis and 15mm rear leaf spacer installed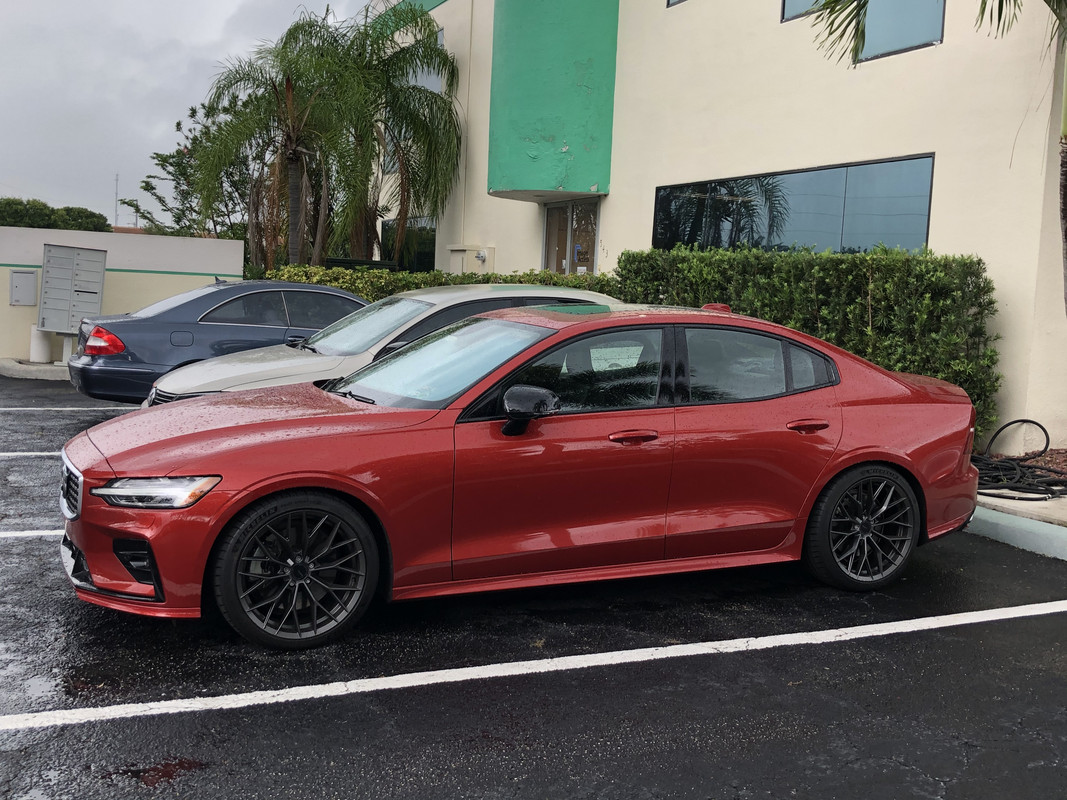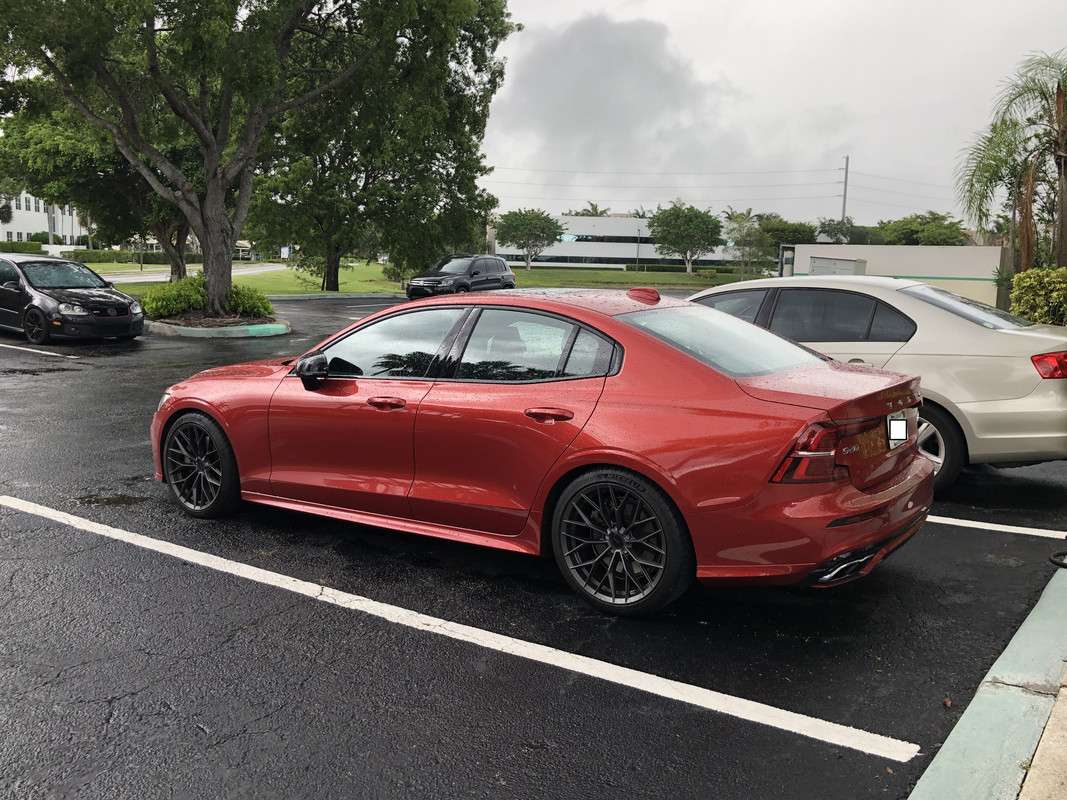 Confirmed Sport Chasis from Instagram user
@oboyalkis
.
H&R Spring Setup
Official photos from their site.
Eibach
- haven't seen one car with their springs installed.
Instagram
is full of photos - unfortunately I did not make notes when screen shooting some of these. Happy to remove or update.
Personally,the look I'm going for ...
@j0hnsvenss0n
- Confirmed with him this is the euro Sport Chassis R-Design stock setup.
This stock euro Sport Chassis
@steffs_garage
...perfect drop.