Discussion Starter
·
#1
·
Hi All,
I'm taking up the IPD HD XC90 Control Arm Challenge!
So far, the arms are here. They look as nice as anything, really. They are made in Taiwan, which I actually consider a good thing, since rubber products have gotten worse across the board due to environmental regs. Rubber looks quite good. Not rock hard. Seemingly nicer that the Scan-Tech/Dorman arms I got 7 years ago. I may still have a spare, unused am remaining in the garage for comparison.
I changed control arms and a ball joint on a friend's 2004 XC90 T6, 8 years ago, and remember that the fasteners are supposed to be replaced. I didn't replace them, and found them a PITA to "do up" again as the hex heads were just round enough from exposure that the wrenches wanted to slip off. Thus, I ordered new fasteners from Tasca. Cheap, and quite nice. I stuck them in the arms for safe keeping, as my garage is Volvo madness untill I do a re-organize/cleanup in October.
This begs the question, what are the proper torques for the arms. I recall VADIS being a little more clear way back when. Now I have VIDA, and VIDA has "control arms" and "link arms" in the torque sheet.... despite using the phrase "control arm" everywhere else. I'm guessing "link arm" is the right one, as I see a torque for "ball joint into link arm". Does anyone know the proper torque for the ball joint into the knuckle? I'm guessing that the collective wisdom will say to do ball joints while I'm at it. Lemforder is $70/pair from FCP. As much as I'd rather not spend $70 right now, I'll kick myself if I find a ball joint well on its way out halfway through the job.
Here are some pics of the arm(s):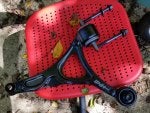 Thanks all! I have a couple chores to do on my 945 before I dive into a bunch of XC90 stuff, so it'll be a week or two before I swap arms.
-Ryan