The symptoms
1. Coolant level drops from max to min (or less) at seemingly random times, regardless of drive time, distance, style, etc.
2. Coolant on the undercarriage, front passenger side. Oil filter, oil pan, engine cradle.
3. Puddle peeking out from the passenger/right side of the car.
Parts / tools:
Thermostat kit (#15 in diagram) 31293698 for 2005+ Part number 31293700 for 2002-2004.
Gasket 8636573 (#5 in diagram). This does not come with the kit.
Your favorite coolant.
T40 and T60 Torx bits. I found largest size in most kits was T50, so had to buy T60 separately - about $5-$7.
Small hose clamp for approx. 1/2" or 12 mm diameter (approx size of my pinkie) hose.
Basic metric sockets and wrenches.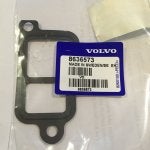 Basic overall steps.
I would estimate a novice could complete it within an hour. It took me a while longer because of taking photos along the way.
1. Buy parts.
2. Drain coolant from radiator.
3. Remove serpentine belt from power steering pump pulley.
4. Remove power steering fluid hose bracket & pump.
5. Disconnect coolant hose from thermostat.
6. Remove thermostat
7. Replace thermostat and gasket.
End of post. Forum only allows 5 images per post.