Hey new friends,
I did allude to, earlier a week or two back in a previous post, the tale of my first V70's demise. I'm going to finally discuss it, because I think I'm ready to begin the healing process and try to move on from the shock I endured. The first step is to come to grips with my loss and testify of my frightening experience, hopefully as an educational tool. I look back on the event as a true test of my strength, trust in others, emotional growth, and openness to accepting help when I needed it. Truth be told, I still have bad memories from that evening, hence why I oft avoid discussing it because it wasn't just a car to me -- it was my first, something I put every dime into, something I had wonderful memories in, something I was proud of. It was also something I depended on. I commute six days a week, what the hell was I going to do? In the blink of an eye, I lost everything, and had to start anew. Volvo indeed saved my life -- what was left of it. The rest was in my hands.
After saving about 4K over the course of a year, I first purchased her back in the summer of 2014 for about 2K from my mother's friends up the road, back before I even had my license. I'd held my permit for a solid year and admittedly was a late bloomer, plus I was a scholar and that took up a lot of my time. I had a fear of driving on top of everything, and my folks weren't exactly patient instructors. Whatever, I got over it. At some point, I was finally confident enough to get a handle on it, using the shiny new-old V70 in my driveway as my source of motivation. I wanted to drive that car. I needed to drive that car. I didn't know a thing about Volvos or what kind of gem they were, to me it was just a pretty station wagon that knew how to haul ass. That was all I cared about.
In November, I was licensed after my second attempt (I was unfortunately too nervous my first time and forgot how to parallel park in my friend's sister's Toyota Yaris, the absolute easiest car to park.........:facepalm
and, hoo boy, the agony the next day at the RMV to register her and get her on the road. An hour felt like a day (then again, it always does, but this time was especially agonizing) I still remember my maiden voyage with her! I was unsure of everything. It was the first time I had ever driven alone. There was something so magical about the experience. I think it was just a turning point in my life. I knew nothing would be the same afterwards. "This is independence", I thought. "Independence in style".
I had no idea that my boxy station wagon would be so popular! I drove it to my part-time job at a bar in town. As I was mixing vodka and V8 for an older, gray-bearded fellow, they asked, "Who drives that silver Volvo out front?" I responded that I in fact, were the owner, a little nervous to hear the response.
"How much do you want for it?" the man asked. I stood in stunned silence, unsure of how to respond.
"I'm sorry, I need this thing to get around, I'm kinda attached to it now, too." I was tempted to ask how much he was willing to pay, but sentiment had already sunk in.
"Ah, well," he said, "Take care of it. If you do, it'll last you a lifetime. Volvos are the safest cars out there, you know that?" He took a sip of the bloody mary I made, and pushed it back. "A bit more horseradish, kid." As I bashfully opened a new container, he continued. "Oh, you're gonna have a great winter in that thing, too, they can handle even the worst conditions, I'm tellin' ya. Are ya' listening?"
I nodded, a bit flustered from fighting with my container. He mumbled something about Sweden.
Before he left, he taught me how to perfect the bloody mary I made, then he was gone.
I never got his name. I never saw him again. I wish I knew who he was. Now I only use pepper vodka for those like he told me to, they come out excellent. :OT:
The 2015 Winter came, and battered my state. Ah, my first months on the road coincided with my first winter. The worst winter of Massachusetts history. One blizzard per week. I'm grateful for the experience! Snow on the ground doesn't even faze me now. AWD? Snow tires? What, me, worry? Now, I know that AWD has its haters, but man, I'm sorry, it did me well. It was the only way I could get anywhere, when you're walled in your own driveway by a snowbank. It truly performed magnificently, I was proud to show my mother that her Chevrolet Suburban was bested by a station wagon!
Well, until the transmission died. Dropped 2K on a rebuilt one, and it took forever for the repair to actually happen because businesses couldn't operate as usual. Most mechanics were out plowing, as was my guy.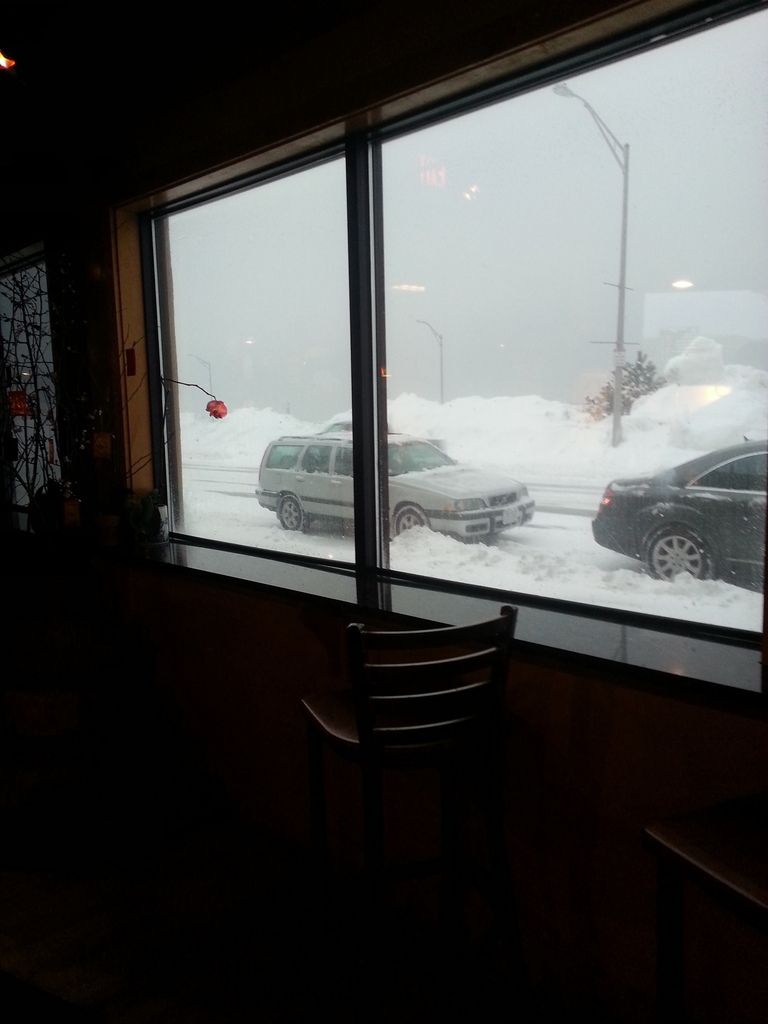 Around the beginning of the season
A pretty good visual description of the mid-term of our winter of discontent
Winter came and went with minimal incident. My folks couldn't believe how my driving skills flourished. Until, one godawful morning on my way to my job at the bar when I backed into an actual front-end loader. :facepalm: yes, that really happened. Amazing how unaware of the world you can be on three hours of sleep. The front end loader was undamaged (I hit the actual plow portion) and the entire back hatch was wrecked. I lucked out -- my pal down the road had one for me, and there was no frame damage. Lesson learned. My father did the repairs himself, I love showing off his work! He's pushing 70 at this point, but in his time was an unbelievable and highly-sought-after body mechanic in Boston. I wish I inherited his skill.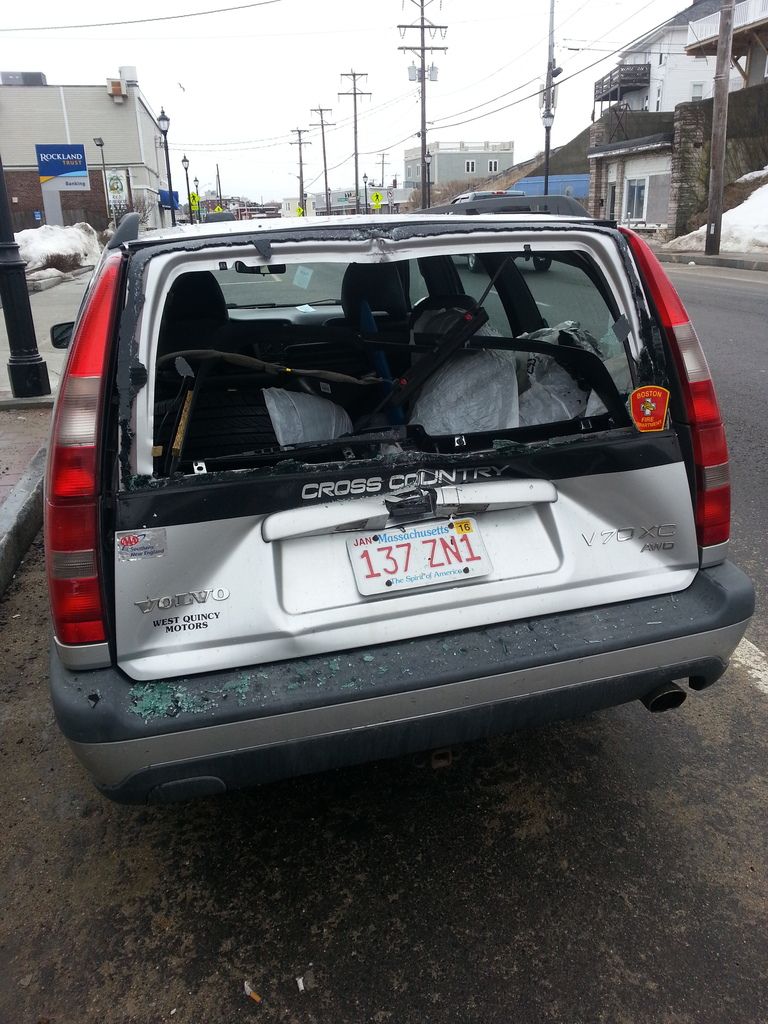 Sleep is important, kids!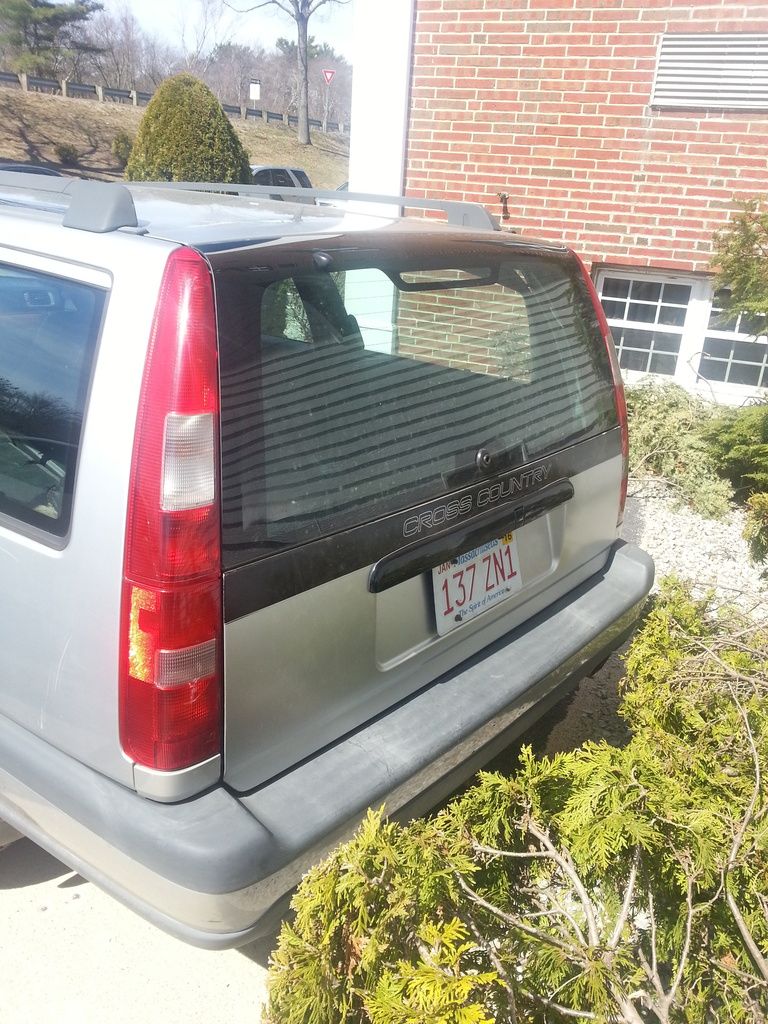 Don't worry, Daddy will fix it!
(Not bad for a 65 year old man, eh?)
So, here I am, dodging bullets left and right. A year goes by, and I'm learning how much maintenance these things need. Needed to replace the air intake and about 10 other things since the previous caretakers weren't the most attentive people to the damn thing.
Fast forward: Early April, 2016. Saturday night. Against my better judgment, I went to see a show with some friends after a really emotionally taxing week. I needed to get out of the house and take a breather. What's better than thrash metal? Speaking of which, I need to get back to my battle vest. :OT:
Well, a whopping seven hours later, it's 1AM, the temperature has dropped. I haven't noticed, I'm pretty warm from the show.
Alls well.
"What do you wanna eat when we get home?", I ask, as I'm trying to get on the highway from Canton when,
something's not right -- it all happens so quickly, I can't even remember what I felt. Sheer horror.
WHAT IS GOING ON, WHY AM I NOT TURNING? HOW THE HELL AM I FISHTAILING
? It was like a supernatural force was taking me somewhere. I lost control. I actually lost control of my vehicle.
My friend screams, I'm headed for a tree. The e-brake fails.
I can still hear his scream in my head to this day.
We stopped, finally, with a bang, mere inches from a tree on the shoulder of the highway entrance. Still not totally sure what stopped us, the consensus was a massive boulder in the ground. I didn't even realize the airbags had deployed until I realized I had a fat lip and a bloody nose, and my friend searched for his glasses on the floor. I remember being grateful he was alert -- I had feared he was seriously hurt. We emerged a few minutes later and I tried to turn the car off, had difficulty turning the key and I just felt pure disgust. "My life is over", I muttered. "Why did this happen?" I was so shocked I couldn't even count my blessings -- My friend was fine and suffered no injury, we were safe, whatever, but...
Jesus Christ, I didn't want to even look at what I'd done.
I'd say we were pretty lucky, as moments later, a car full of UMass students pulled over to help us, and even called the police for us. I was in such shock I didn't even call 911 or AAA or anything, I was sitting down telling my friend I was sorry for doing this, sorry for stranding us, sorry sorry sorry. If it weren't for those boys we probably would have been out there alone for a while. I never got their names, but they were wonderful people. They stayed with us the whole time until an officer arrived, checked my license and gave me a hug. I needed that hug. They didn't write a report, as there was no property damage (since I simply ran aground and hit a boulder taking out my left wheel, door and god knows what else) and it wasn't counted as an accident. Just a disabled vehicle. As he walked back to his vehicle, he slipped and fell. I didn't even realize how icy this turn was. I was only going 20.
As my friend helped him up, he said "That's a Volvo, isn't it?" I didn't even hear the rest of what he said. Just something about how he was glad we weren't in a Honda.
The morning after was something of a ****show. I completely forgot I had AAA, so the V70 was towed to some garage. AAA towed it back to my driveway. I cried all night :facepalm: so I wasn't really in the mood to do anything else beside figure out how I was going to recover from this. I had to figure out how I was getting to work the next morning, and furthermore, see if I could fix this. My friend down the road had just junked his parter-outer, so that wasn't going to help. He was unable to assess the damage and suggested finding a second opinion. I met a member of the forum this way, actually, so I guess this was the best thing to come out of this event. Hi Jared, thanks for everything.
Long story short, I didn't have the capabilities, money, time or manpower to fix the damage. I just realized, I don't even know where I put the pictures from that event, they're somewhere on my external, and I'll have to go ahead and edit this post at some point to show what had happened.
I had been chasing some guy around for his 2000 V70 in Bridgewater. It was listed on Craigslist, and the guy had been avoiding me for a while. I just assumed it was a no-go, and was incredibly let down as we had been negotiating for weeks, to no avail. I gave up, laid on my bedroom floor, and sighed deeply. I was screwed. It was two whole weeks later, I was nowhere near where I needed to be, and I was running out of time. I had just about ran out that weekend. Finding ways to work were running slim, I was growing tired of the drama, and I just wanted to live again.
My phone rang. It was my mother.
"Roxanne, quit moping for God's sake, already, we're going to Westwood!"
"Why?"
"Don't argue with me."
"I wasn't arguing--"
"Get in the truck, I don't have time for this!"
About 20 minutes later, I'm in the Suburban with my father, her ex-husband. Whatever this was, it had to be big. Why would she call him to come along? Oh yeah, to assess, I forgot. "Roxanne! You're going to love this!"
...And for $1600, I brought home my '02 that night. And the rest is history.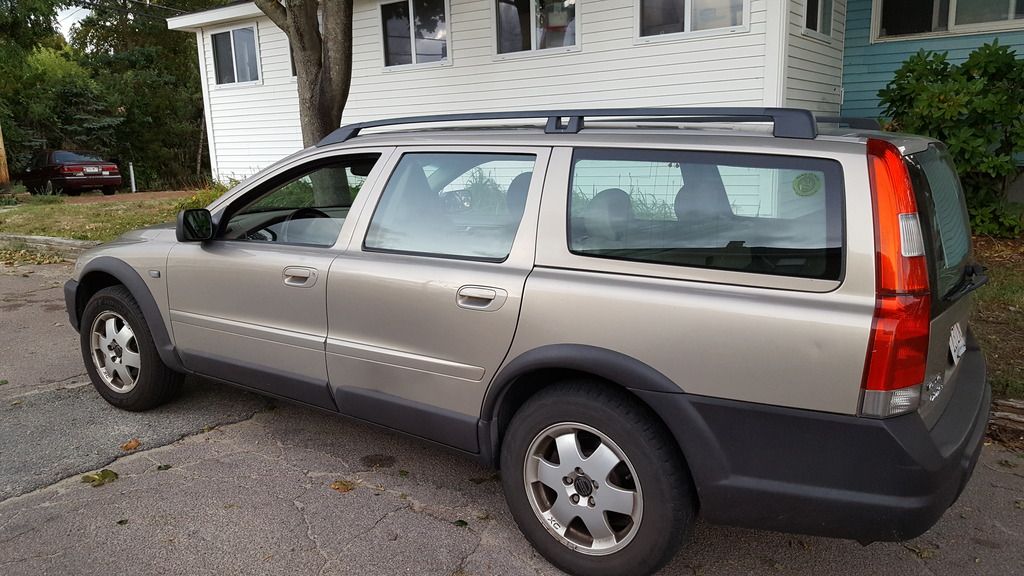 Knight in shining armor.
Coming soon: Pictures! Pictures! Pictures! I promise!