Discussion Starter
•
#1
•
I just got a promotion at work that sees me driving 750-1000 miles a week, so I am selling my daily driver '97 855R for something boring and economical (and hopefully getting another Volvo as a project)!
I bought this car earlier this year from a Volvo enthusiast in Stevens Point, WI. He included a log of all the maintenance he performed on the car under his ownership; while he didn't have receipts, as he DIY'ed most of the work, he was very forthcoming and knowledgeable about the car (and also owned a matching Saffron C70/V70R combo along with a V70 T5M that was the replacement for the R), so I am inclined to believe his maintenance log is honest.
When I bought the car, the bumper was cracked and not in the best of shape; I reinforced the lip with some thick sheet metal and rivets, then used glazing putty and a lot of sanding before re-spraying to get it looking as good as possible. It could use a wet sand to look really perfect, but is totally passable at a glance. It also came sitting on 16" Columbias; I couldn't find Volans, so I got a deal on a set of 17" Amaltheas, painted them gunmetal grey, and installed new Kumho all-season tires in August.
The car looks and drives great with strong boost and firm shifts, I drove it from Milwaukee to Minneapolis and back last week with no issues whatsoever. The only flaws it has are cosmetic in nature; I would hop in this car and drive it anywhere without a worry. Current mileage is estimated at 170k; I have been keeping rough track with the trip computer.
I'm asking $3000
, open to reasonable offers but please don't beat me up too bad, I have much more than that into it!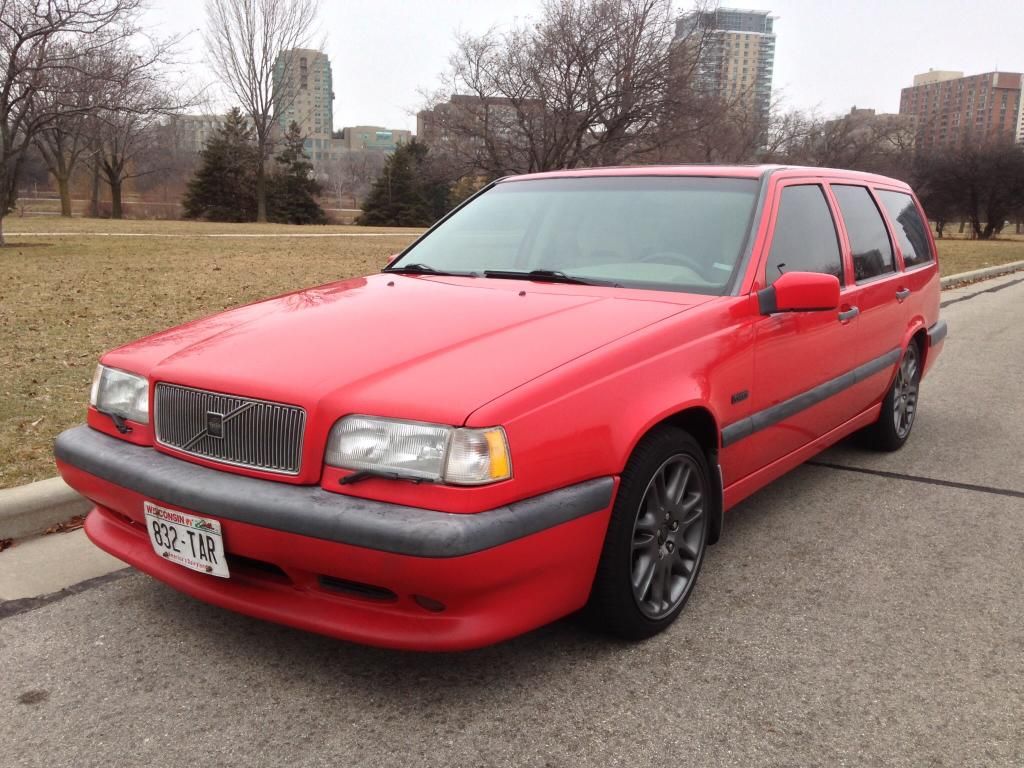 More pics:
http://smg.photobucket.com/user/SlickDizzy/library/
The good:
Timing belt/tensioner/water pump replaced fall 2013
Full PCV system replaced with OEM Volvo two years ago
New thermostat, expansion tank, and full Zerex G-05 coolant flush in November (previous owner replaced radiator and hoses two years ago)
New Kumho Ecsta PA31 tires in August (also replaced serpentine belt and tensioner, as well as air filter, fuel filter, and all vacuum elbows at this time)
New ABS/TRACS module from Midwest ABS in August
Synthetic oil used religiously by previous owner and myself, currently on Rotella T6 5W-40
StopTech stainless lines, drilled/slotted rotors and pads installed by previous owner
Delrin subframe bushings and poly torque mount installed by previous owner
Paint is in good condition, body is straight with minimal scratches, dents or rust
Windows tinted by previous owner
Passed emissions with no trouble, no CEL, starts easy even on cold days
Decent JVC stereo unit with USB/aux in
Lots of other little stuff I am forgetting because I don't have his log/my receipts handy
The bad:
Blows a small puff of blue smoke on cold starts. My guess would be turbo seals, doesn't smoke when idling or during hot starts. Uses a small amount of oil, about 3/4 qt between changes
Driver's seat shows some wear, particularly on outer bolsters. Tan section of steering wheel and shift knob also worn
Rear brake rotors seem to have a very mild warp to them
A/C doesn't blow cold. Previous owner included a new receiver dryer when I bought the car, never got around to installing it and charging the the system
Odometer is broken, I took the cluster out to fix it and discovered that someone had been in there before and forced it apart without removing the brass nut at some point, along with breaking a few other things...so it will need a replacement cluster if you want to get the odometer working, (I have a new gear from IPD I will include)
I think that covers everything...feel free to ask me any questions you might have.