SOLD
I have decided to sell my car. It was purchased in October 2010 with just over 20k miles. As it currently sits, it has about 95k miles(first post was incorrect) and this will creep up slightly as I continue to drive it. It saddens me to sell it, but circumstances have forced me to sell. The car has been meticulously maintained and well documented on this site.
Link to my tracking page:
http://forums.swedespeed.com/showthread.php?t=165815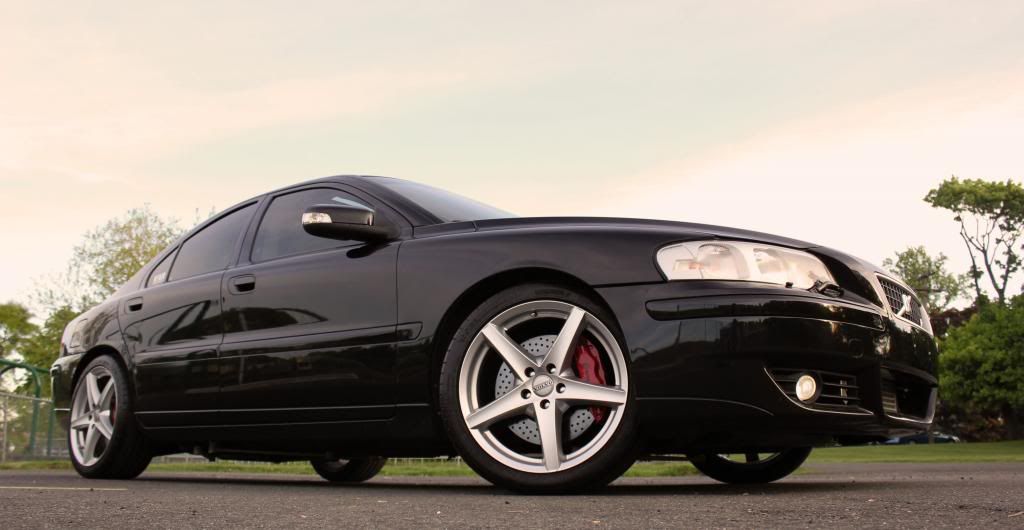 Year/Make/Model: 2007 Volvo S60R
Color: Black Sapphire / Gobi
Transmission: 6 Speed Automatic
-Car will come with various modifications & upgrades, including:
-IPD "Stage II" tune
-Forge CBV
-IPD Track Spec Sway Bars
-TME Springs
-EST Ceramic coated down pipe
-CX Racing FMIC
-Snabb 3" Turbo Intake Pipe
-IPD Poly subframe inserts
-Hawk HPS Pads
-Adams Rotors Dimpled Rotors
-IPD Poly Upper Engine Mount
-Red Painted Calipers w/ Brembo logo
-DRL delete
-Amber deleted from headlights
-IPD "R" Door Pins & Bezels
-Adjustable Rear Toe Rods
-IPD Rear Camber Adjustment Bushings
-TKI Powergrid Street End Links
-DEM Cover
-Poly Lower Transmission Mounts
-Silicone Lines
-35% tint all around
-IPD HD Ignition Coils
-Alpine UTE-42BT single DIN head unit with bluetooth
-Just passed NY inspection last week
-Boost is very stable. Dyno results were 285awhp/305ft-lbs torque. Using data logger, boost stayed at 17.5 psi the whole pull. Can provide graphs if desired
-New Volvo engine at 68k miles, serpentine belt also replaced at this time. This included new plugs, PCV, everything and was covered by Volvo under warranty
-Oil changes every 5k miles with Castrol 0w-30
-Struts/shocks replaced at 65k miles with new Monroe 4C OEM
-Transmission Fluid flushed at 60k, 95k
-Professional Stage I paint correction just performed this week. The paint is now near flawless and has a hydro coating applied
-Comes with 5 Ronal R41 wheels, 2 have slight bends. The one that is currently mounted is fine for now and no air leaks from tire
-Michelin Pilot Super Sports 235/40r18, they have another season or 2 left on them
-Fresh alignment will be performed
-All maintenance done on time. The car was meticulously taken of. Too much to list here. All fluids are fresh, including coolant, brake, drivetrain. Here is a highlight on some of the more major items:
-Right before I received the car at 23k miles, the angle gear was replaced under warranty
-Fuel Pump, PEM, Fuel Level Sender replaced at 55k miles
-XC90 axle bolts installed at 70k
-Brake fluid flushed with ATE Super Blue last year
-Angle gear, haldex, rear diff flushed at 75k, no leaks or seeping
-Starter replaced under warranty at 79k
The car has had body work done, but no major accidents. There were 2 instances
1. The car had an egg thrown at it (bastards!) on the rear driver side quarter panel. The whole panel and part of the door was repainted by a professional shop
2. I hit the corner of the wood wall in my driveway while turning and put a small crease in the rear passenger side door and quarter panel. The crease was pulled and the quarter panel and part of the door was repainted by a professional shop
Anything that has gone wrong with the car has been promptly dealt with and there are no nagging issues.
More pictures can be found below.
Price dropped for a final time to $12,500 but offers considered
-Patrick
Please PM with inquiries.
Carfax is clean, available if requested.