Discussion Starter
·
#1
·
Well guys after 3 years of lurking around here I FINALLY got my R and so far all I can say is I have been grinning Ear to Ear since I got her!! I picked her up on last Thursday after I got back from my deployment overseas and drove it from Denver all the way to Sacramento. The gentlemen I purchased it from out did himself. I have a great story behind my purchase, (if you don't want to read you can move on to just to pictures
) but my purchase experience was great and I wanted to share it with you guys!
Back in Jan I was about to pull the trigger on a Subaru Legacy Spec B since I was not able to find the R that I wanted, either the Black or Sonic Blue in my area with the options I wanted. After I was disappointed with the way it felt with the Spec B I decided to reinvestigate the R again. Well I looked for a few weeks and even contacted Soledoc about his R but the situation didn't work out with him having to get rid of it and me deploying so soon. So I ran across this R on auto trader in Denver and it was exactly the one I wanted. I contacted the individual and told him that I was interested in his R but was unable to make a purchase since I was deploying within the 2 weeks. I told him that I would like to purchase his car but I know he had to get rid of it due to some pressing matters, if he was willing to wait I would purchase off him. Well he told me he couldn't guarantee anything since he was eager to sell it but he would see. I told him I understood. Ironically we happened to keep email communications open for the months to follow as he explained certain things about the car I was unaware of to even the mods that he had performed on the car and just normal friendly conversation. Well after about 2 months of this he emailed me one day while I was deployed and told me that based on our conversations he realized that I really wanted the car and he would rather sell it to an enthusiast and someone who would appreciate it vs. some of the people who had previous offered to purchase the car who he felt un easy about. (He really took selling this car seriously).
I was thrilled so towards the tail end of my deployment while I was still out of the country I purchased his R and the transaction went smoothly. He upon my request had the windows tinted and went out of his way to have the car fully detailed for me.
Fast forward to last Thursday, Ric picked me up from the Denver Airport as I flew in from Sacramento and took me to his house where the R was in the garage. It was amazing it was better than I imagined it to be, the tint job turned out great and the Detail job was phenomenal. The car still smelled new or it must have been the smell of the soft Nordkap! I was in awe the whole day and it was crazy even tho I owned it I was afraid to drive it. Well we took it out and drove it around the Denver area and then to the registrations office to take care of the sale paperwork. Ric then took me to lunch and we talked about various things including the R. Since I was going to be in Denver a few days visiting some friends he told me he wanted to take me to dinner with his wife and to celebrate the purchase of the R the following day! Wow okay!!
Well over dinner( at an exceptional resturant) I found out from his wife that selling this car was very personal for him and he was glad that this situation worked out because he put a lot of work into this car and he didn't want it all going to waste with the wrong buyer. She told me he was relieved that this sale went the way it did because he wanted it to go to a good home.
So after a few days and multiple meetings I left Denver on Sunday and drove back with a back seat full of snow tires, spare parts and a smiling face all 1167 miles. This car is amazing!
The story is long but I wanted to share with you all that there are some truly good people out there. Ric didn't know me other than email communications but did all of these things and more to make this purchase memorable for me since he knew how much I wanted this R.
Below is the R I got. It's a 07 with 15k miles, Navi, Volvo Bluetooth, 6MT, Body kit,18 inch pegs, 3M clear bra and side mirror film, Lojack system, 3M window tint and all the volvo factory options excluding sat radio. It has the IPD downpipe and Stage 2 MTE soft loader software. Ric upgraded to stainless steel brake lines super AE brake fluid and performed the 2 year 15K maintenance for me all on his own accord. He even showed me how to operate the MTE software if I should feel I need to adjust it. He also threw in his snow rims and tires that were not even tow years old.
Overall guys I love the car, I can't believe how much fun I have had with this thing since last week. Driving out to Cali from Denver was a blast and it amazes me how I never had to downshift to get up all the mountains in Utah, Nevada and then Lake Tahoe…. The boost was just on tap whenever I needed it!
Ill get some better pictures of it tomorrow but I wanted to at least put something up. These pics were taken from the Bonneville Salt Flats in Nevada on my way home and then in my garage tonight after i cleaned her sorry for the picture.
Enjoy.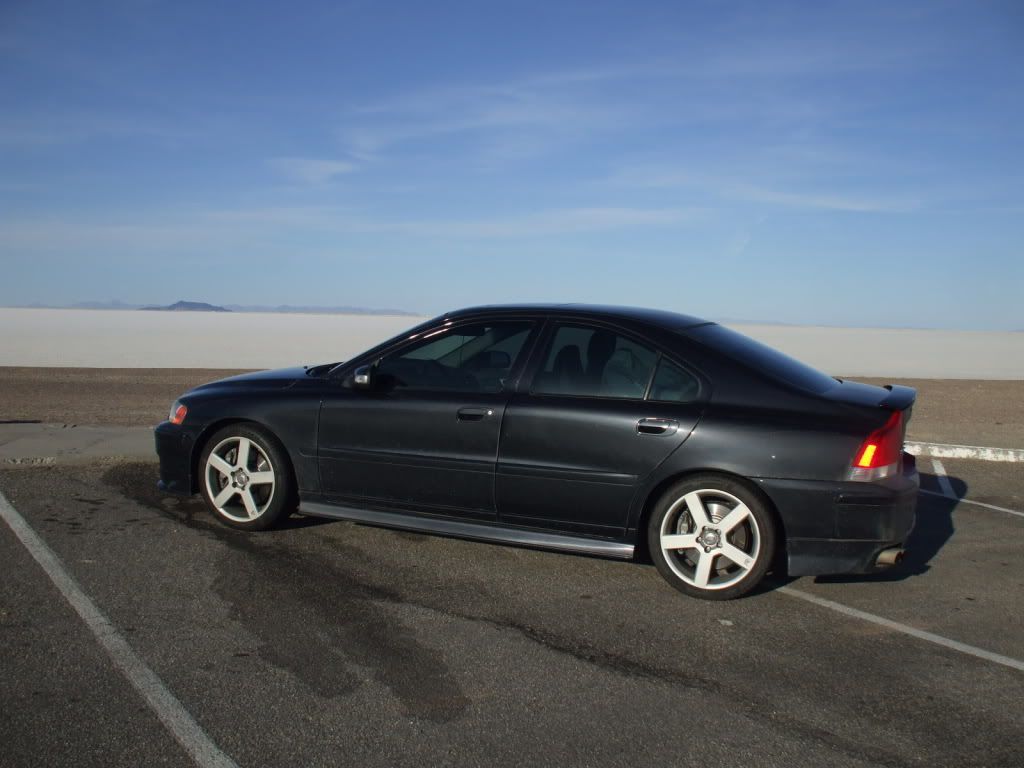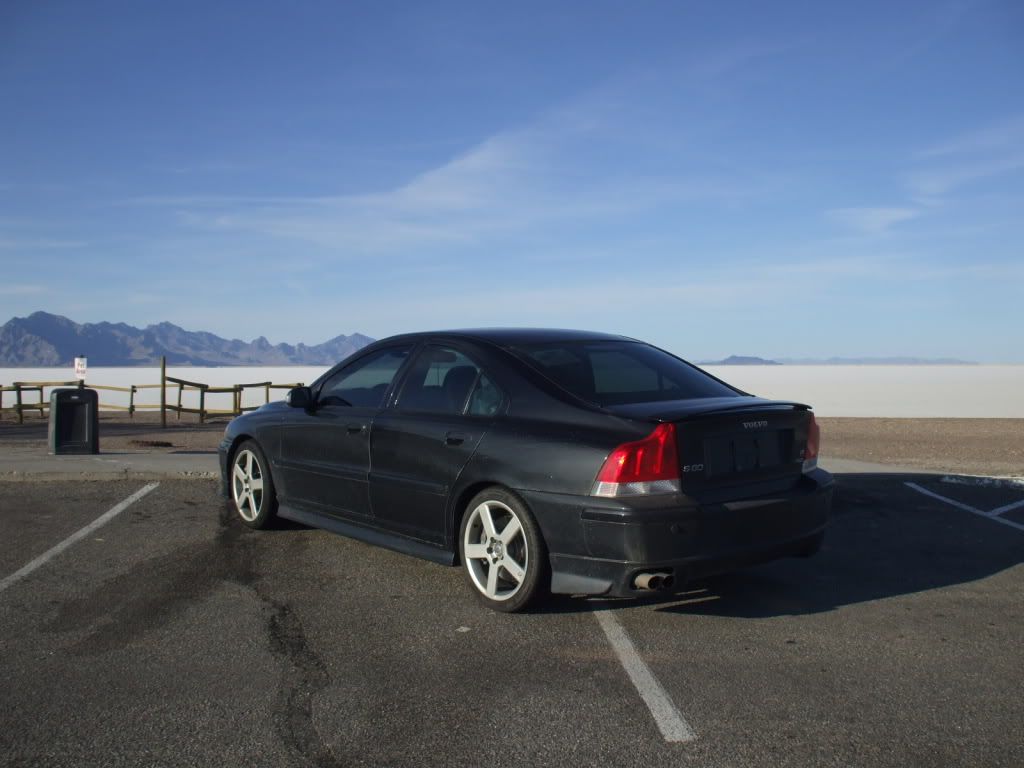 Modified by Token Blk Guy at 10:24 AM 4-15-2009
Modified by Token Blk Guy at 9:05 PM 6-14-2009