Discussion Starter
·
#1
·
I know there are several threads like this, but most seem to describe UNEVEN wear on a single tire, which I have experienced in the past on this car and others. What is weird about my current case is that the wear on the tire in question seems EVEN, but it seems to be wearing at near twice the rate of the left rear.
I got these Bridgestone dueler HTs at a discount tire shop 5 moths ago to replace the set that were on the car when I got it in late 2012. They are absolute garbage which may be part of the problem, but probBly not all of it. The last set had some nasty uneven wear around, so I got the fresh ones put on, balanced em, got an alignment, and had them replace a left tie rod that was bad. 10k miles on em before rotation (a crime by some standards, and maybe to blame, but I thought volvo advised against it) and when I got the car back from a recent service, I noticed the wear on the tire that was right front (now right rear) was much more severe than the other 3:
By contrast, here is a picture of the former driver-side rear (moved to front)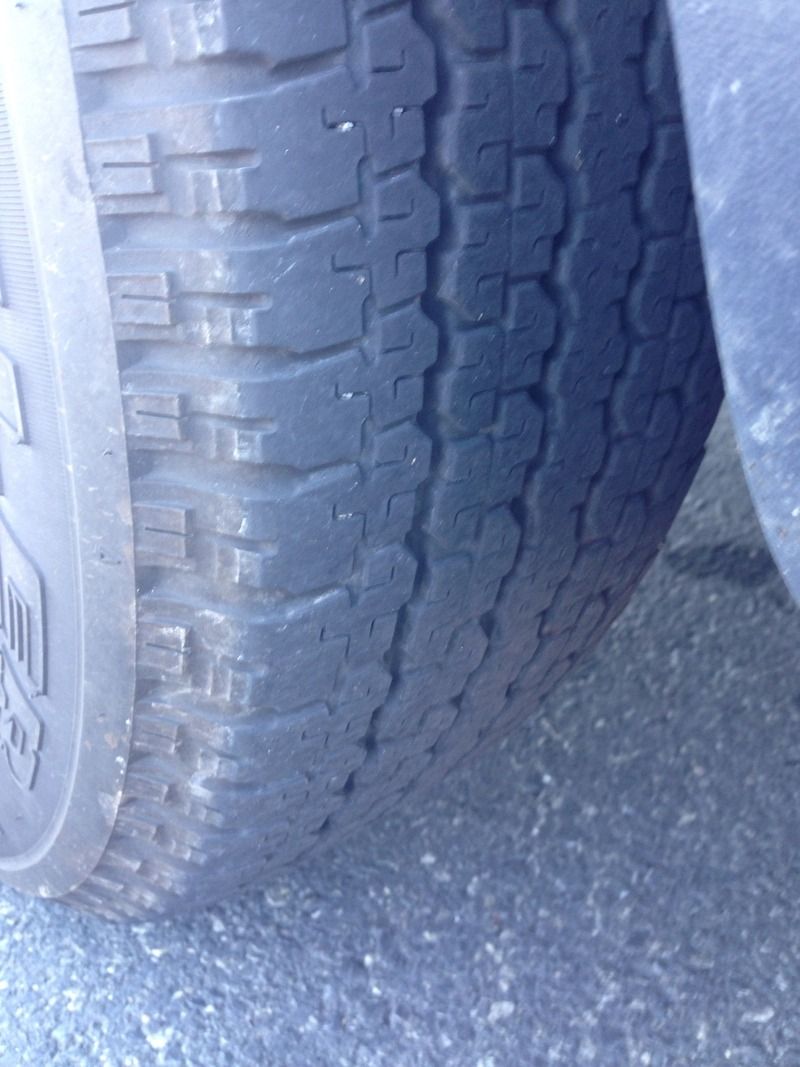 Not sure why this wasn't noticed at my service (may ask em about it tomorrow) but it Was noted that LCA bushings were checked and OK'd. I have no clunks, groans, or squeaks in the front end, and am still on original suspension AFAIK. I have been playing with the idea of a full suspension rebuild anyway because the car generally feels really soft and bouncy.
Any thoughts on the particulars of this situation would be much appreciated. In the meanwhile, I plan to pay WAAAYYY more attention to my tires on a regular basis so as not to end up in a situation like this again where it is sort of "too late" to reverse the process and I will now likely need a new full set before winter.