do88 was founded entirely from scratch by two young entrepreneurs and has in addition two employees at this date. We are selling self-developed, custom made silicone hoses, intercoolers and pipe kits with accessories. Our goal is to provide immaculate quality, unique assortment and speedy deliveries.

Our all aluminum radiators is entirely developed by us in Nykvarn, Sweden. One could easily be misled to believe all aftermarket radiators are the same. That is not the case. To reassure fitment, finish and quality we have chosen to carry out this process ourselves. It is simply better. Moreover, this allows us to control our supplies and develop new products without third party intervention. Fabricated in top quality aluminum with CNC-machined brackets and connections, our radiator withstand high temperature and pressure for a long time, thereby guaranteeing functionality for you and your vehicle. The shiny, polished surface has to be considered a bonus!

For sale is this do88 Volvo S60 R V70 R S80 99-08 NEW Radiator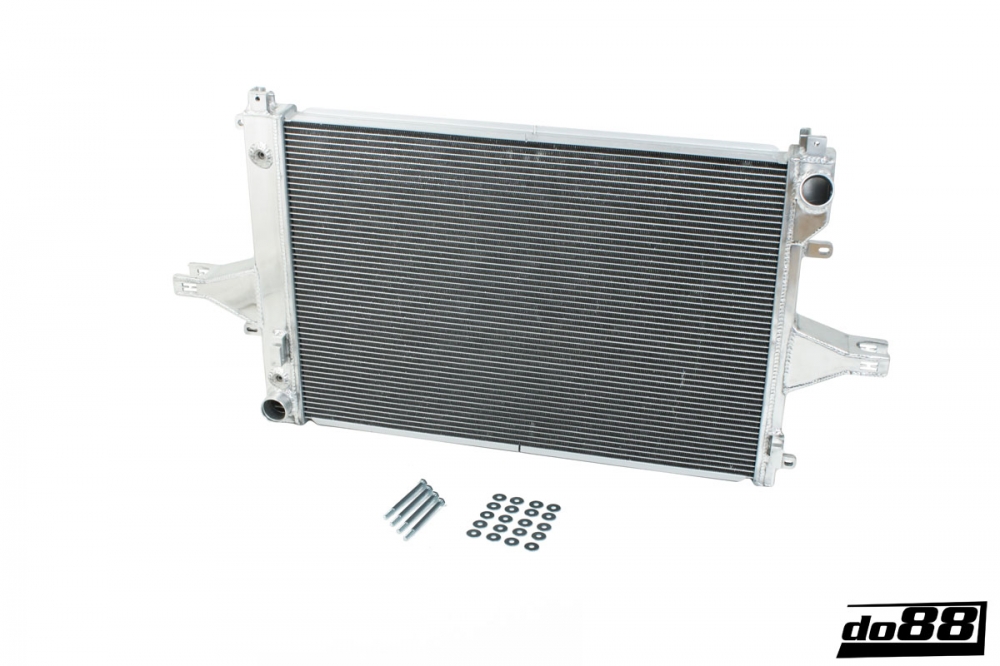 do88 all aluminum performance radiator for Volvo S60 R V70 R S80 99-08.
This radiator fits all models with manual or automatic transmission, both turbo and naturally aspirated cars. It´s an entirely new product with improved design. Matters as fitment, finish, quality and performance is constantly being challenged and questioned to make sure that we´re always up front. Buying a do88 product means that you can and should expect it to be as good as it ever could be, hence our revision and redesign of this product, along with many others.
Made in a 100% aluminum construction with 40 mm thick core with only 6 mm tube spacing, compared to the OEM that has 8 mm.
Note!
Do only use OEM Volvo premixed glycol, or concentrated mixed with distilled water when installing this radiator.
If your car has other glycol today, then make sure to flush your system thoroughly before changing to the OEM Volvo glycol.
If this has not been done on your car we will leave no warranty on this radiator.
We are to receive this product in a few weeks, but choose to announce this now already as the demand is high and the inquiries keep coming in. Sign up today to make sure to get yours!
Fits:
- Volvo S60 / S60R 2001-2008 manual gearbox
- Volvo V70 / V70R 2001-2007 manual gearbox
- Volvo S80 1999-2006 manual gearbox
- Volvo XC70 2001-2007 manual gearbox
- Volvo S60 / S60R 2001-2008 automatic gearbox
- Volvo V70 / V70R 2001-2007 automatic gearbox
- Volvo S80 1999-2006 automatic gearbox
- Volvo XC70 2001-2007 automatic gearbox
Item price 486 USD!
Please feel free to contact us at

[email protected]

, or go right ahead and order your radiator at any of our partners:
http://www.eeuroparts.com
http://www.eurosporttuning.com
http://www.vivaperformance.com
http://re-volvparts.com