I did the first oil change on my 2009 S80 T6 last week. It was a learning process for me, but thanks to previous posters, I knew what to do (or thought I did). I call it a "DIY Oil Change With A Twist" because I replaced the oil drain bolt with a Fumoto oil drain valve, to speed up future oil changes. Here's some pics:
First, a couple of points: I did this oil change on my 4-post lift. I also used an air ratchet wrench with a Torx T27 bit to remove the (8) engine undertray Torx fasteners. I also cut an oil drain access hole in the undertray for future oil changes (but not for this one).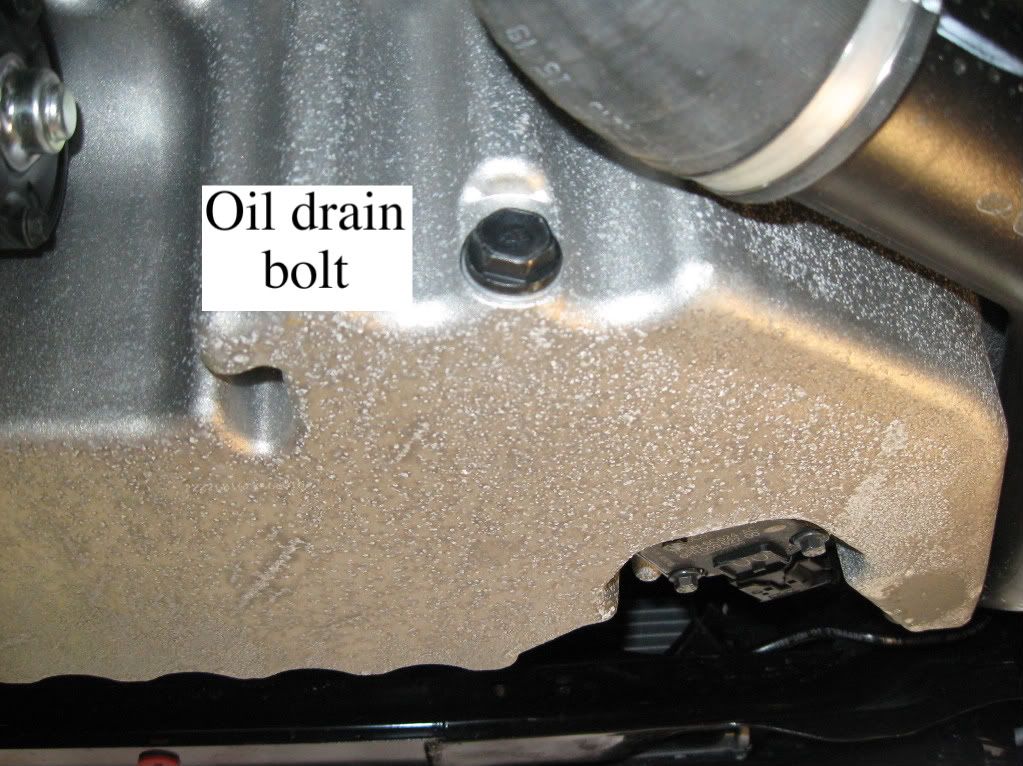 With the undertray removed, but before removing the oil drain bolt, I covered the "boost pipe" with what I call a "diaper" - a plastic-backed disposable absorbent mat that is commonly used in medical offices and hospitals. My brother-in-law used to work for a company that made these "diapers", and he gave me a case of 300, which should last me a lifetime. Good thing I did use them, because when I pulled the oil drain bolt, the hot gushing oil hit the boost pipe where it is flexible rubber/fabric. We know oil degrades rubber parts. Have a nice big oil catch pan too: the old oil kept gushing out for what seemed like forever. About 8 and 1/2 quarts came out.<br>I then worked from topside: I removed the power steering reservoir spring clip with a small screwdriver to pry it off without bending it, lifted up the reservoir, and tied it off to the side using flexible wire.
I then removed the oil filter housing cap with a 36 mm socket attached to a short 1/2"-drive extension bar, a flexible coupling, another longer extension bar, and a 1/2"-drive ratchet wrench. The cap unscrewed uneventfully, although it would have been easier if I had a straight shot down to the 36mm nut on the oil cap and had not had to use the flex coupling. I put a diaper around the oil filter housing before removing the cap. Although no oil spilled out when I removed the cap, you'll be glad you put rags or something similar in this area, as you will see.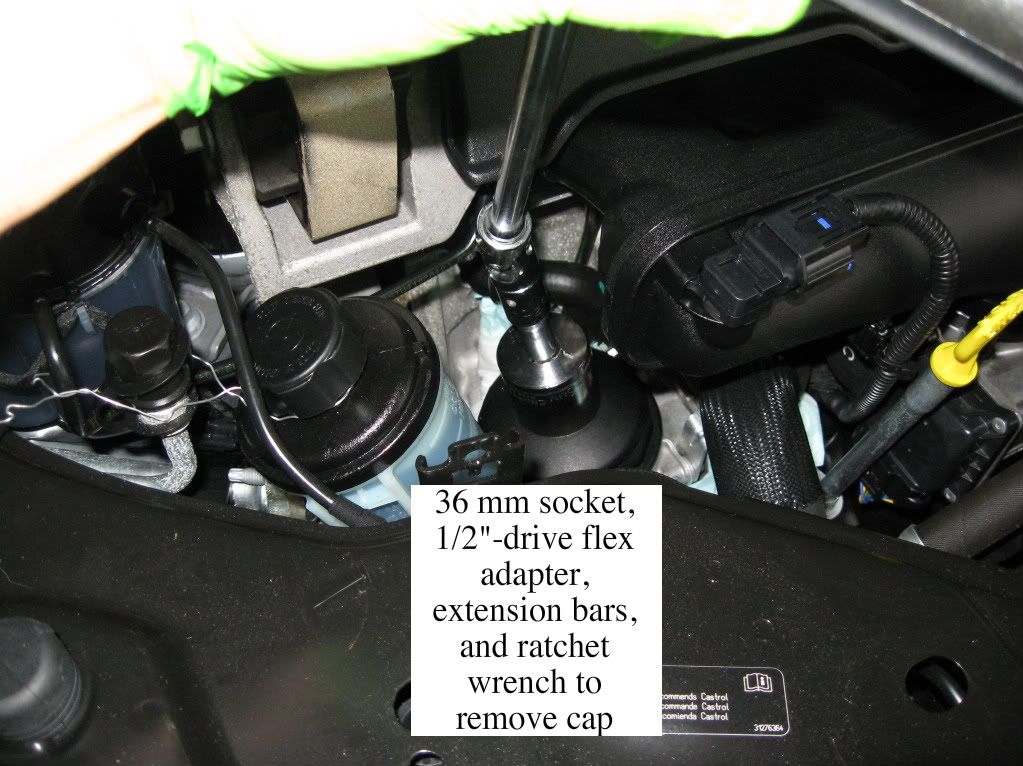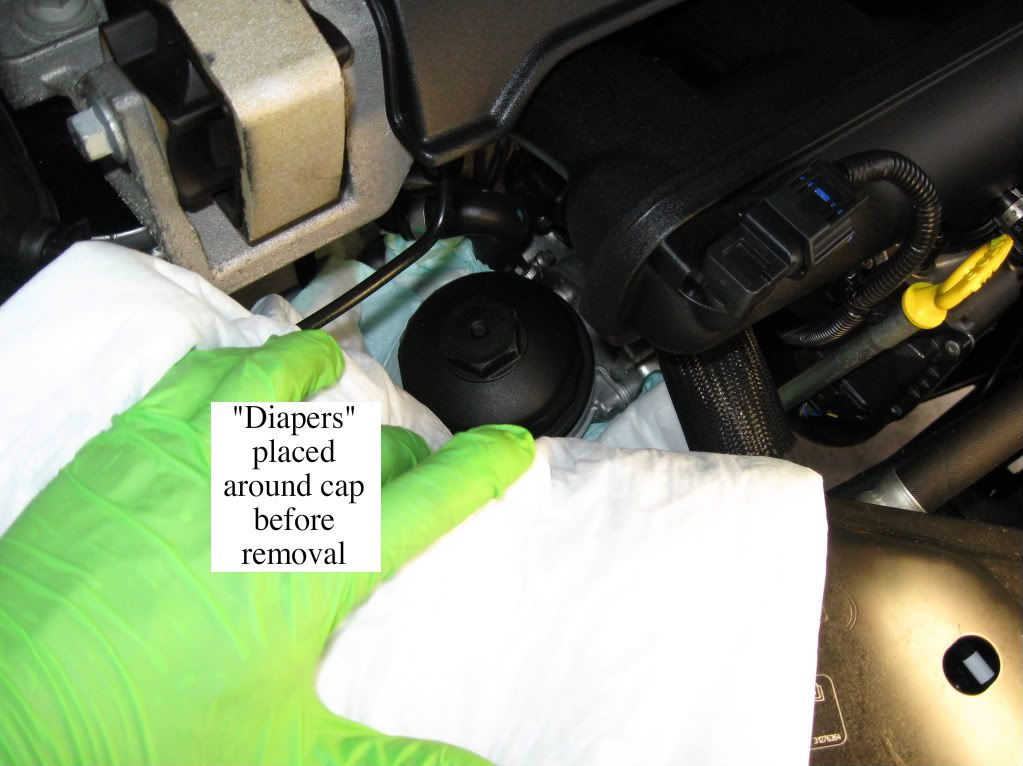 After unscrewing the cap, the fun begins. You see, there's not enough clearance to lift the cap past the pwr steering reservoir, even with it pushed fully to the side. So after saying a choice Swedish curse word, you say "No problem, I'll turn the cap sideways and lift it out". Ah, well the old oil filter is attached to the bottom of the cap, so you first have to pull the old filter off the cap. So you reach down with one hand (only one arm will fit down there), to pull the hot oil filter off (of course we change our oil with the engine warm for a more complete oil drain, right?). Well, there is a cylindrical plastic piece attached to the underside of the oil cap that runs the length of the filter, so it's difficult to separate the filter from the cap. During this time your left forearm is being burned by the top engine mount bracket, and the hot oil on your fingers will test your pain tolerance. And dirty old oil is dripping down in the engine compartment. No problem if everything is covered with diapers.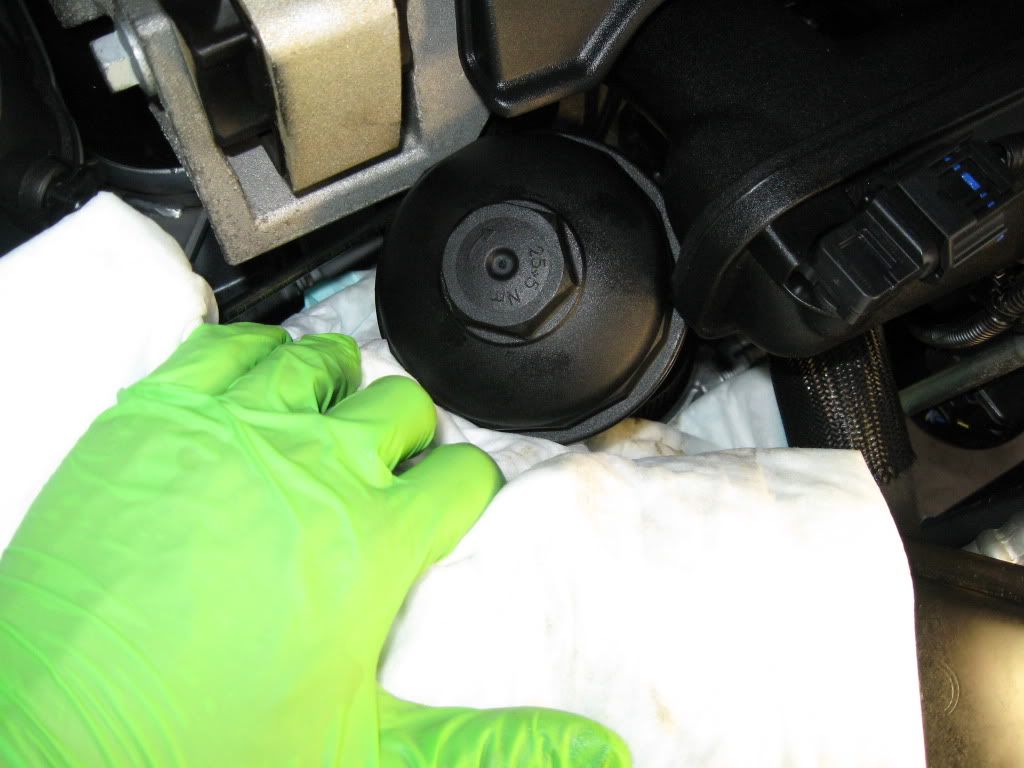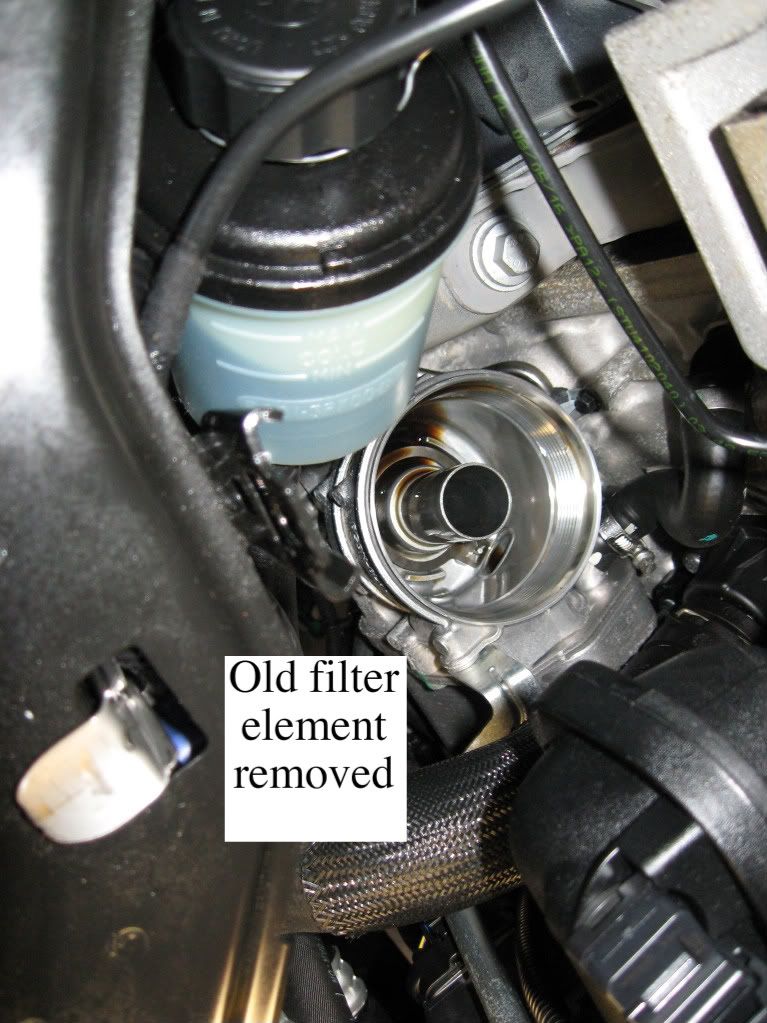 I got my filter from Boston Village Volvo. Bought the 10-pack. They are Mann filters inside the Volvo boxes.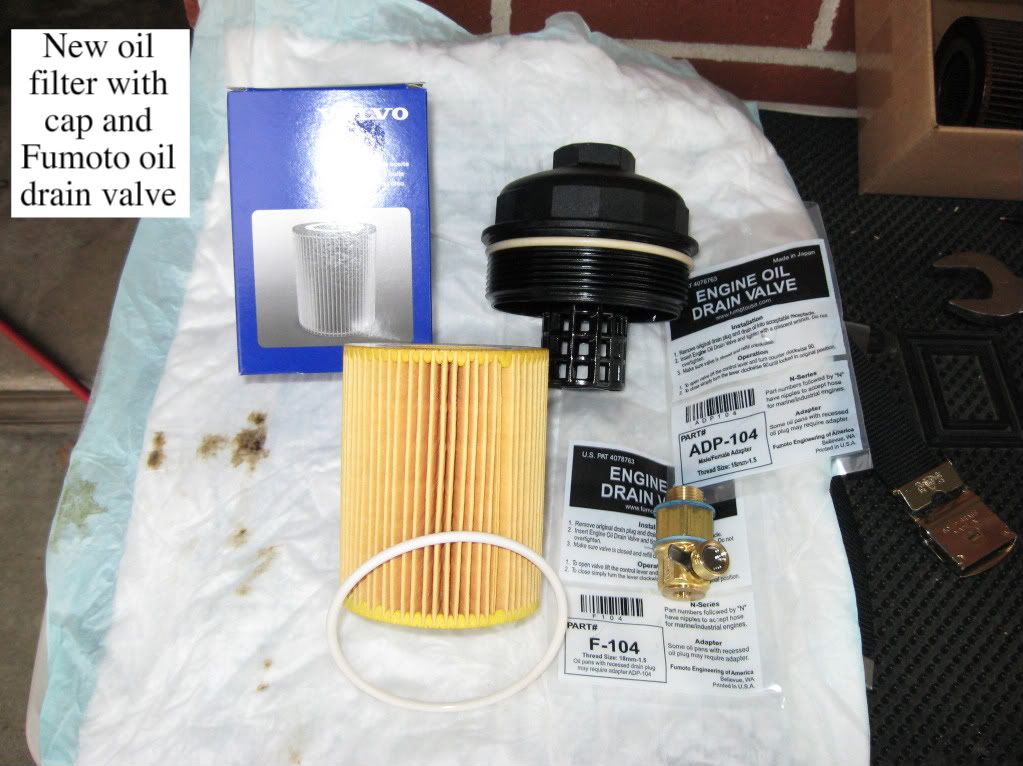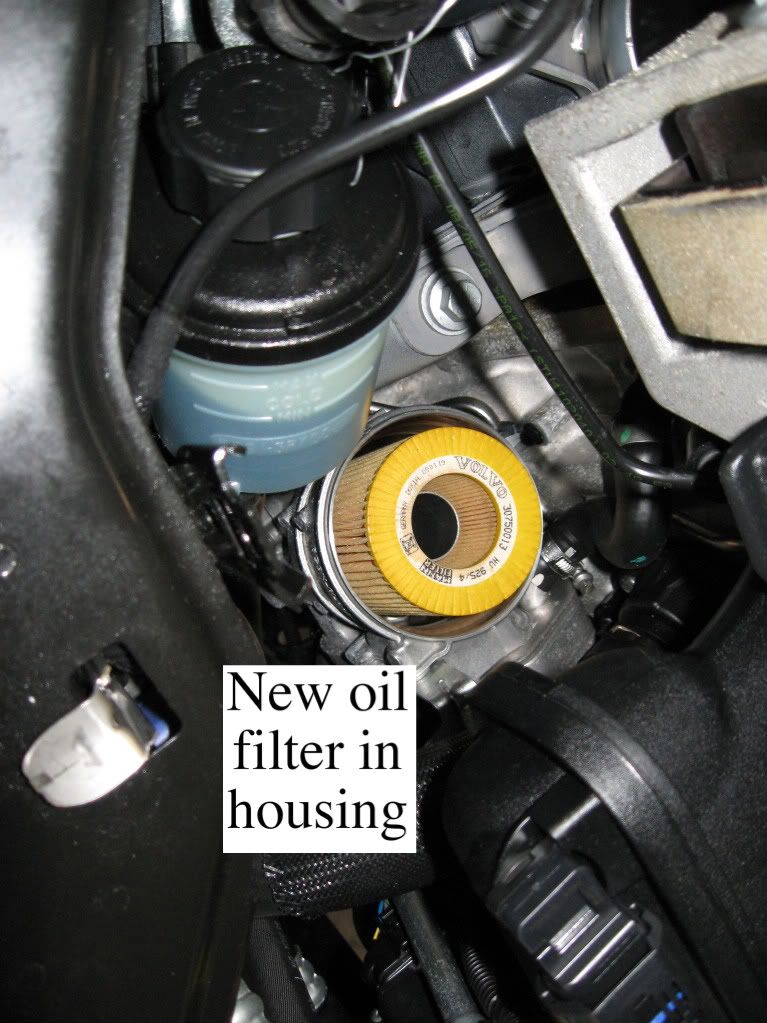 Tools and parts I used: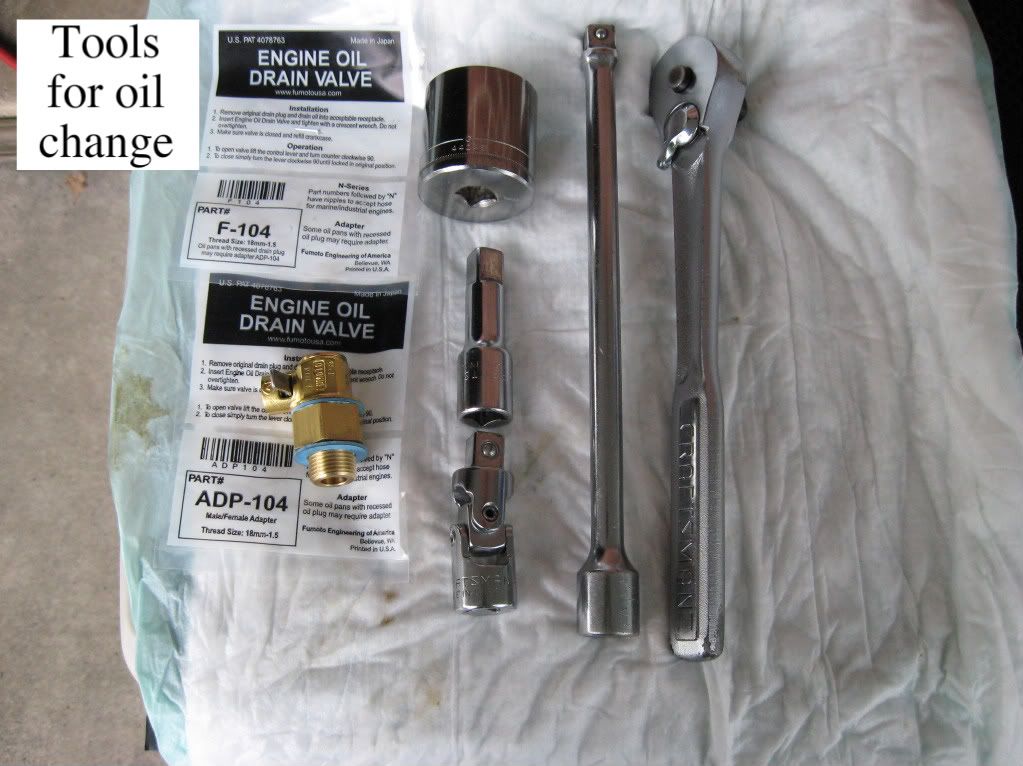 Oil drain valve installed. It just clears the boost pipe.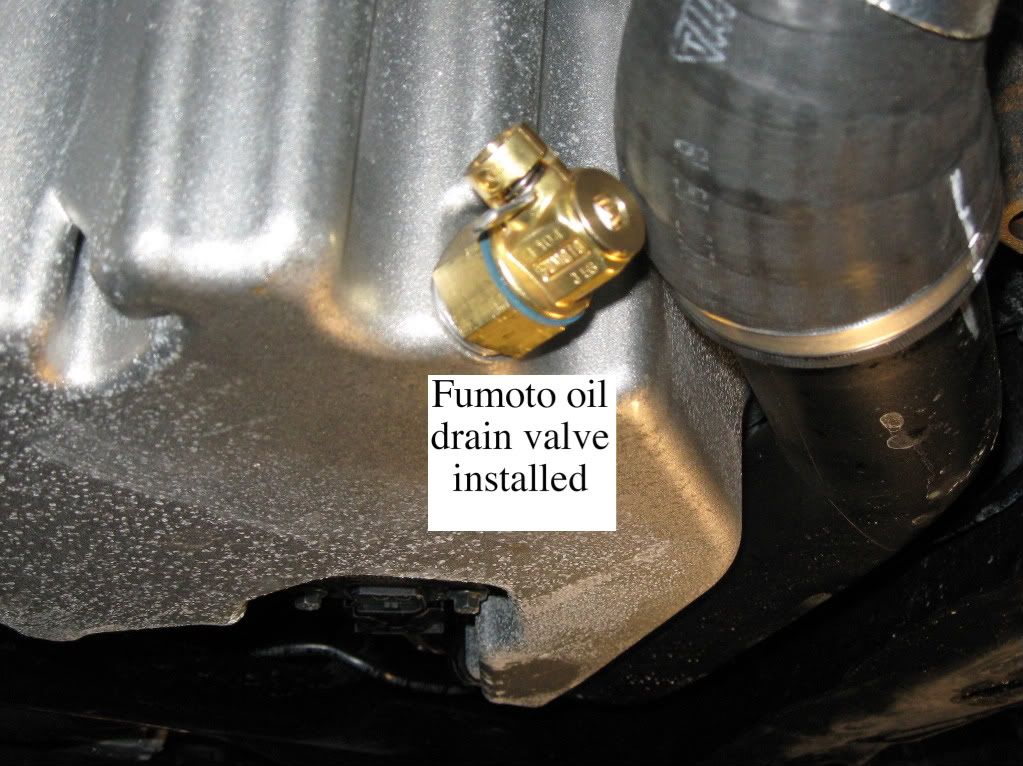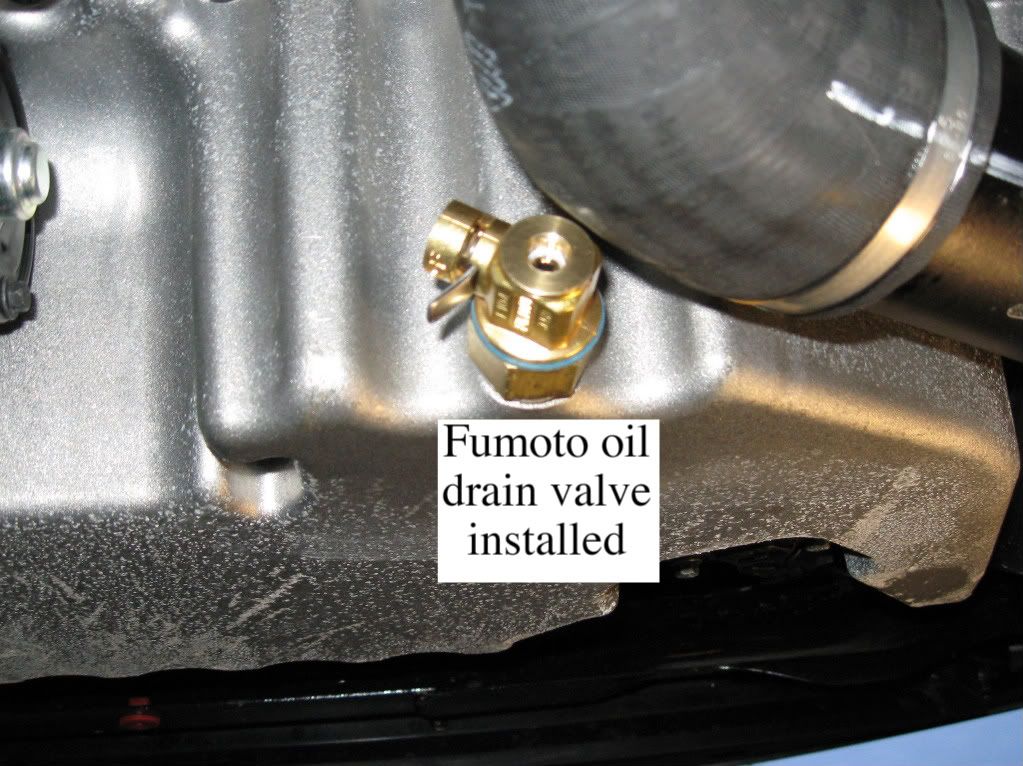 Refilling my engine took 8.5 quarts of Mobil 1 to bring the level to the full mark on the dipstick. That's a whole lot of Mobil 1, and is the same refill amount that my Mercedes S420 used to take.
For my next oil change in 6 months, I plan on using some type of deflector to keep draining oil from hitting the boost pipe, and to guide the oil down the access hole in the engine undertray.
Why Volvo engineers had to make this job so difficult, I have no clue. But I'm sure I'll get better at it with each oil change.
Have fun, guys and gals!