Discussion Starter
·
#1
·
Well, here it is! I spent about 16 hours of my own single-handed labor. Things went pretty smooth for the most part. I gotta thank Jesse http://********************/smile/emthup.gif http://********************/smile/emthup.gif for all the email support he has given me in addition to his wonderful writeup on his own FMIC install.
I will mention that the Front Bumper cover and upper cross member can be removed per VADIS instructions, so theres no need for me to bother reiterating them. While I was at it, I took out the stock air filter box, the 'ram' tubing, and the black plastic cover beside the airbox. It gives you 10x more room and will be needed later on, so its best to do it NOW.
I started with the obvious of draining the R-134A.
DISCLAIMER:
please have a professional PROPERLY evacuate your system. http://********************/smile/emthup.gif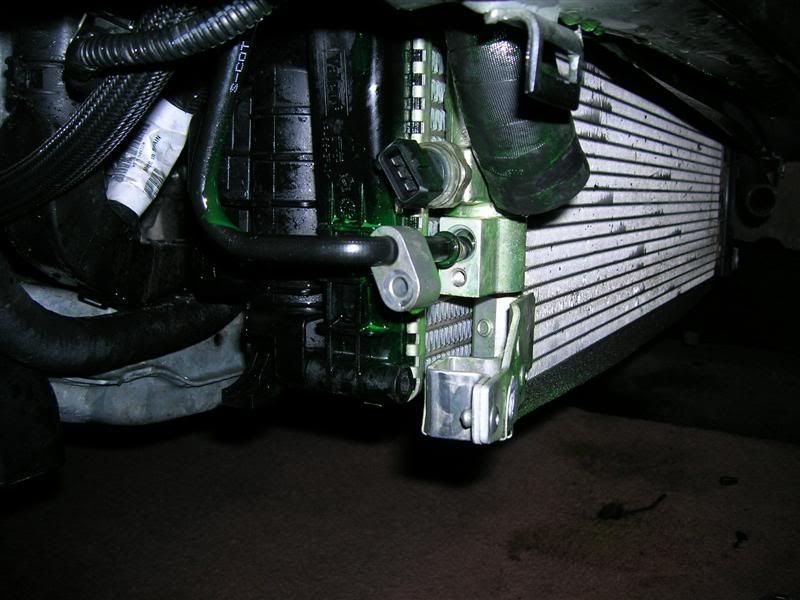 I took a garden hose and rinsed everything off afterwards because I didn't want to be playing with 'green' on my hands.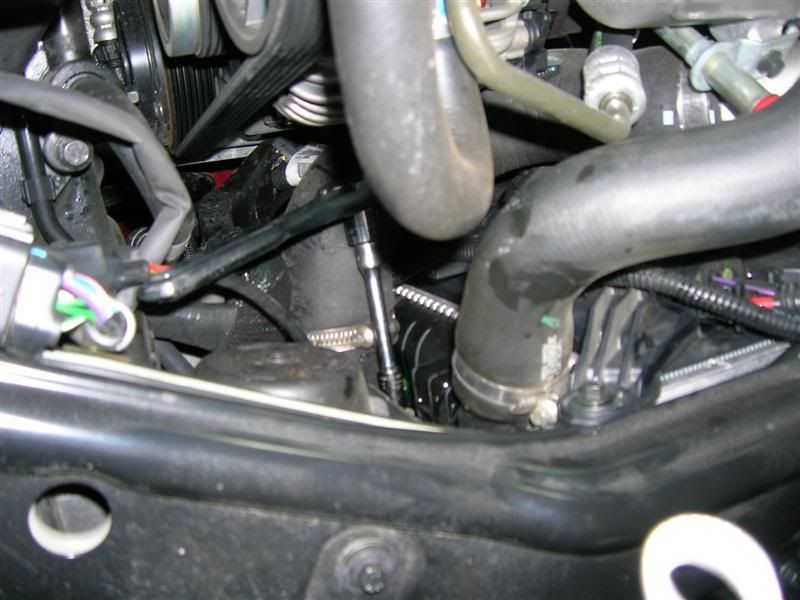 There are four connecting bolts which hold the combination of radiator, stock IC, and A/C condenser together which must be removed before anything gets dropped out. They are pretty easy to get to. You must also disconnect the A/C lines from each side of the condenser. Remove the lower IC from its two hoses. Be careful, and the condenser should drop right down. Disconnect the two charge air hoses from the main IC. There are two bolts that support the RADIATOR from underneath which need to be removed so you can temporarily move the radiator backwards in order to shimmy the stock IC out without breaking anything. This took me a little time to figure out. It works easier if you pull the driver side of the IC out first, and then as you push back against the radiator, work the passenger side loose. Its a good feeling when that baby finally comes loose
After that, you can just load the condenser back in and I used a smaller bolt to re-secure it to the radiator at those 4 connection points mentioned earlier. You should also reconnect the A/C lines to each side while you are at it, as to not forget them later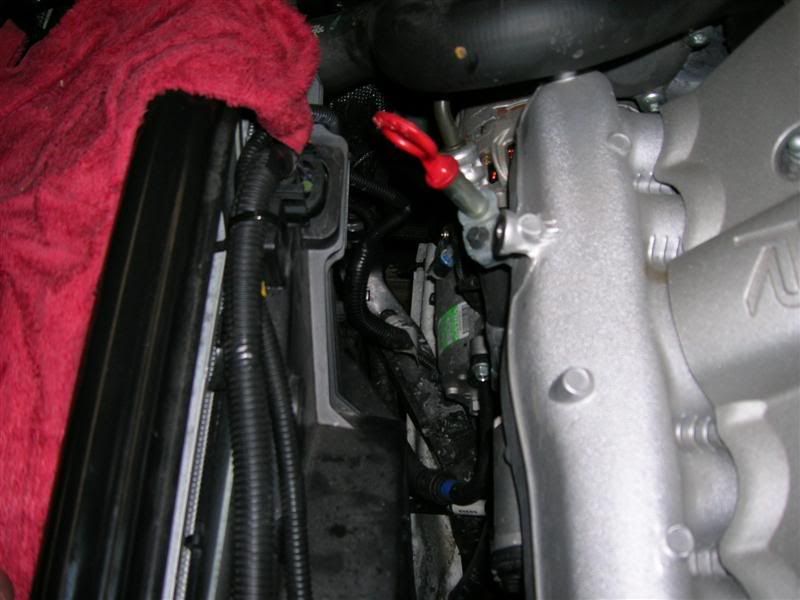 Looking down through the side that I was going to have to run the new piping, I was a little nervous, because there were ECU wires, an A/C line, and another set of wires, and everything was happily situated right in front of the serpentine belt
I was especially nervous after I went back and re-read Jesse's FMIC thread and realized he used 2" pipe at that spot vs. the 2.5" that I'm using, so I really thought I was hosed!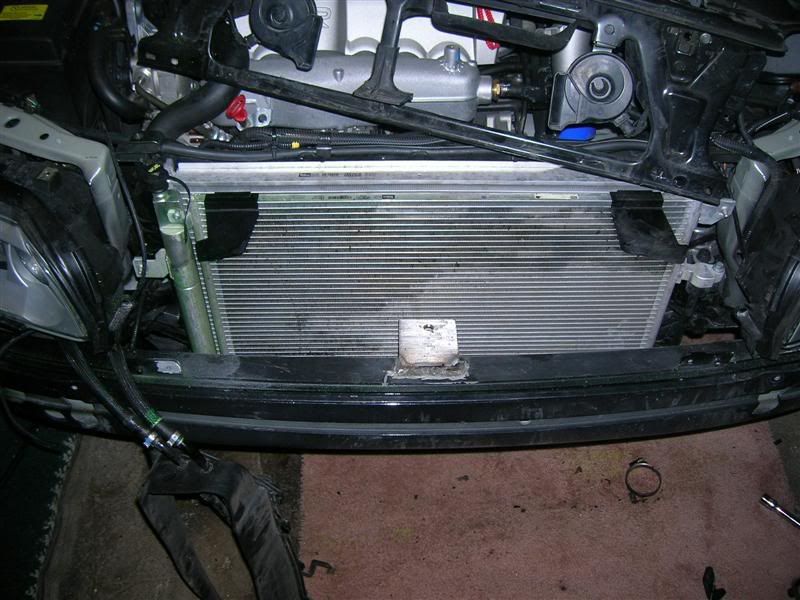 I cut a small steel plate and welded it to the bumper which would be my upper support for the new FMIC. I just took a tape measure and cut the distance between the two tabs on the bumper to find the center and marked it, drilled my hole, voila!
There she sits...suspended in place
(it doesn't look centered in that photo because of the angle, but it is, trust me)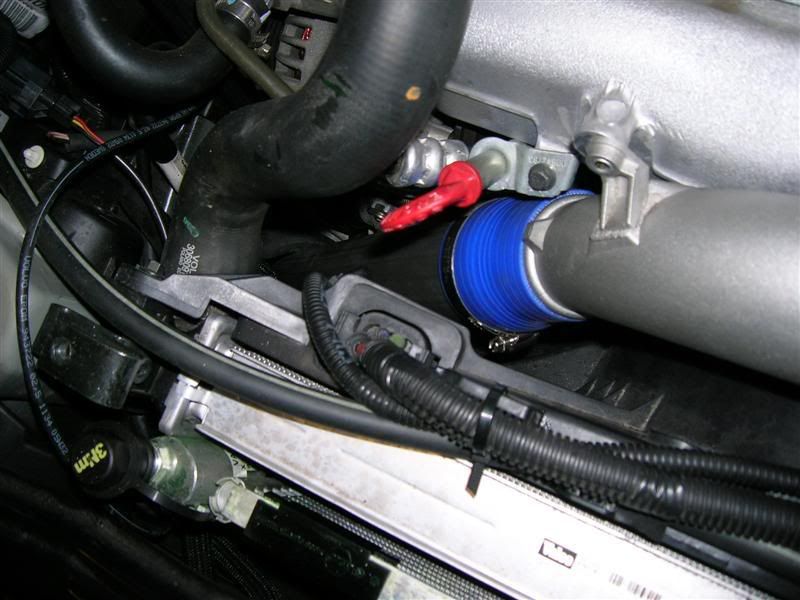 I put the new pipe in the place where it was to be connected to the stock over-engine tube so I could grab some measurements in order to cut-to-length & weld.
"Hot" side piping complete!
(LMAO, I just noticed the coltage toothpaste in the photo
)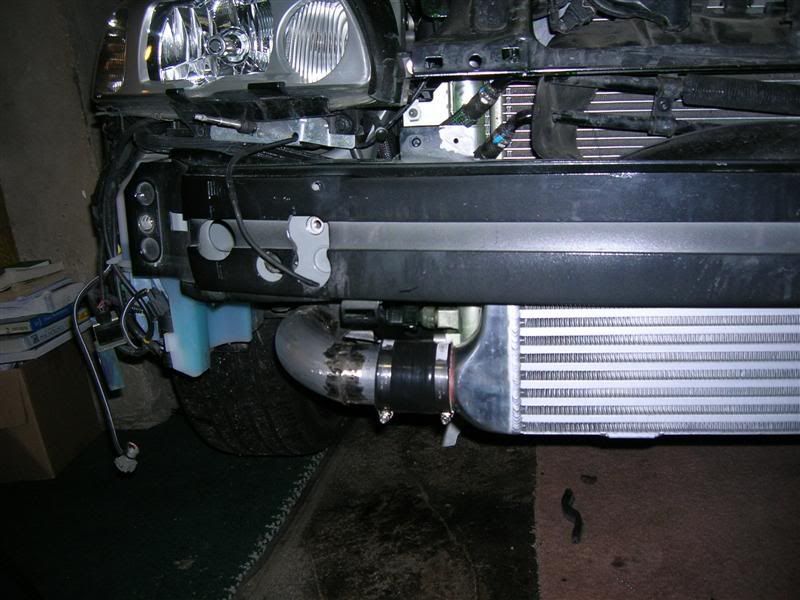 just making sure the "Hot" piping actually fits...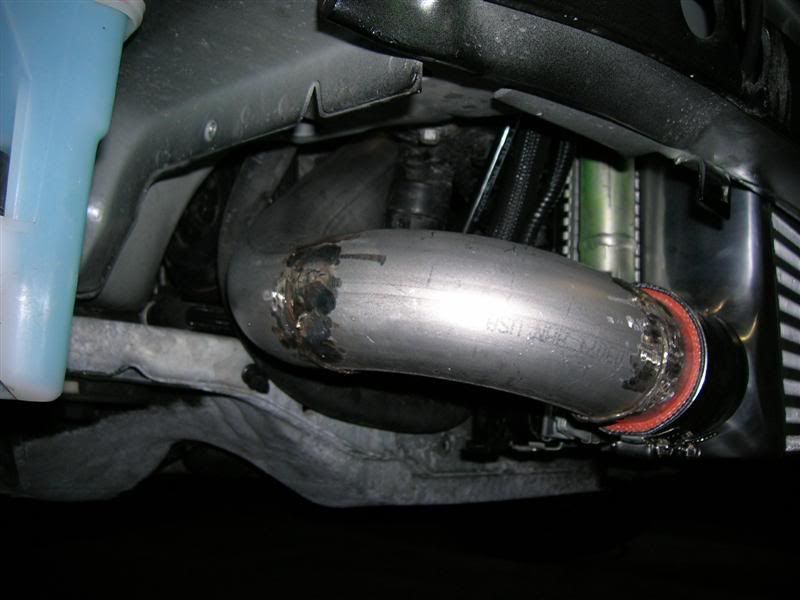 How the tubing snakes around. You can kind of get a feel for how LITTLE room there actually is going up through that point.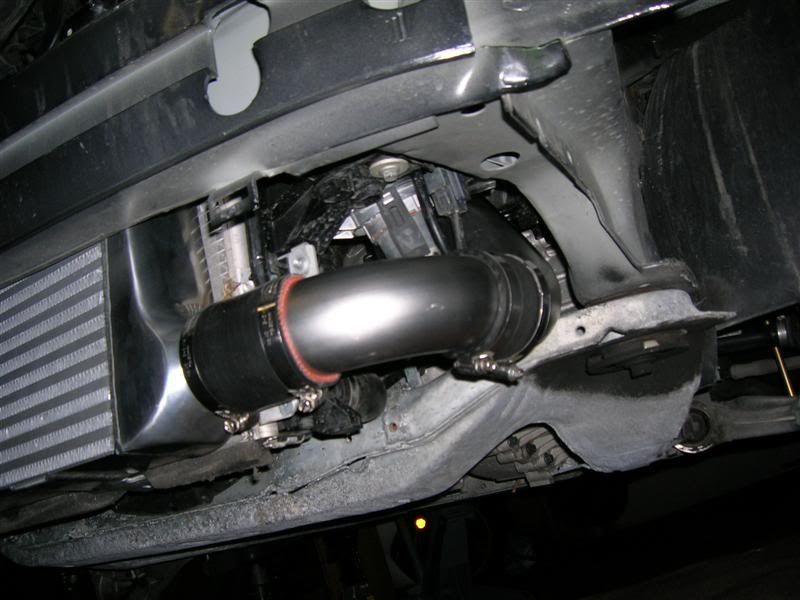 I used the stock plastic piece that comes off the throttle body because it already contained the bung for that required vacuum line, but I did cut some of the end of, pretty much right after the bung...just enough room to fit a coupling on. However, the IAT sensor is located on the stock IC (jerks!
) so I had to remove that and secure it to that plastic piece (orientation correct, as Jesse mentioned!). I used a 45 degree bend to point my toward the access port on the driver side, and another 180 degree snake turn into the cold side of the FMIC. I had to use a coupling at this point because I didn't have enough shielding gas to be comfortable with any more welds.
In order to go through the access point I did, I had to relocate the little pump shown to the left of the middle hose-coupling. I should have taken a better picture of this part...sorry! Its secured to two points by 10mm bolts with a 10mm nut on the other end.....very easy to move!
This just shows that a 3" core is MEANT for this car
Absolutely ZERO room left, but at least the bumper didn't have to be cut!
All IC components connected!
Conclusion
: I can't post a final picture until I get my 5 degree rotation issue fixed. It was nice and level until I put the bumper back on, and something shifted so its tilted about 5 degrees clockwise.
I used 2.5" pipe from the connection at the over-engine pipe, all the way through until I meet up with the plastic tube off the throttle body.
I used (4) 2.5"-2.5" silicon hose couplers and (1) 2.5"-2.0" silicon hose coupler.
I did have to trim off about 3/4" of the inner lip on the bumper cover, or else it would dig into the IC fins
Modified by phuz at 9:14 AM 3-19-2007