Alright, as most of you know, back in March a lady ran a red light and junked my very precious to me C70, a car in which I have probably a hundred hours of labor and several grand in mods. This was my first wreck in 25 years of driving, and I was very annoyed to have my streak ruined by something so banal.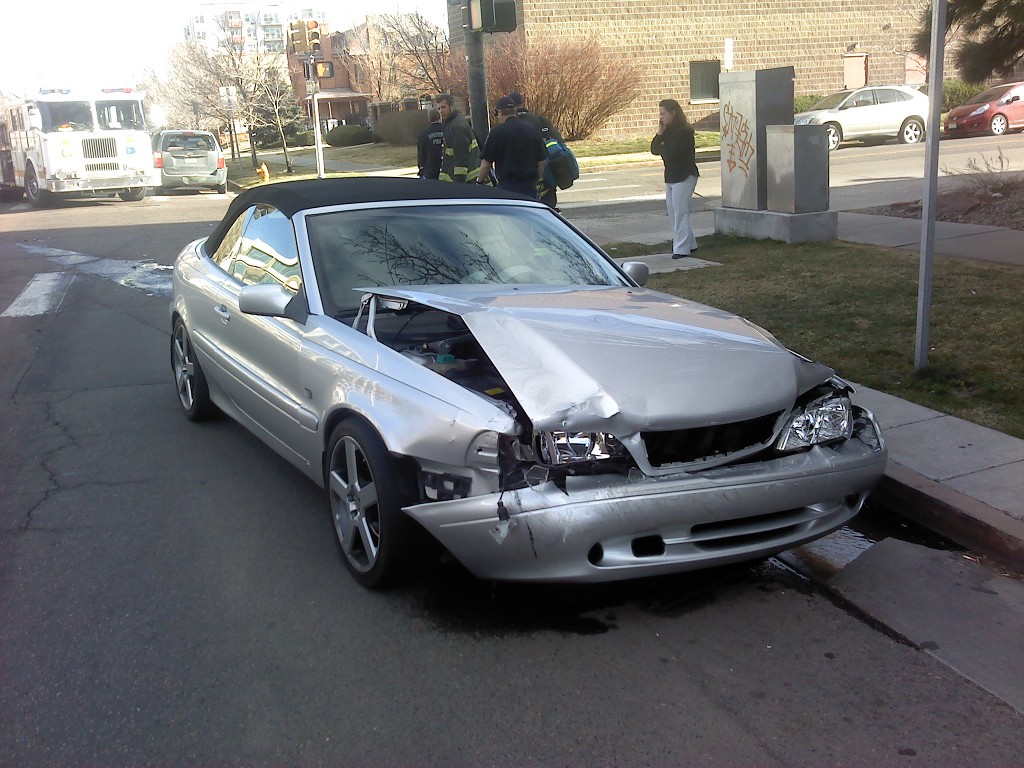 Insurance paid out very nicely, they gave me full book and consideration for mods, and I bought the car back after settling. The adjusters commented both on how nice the car was and how low the miles were. So I spent the summer very depressed, shopping craigslist, autotrader, and of course the insurance auction where I get all my cars. All the while I put my 122 in storage with a friend and started stripping parts.
In July, a car popped up in the salvage auction that seemed like it might fit the bill. An 03 C70 LPT with 89k, no visible body damage in the crappy pics the auction likes to post, and a clean title. Listed as "donated with mechanical problems, does not start". So I bid. Why not, right? It comes down to me and one other bidder, and I win the auction at $3400, more than I want to spend but it's substantially cheaper than full retail. Well, this auction was listed as "on approval" meaning if it doesn't get enough money the seller can reject the winning bid. They counter offered with $5700. Yeah, right I tell myself, this is a wholesale auction. With fees and transport I'd be paying full retail at that price.
So no agreement is reached, and they re-list it. I win again for $1200 this time. The auction does not take kindly to rejections of bids, so whoever else wanted it has backed out. They reject it and re-list. I win for $1050 this time, and they counter down to $4900 this time. I say no, and they re-list. At this point I'm just playing, thinking I'll never get it. I win again at $2000, and to my surprise this time they just let me have it.
So after 5 weeks of idiotic back and forth, I take delivery of my new car. I couldn't believe these guys drove into my cul-de-sac, the driver was pretty good.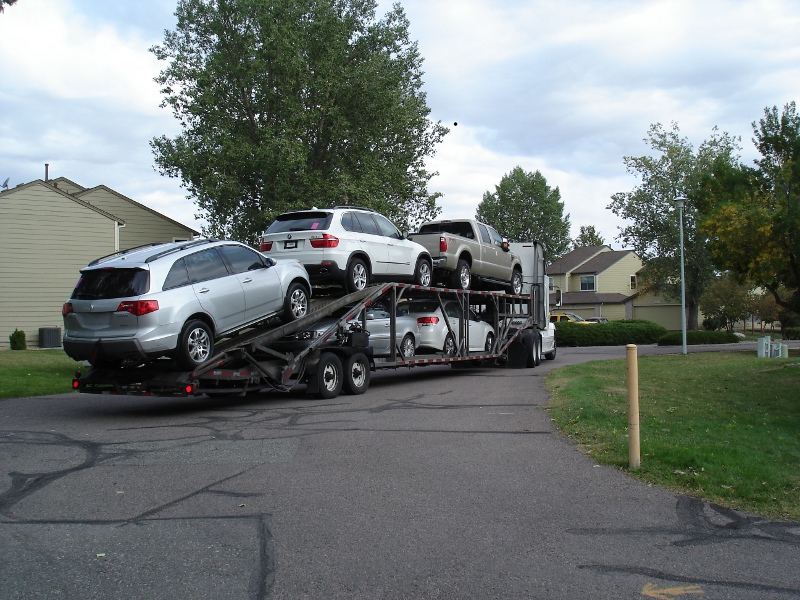 I washed it up tonight. The good: The body is very nice, with no evidence of previous repairs or paint. Minimal rock chips in the hood, headlights, or windshield. It was a Texas car, so none of that winter nonsense we get here in CO.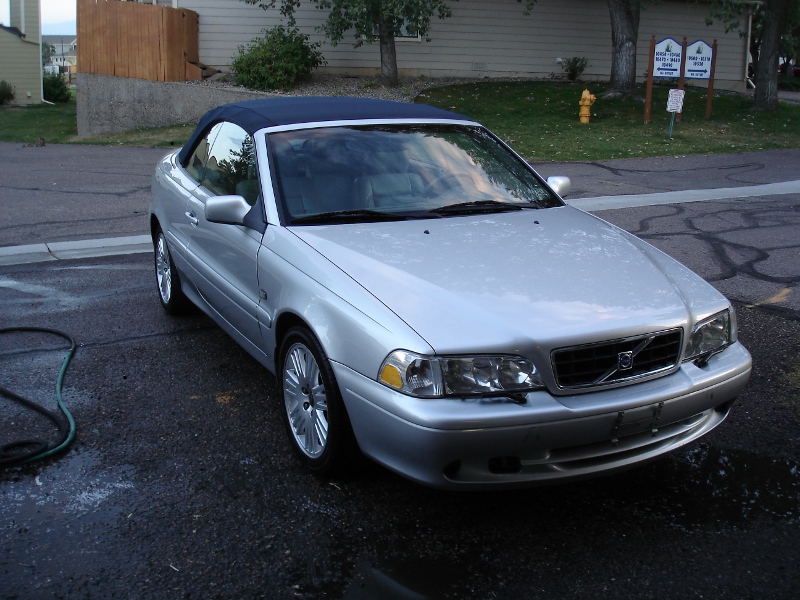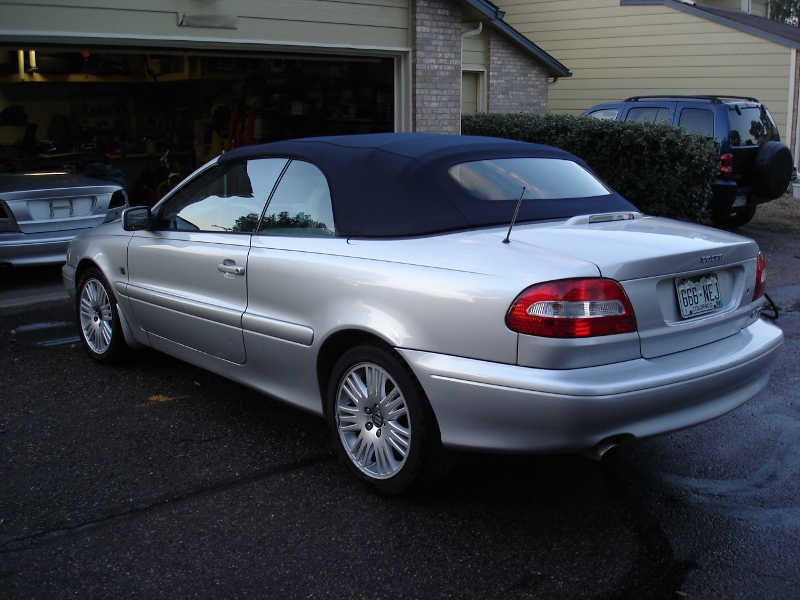 The top is brand new. Obviously replaced, and I think the blue is cool.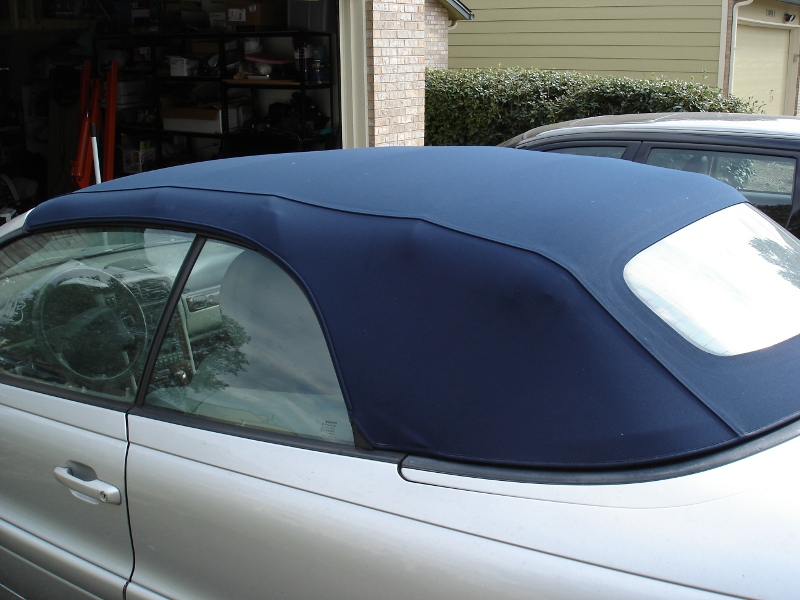 It's got more scratches and dings than the other one but so far nothing that won't polish out fairly well. Here's an example.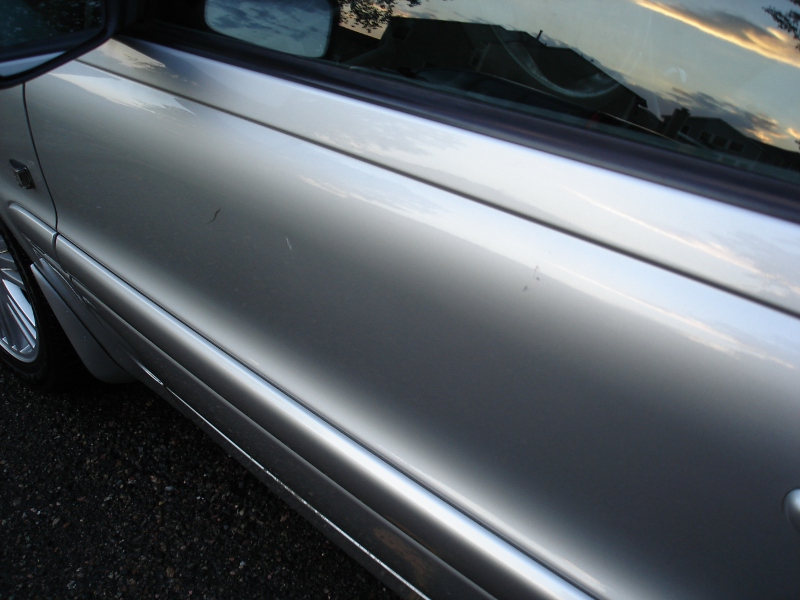 The front bumper has seen better days. It'll polish out I think but at some point I'll replace it, I like not running a front plate.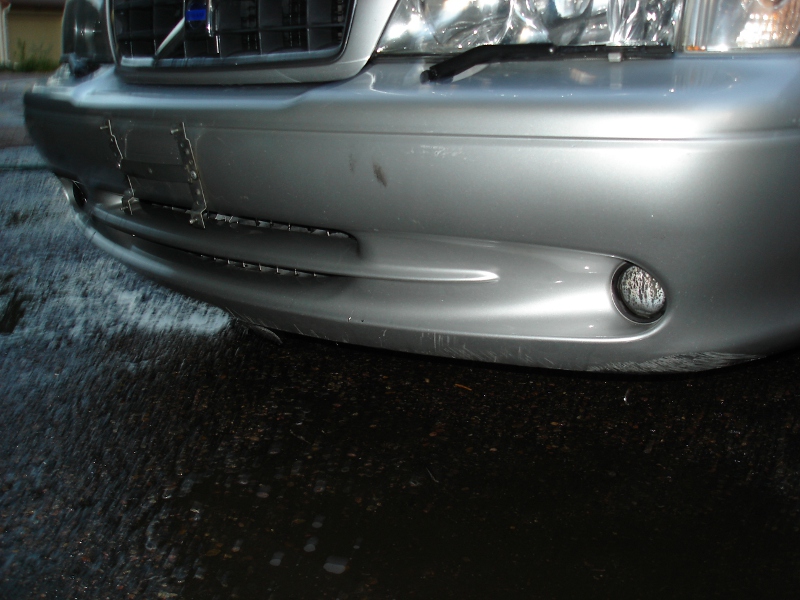 The tonneau cover doesn't fit right, but that's just bump stop adjustments.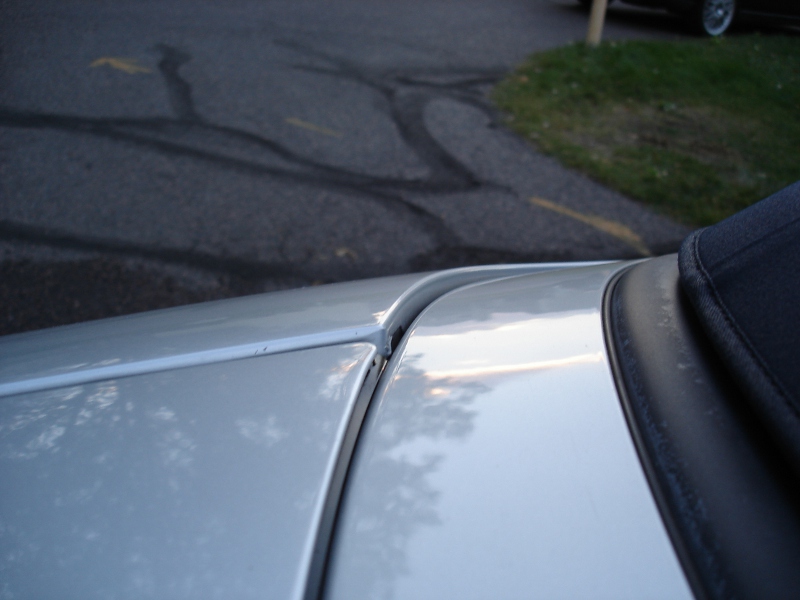 Whoever owned it liked to just drag their cargo over the rear bumper, but I have the bumper off my last car, which only had one scratch. The funny part is that I didn't really want another silver car, but I'm going to benefit from it in this case.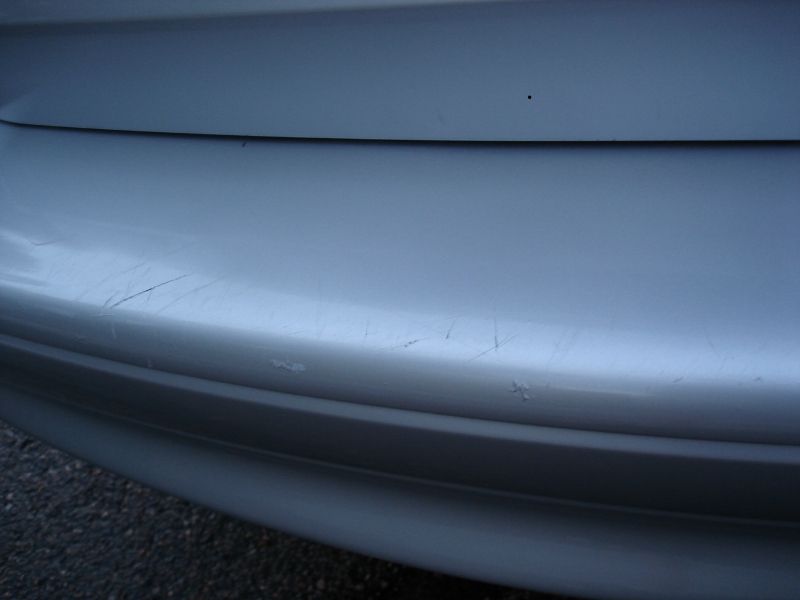 So the bad news: The interior is shot. Very dirty, lots of little nicks out of the vinyl in both door panels and dash, front and rear. I could tell from the auction pictures that it was rough but it's even worse than I could see. I didn't want the light gray anyway, and I have the complete interior out of my old car, but at the same time it would have been nice to have something passable while I do the rest of the work. Now it just means the interior swap happens earlier rather than later, and I can't sell much of the light gray one.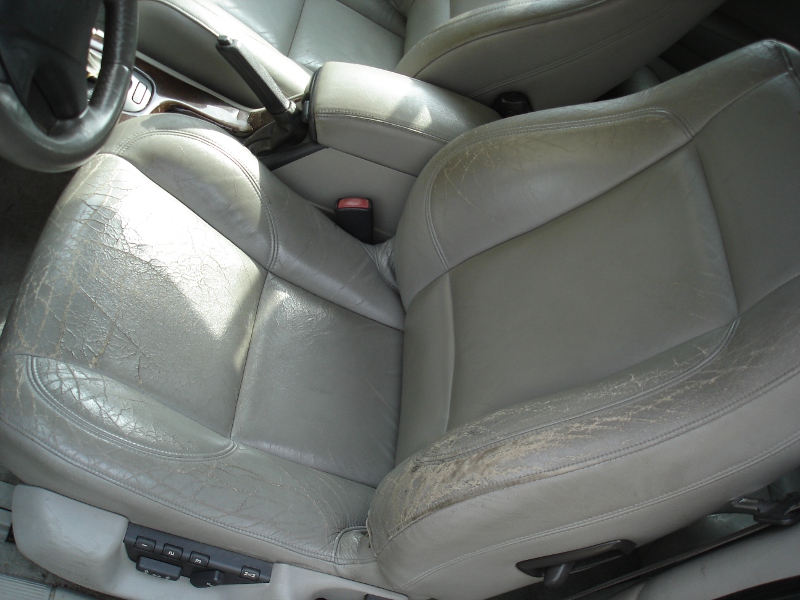 So the rest of the bad: I pop the hood and there's no coolant in it. So it looks like that's the source of the problem. I get a gallon of water and pour it in - and it pours right out from what I guess is probably the turbo coolant line. I get in and crank it over and it lopes fast and slow, and after about 5 cranks I see puffs of vapor coming out of the coolant filler hole. I go sniff it and it's fuel/air mixture. I don't need a compression check to figure out that's a blown head gasket. Which explains why it was donated and wouldn't start.
I would have been
pissed
if I paid more for this car.
So, the project begins. First, I finish stripping the old car of its good parts: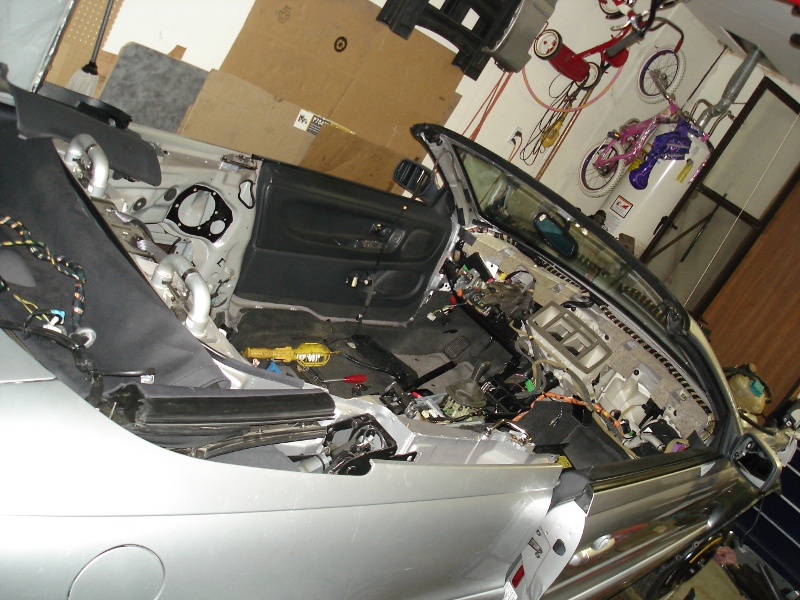 Then I clean them up so I can get this new car in the garage. My HOA does not take kindly to non-running cars parked outside.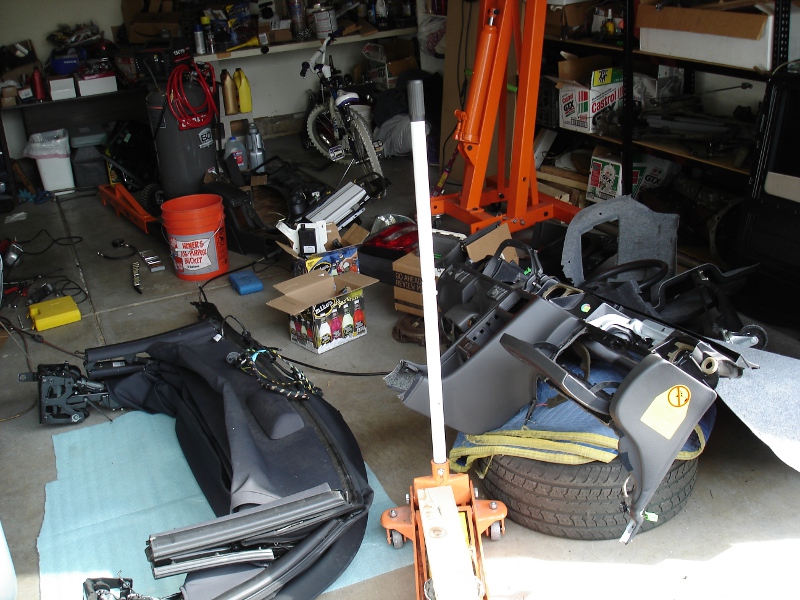 My plans are to just get my convertible back. I loved that thing. My other motor goes in, along with the manual tranny, suspension, wheels, and the graphite interior. I needed tires and brakes, so those will come along as added expenses, and I swore that if I ever needed to pull the tranny I'd install an LSD in it. I helped Brett put one in his car earlier this year, and it's so easy that it's really stupid not to. Except they cost around $1100, so that's one more added expense but it'll really improve the car. I used to one-wheel-peel if I did anything more than 3/4 throttle in 1st gear, and with the flexible convertible chassis it translated into horrible wheel hop.
So here's another project thread from me. The 122 has not gone away, but I have to take care of this crap before I can get back on it.