2022 XC60 T8 Extended Range R-Design in Thunder Gray
Well, it took three hours, but I just completed the dash cam installation I've been dreading--a front and rear Vantrue S1 on my XC60. I've never really documented a project like this, so I thought I'd try this time. I got pictures of many of the steps, but not all of them. I've also not uploaded a lot of photos before, so I'm going to try and it's probably not going to be "the way," but hopefully it's helpful to someone! A few notes from my install:
I've read on the forums here about avoiding the airbags in the A-pillar--I did this even though it's a touch of extra work to remove the A-pillar trim piece.
I used a hardwire kit specific to the Vantrue S1. I used Fuse 49 which I confirmed was not "hot" when the car was off, but was hot when the ignition is in "on position." The hardwire kit came with a fuse tap. It's basically a fuse tap and a voltage reducer as far as I can tell.
The trim pieces were fairly straightforward. I did discover that one of the clips on the threshold trim piece was (I firmly believe) not in the right position from the factory; after moving the clip, the piece reinstalled perfectly. I didn't notice when I took the threshold trim piece off whether it was fastened correctly.
I ran the rear camera cable along the headliner, again being careful to stay behind the airbags. At the rear of the XC60, I (with my wife's help) snaked the camera cable through the waterproof wire loom and behind another trim piece on the lift gate all the way to the rear camera install position. I did not modify any trim pieces. I put the extra cable for the camera behind the trim pieces in the trunk, which you can see in the pictures (assuming I can get them to load).
Again, hope this is helpful to someone.
Vantrue S1 from Amazon; front and rear option. It came with a trim tool which was very helpful.
Threshold trim piece has three metal clips. Later I'll show you which one was installed in the incorrect position (I believe).
Here's the three clips. The one at the bottom was not in the right slot from the factory. When I moved it to the other available slot, the trim piece installed perfectly.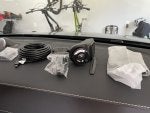 To be continued.