So this topic made a brief guest appearance in my P3 S80 thread, I figured I'd give it a bit fuller treatment on the other side of the fwd-rwd divide...
Like me, my brother has not needed a car since college, and has gone about a decade without one. After picking up the C70, our parents decided it was time to get rid of the 960 and S90, and as they'd be pretty much giving them away I suggested they give one to my brother.
I wanted to get the 1995 960 back on the road, in part because being Savile Gray Metallic / Charcoal with and in-line six makes it the twenty years older version of my S80. Plus, it was the only new car my parents bought together, and they got it around the time I was leaning to drive and getting my license. Unfortunately, it's just too far gone. It's already got the trunk lid, front door cards, and driver's seat from a totaled Cassis/Beige 960, there's not insignificant structural rust, and that's in addition to all the stuff you expect to see in a car with (EXACTLY) 310k miles.
So, we are going to focus on the 1998 Aqua Blue Metallic / Beige(?) S90 with approximately 240k miles. Our parents bought this one from the widow of the original owner with 70k on the odometer. Until recently, my dad was alternating this with the V70 as a daily driver, and it's been on a charger since he stopped driving it regularly. The body is in pretty good shape, with just a busted clip on the right side of the front bumper, and a baseball-sized spot of surface rust on the lower rear panel of the trunk lid (same spot that had rusted on the 960).
The driver's seat in the S90 was in pretty bad shape, and the fore/aft motor seemed to be out, so yesterday, we swapped the one from the 960, as it was in significantly better shape and actually matches the rest of the S90 interior. It was seized in the track, but it freed up enough to move with some help with a bit of WD40. I'm hoping it will free up more with regular use.
First Take On What Else is Needed:
Interior and Exterior Detail...it's filthy!
Tires...needs two before we start getting bad weather
Dome Light...current one hangs due to broken clip
Windshield Trim...it's got none, neither does the 960, ~$250 new, so hopefully we can find at a junkyard
Seatbelt(s)...Pretty grubby, but maybe can clean instead?
Horn...if we can get one cheap, otherwise who cares?
Steering Wheel...it's tan and beat while the one in the 960 is black and in surprisingly good shape
Sunroof...it supposedly doesn't open, so I'm hoping we can pull the necessary parts from the 960
Rack & Pinion...S90 doesn't need one just yet, but the one on the 960 is basically brand new
Power Steering Pump...Same as the Rack
Trunk Lid...maybe prep rust and paint with touch up?...or we could always install he Cassis lid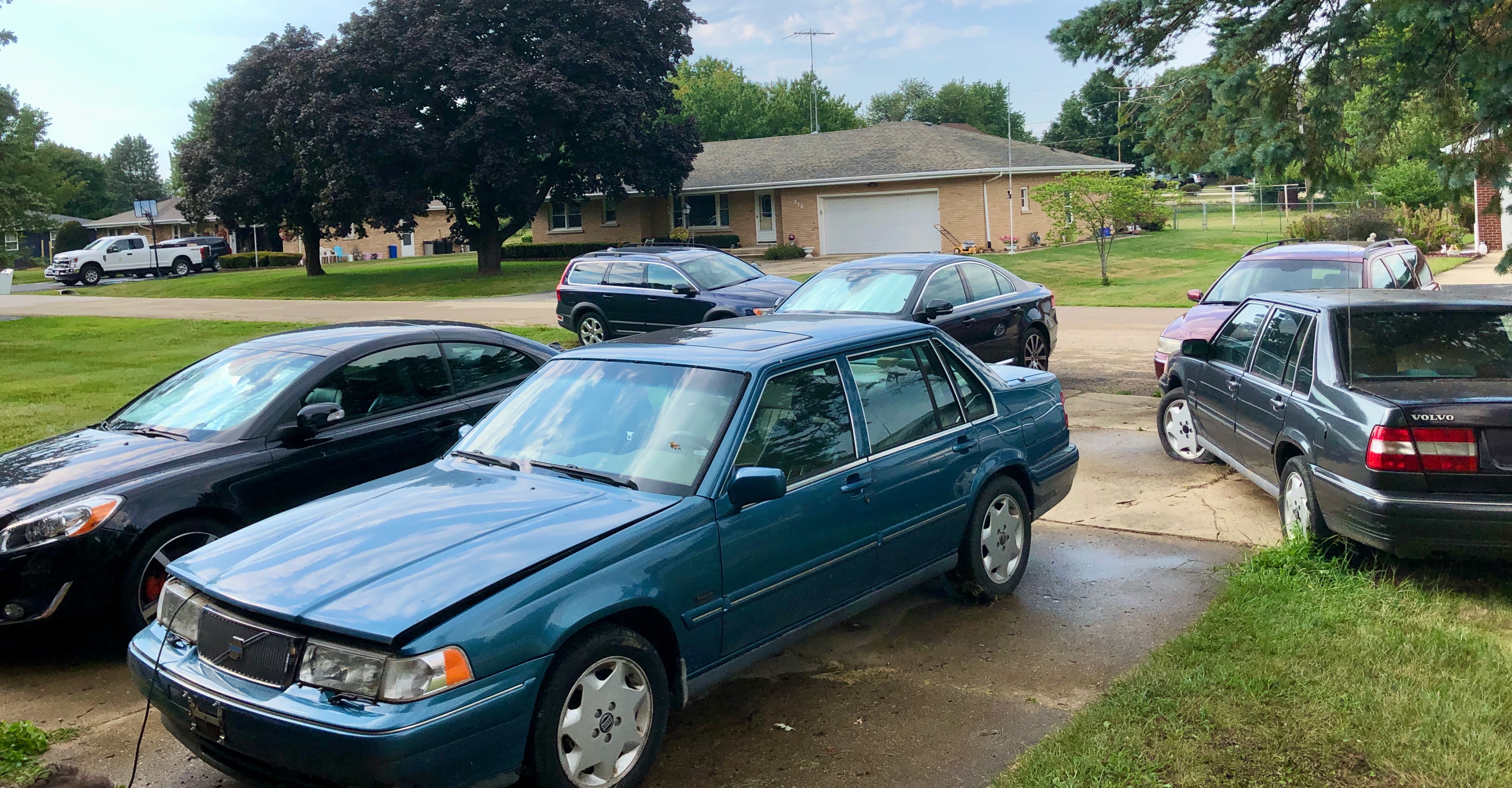 *I haven't been able to find a sales brochure for the 1998 S90, so if anyone knows what Volvo called the color of the beige interior and wheels, please share.
[correction: the donor car mentioned above was Blackberry Pearl, not Cassis]