Discussion Starter
·
#1
·
Supplemental pre-filter Cold Air Intakes ( CAI ) group buys available again
To purchase one, please see thread in classifieds, http://forums.swedespeed.com/zerothread?id=83377
NEW NEW NEW
Version 2.1 of the custom scoop is here:
Fits right in fog grill and held in place with no cutting, truly a "drop-in" part
It is a tight fit, and you have to work to align it, but the clips do push in and attach properly. The flange overhang by the fog-light keeps it from getting pushed back in.
New and improved version of Passenger-side R Kelly Ram-Air CAI kit includes:
Custom made R specific high density polyethylene offset duct seen above
3' section of double walled (smoother air flow) high-temp neoprene hose
2" Aluminum outlet with flange perfectly sized to fit in snow valve hole
2 stainless steel clamps
New driver-side R Kelly Ram-Air CAI kit includes:
Centered 3"x7" high density polyethylene offset duct seen above
6' section of double walled (smoother air flow) high-temp neoprene hose
2" flanged Aluminum outlet
2 stainless steel clamps
Snow Valve Removal
prongs you have to press in in order for it to drop out
Invisible once installed - here with fog grill removed
Need to look real close with direct light to see hose...
Fog Light grill modification. US spec is very soft plastic, razor blade cuts like butter. If you open outside grill on Eurospec, use dremel or exacto knife.
Top - US Spec
Middle - neccessary for mod
Bottom - opening outside is for aesthetics
Fog light grill removal - (highly reccomend IPD / volvo bone tool)
Quote, originally posted by Mike02z »
Installation instructions
You can use snow valve hole or cut new hole off to the side, both work and have their own advantages
.
Snow Valve Hole Option:
Open airbox
Remove filter (reccomend switching to BMC, K&N or J&R at this point)
Pop the snow valve out pressing in 3 prongs
Remove "keyhole" air dam with dremel or just cut vertically and bend back and forth, will break off at crease. Technically not necessary, but you will only feed about 7% of filter if you don't. Still a decent increase, since that 7% currently it isn't getting any air.
Drop aluminum outlet into hole
Put the clamp on the hose
Connect hose to outlet that is sticking out the bottom of air box.
Auxiliary Hole Option
(only reccomended for MTs, GTs may have gear linkage conflict)
Same as above, but cut 2.25-2.5" hole as seen here
Not as critical to remove keyhole air dam with this option, but that 8% still isn't getting used unless you do.
***NEW INFO***
Saucy and paul_the_programmer figured out an ingenious way to install without removing the airbox.
1. You "screw" the neoprene hose down through key hole or new 2" hole you cut, it and route it out the fog light area once you screw most of it down.
2. You should have about 12" sticking out front, you can then rotate hose from fog light area to continue to screw until hose goes out bottom of airbox.
3. Reaching underneath airbox, slip clamp onto hose, and rotate hose opposite direction and feed back up through hole. .
4. Install outlet in hose, rotate hose back just enough until outlet sits flush.
5. Reaching underneath, slide clamp up and tighten.
Voila!
Here are comments from paul...
Quote, originally posted by paul_the_programmer »
That was it - the above process literally took me 5 mins to get the hose routed. And like I said, I think the biggest benefit is it seemed like I have a really smooth hose route, there were no sharp bends in the hose at all. I read somewhere about 'prebending' the hose - I didn't need to that at all.
If you would rather remove airbox, here are some tips from DE V70R.
it has a little trick to it. works cold or warm.
once you have the 3 main bolts that hold the airbox down, have taken off the solenoid on the side, taken off the MAS sensor wire and loosened the clamp just behind the MAS
then just grab and lift straight up on the front of the airbox. lift is straight and the MAS pops easily out of the hose it is in. install is just reverse of this
Remove fog grill starting with outside top, bone tool really helps here
Open slits if you have US Spec with dremel/exacto knife
Use 2.25" or 2.5" hole saw to cut hole in inner shroud. OPTION: Cut 3 sides of 2.5" square (leave side closest to middle) using some cutting tool and bend shroud out of the way. You can do this if you really want to make it look stock when you sell/return car
Use dremel to grind 2mm off flange of intake and to bore out backside of outlet (give yourself full 2" inner diameter)
Create notches for fog light grill attachment points on intake flange with tin snips, razor blade, dremel, exacto, etc and fit to back of fog light grill while off of car.
Route neoprene hose through hole in inner bumper shroud, place clamp on hose
Insert intake into hose, tighten clamp
Push outlet back in
Replace fog-light grill to secure
There is at least 6" extra hose length, so it shouldn't matter what end you do first.
You should remove extra hose length that you don't need.
You can re-install the valve, that is the beauty of the design.
You are removing the keyhole walls to avoid this situation - all that fresh cold air the turbo loves being funneled into 7% of your air filter.
Top is new additional 21 sq in intake you are adding to the stock 12 sq in intake.
Video of Airbox testing showing vacuum elimination
http://forums.swedespeed.com/zerothread?id=69428
g-Tech showed 10 HP increase
http://forums.swedespeed.com/zerothread?id=75708
Stagg's very cool version:
Some pics from baxteR's install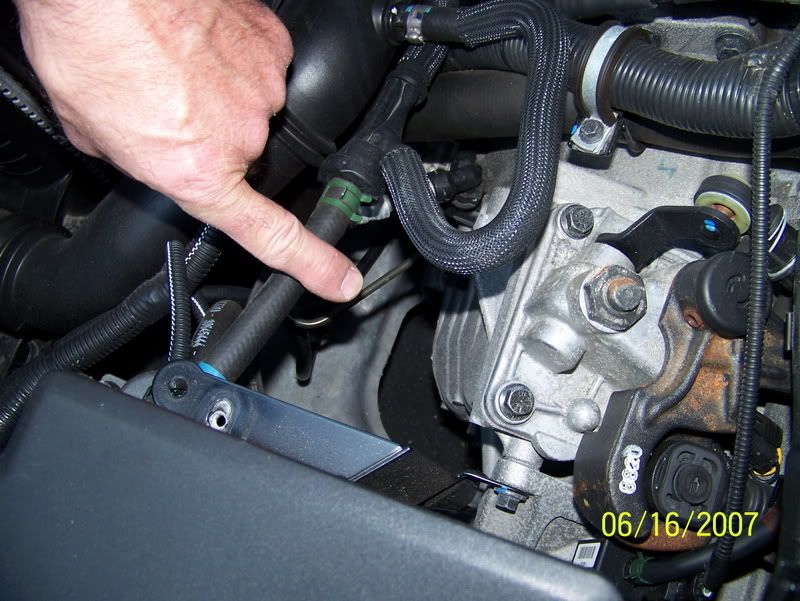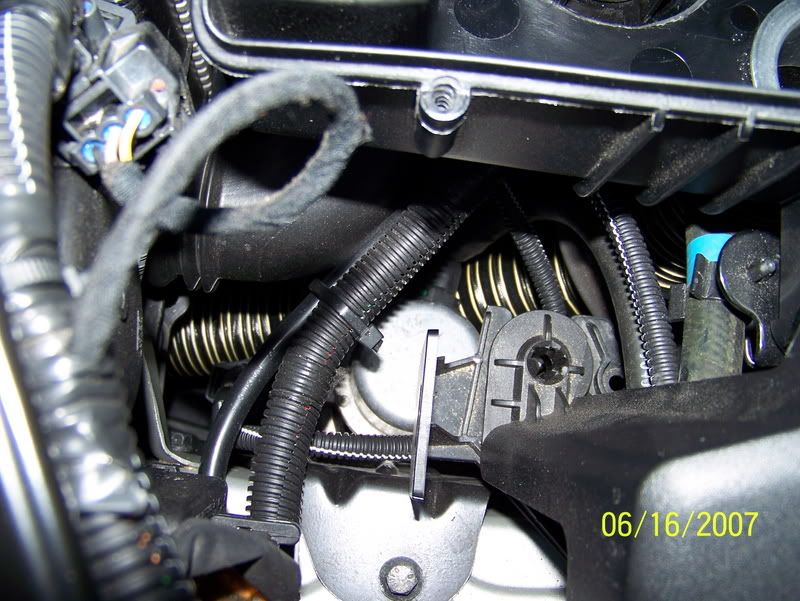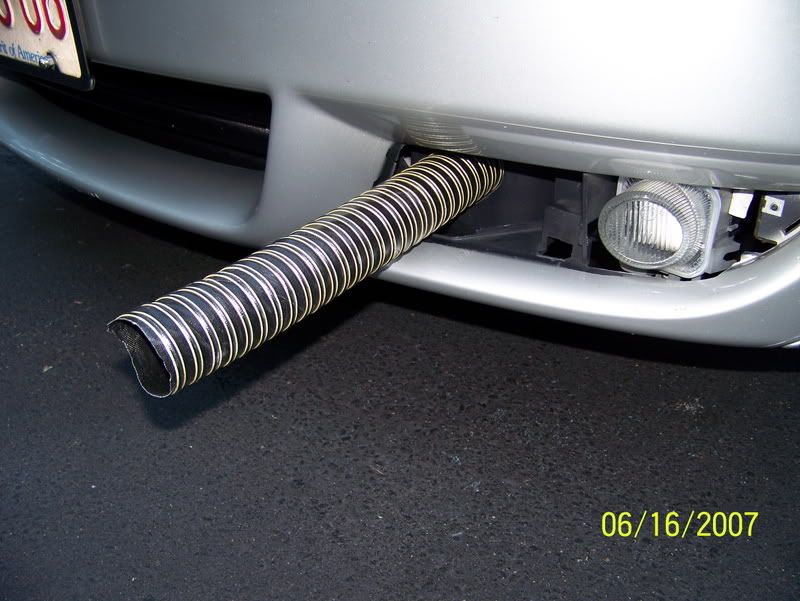 To purchase, please see thread in classifieds, http://forums.swedespeed.com/zerothread?id=83377
Quote, originally posted by "R" Kelly »
Hey all, found some spare time to post up pics for passenger side install. Have to use a different centered scoop because of the silver cylinder thingee over on the passenger side.




I just trimmed scoop down using dremel and fog light grill as my guide, needs to fit inside of all the connection points and have inside edge cut at an angle.




Only thing different about passenger side is because of centered funnel, I had to dremel/sand down that sharp corner of neoprene bumper (offset on drivers side avoids that step). 30 seconds with dremel.




Same complete stealth when installed.




Some of the routing




I could have used an aluminum outlet and clamp for a cleaner look inside airbox (and all kits will have those), but I just got lazy and pulled neoprene hose into 2" hole created with hole saw.
Here is a different install by baxteR, less stealthy, but a much more direct air flow.
Quote, originally posted by baxteR »
After the install I took her for a test drive and now she really enjoys the 35 degree temp.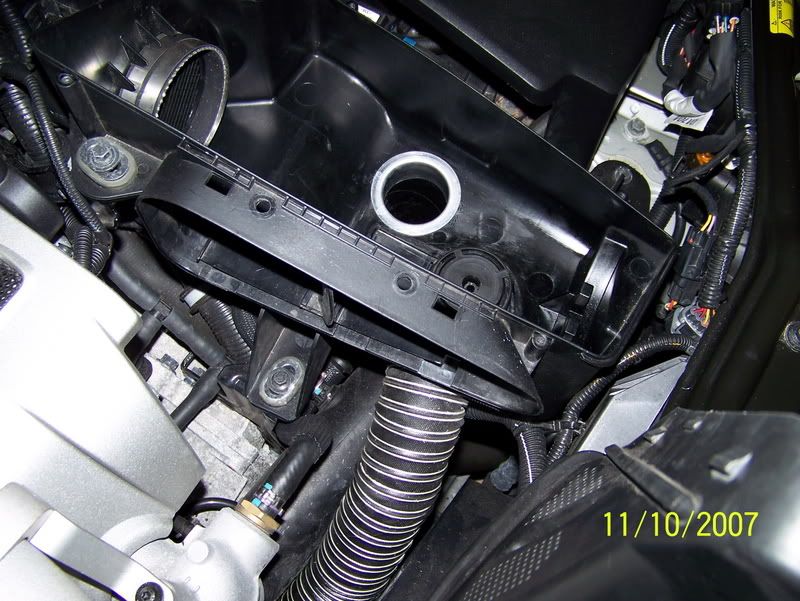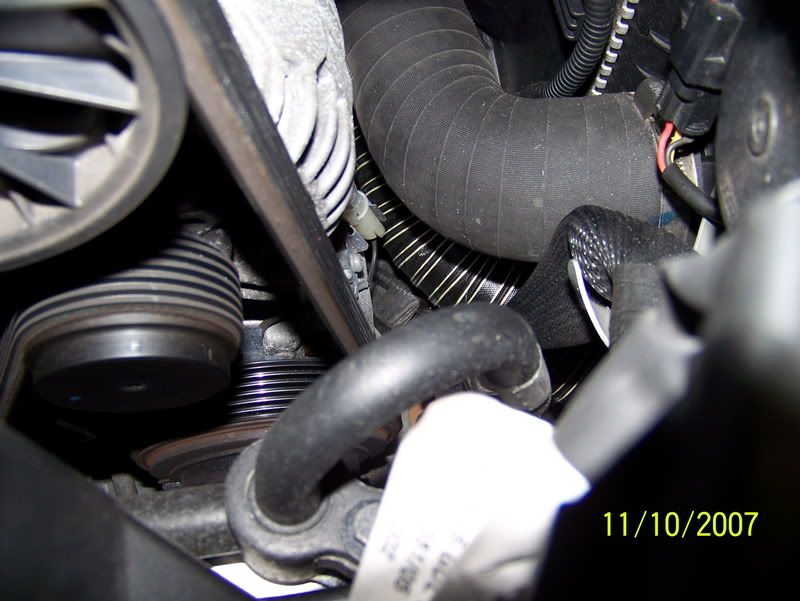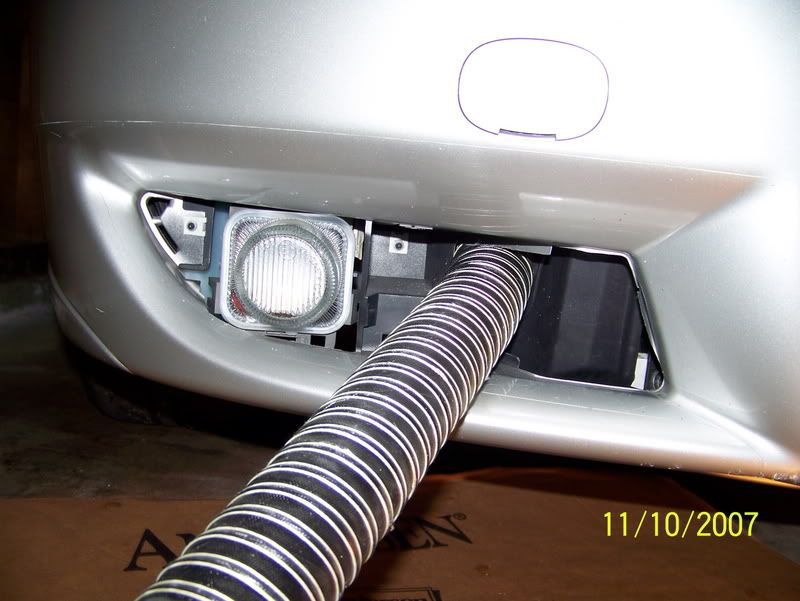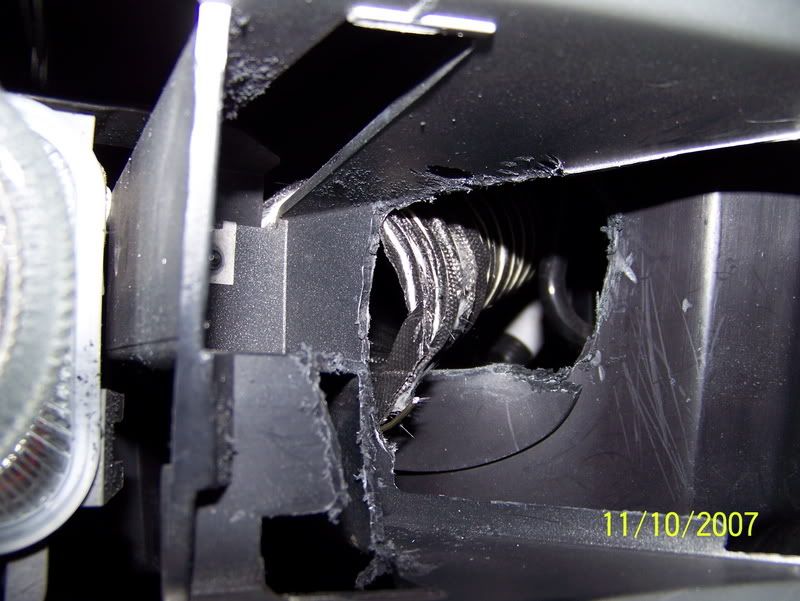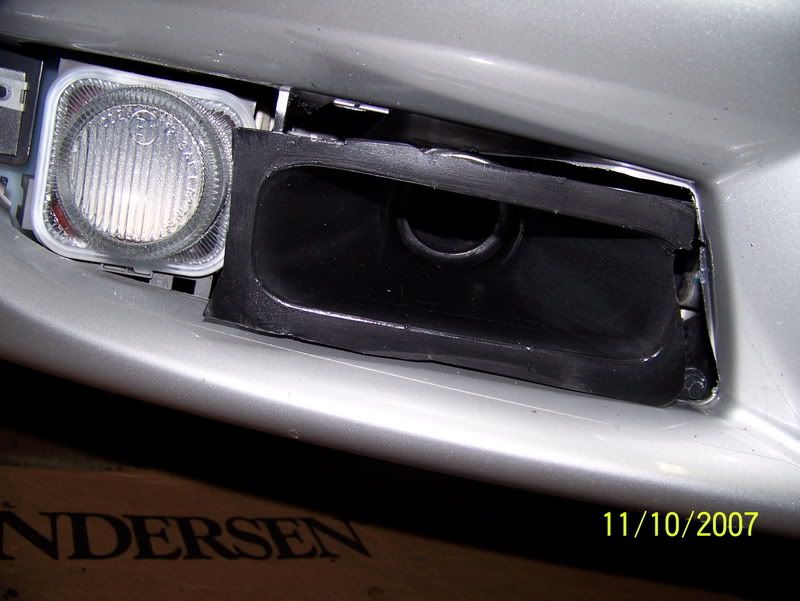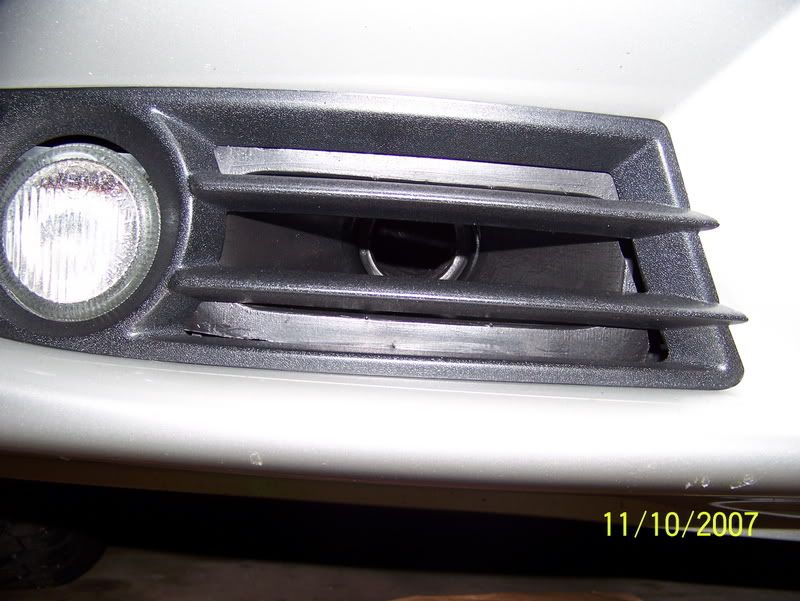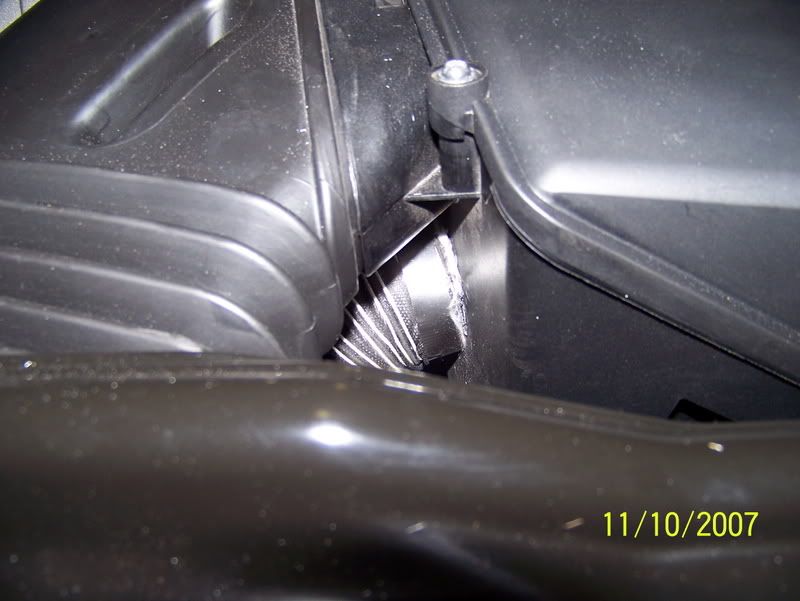 Here were the air pressure figures post filter reading from TCV feed (see details couple of pages back), read from left to right, coasting at 60mph, 50mph, 40mph, 30mph, 20mph. Three runs done with each configuration.
Ordering information found in Group Buy Thread
http://forums.swedespeed.com/zerothread?id=83377
Modified by "R" Kelly at 2:39 PM 11-18-2007