Discussion Starter
·
#1
·
Here's how I replaced the cabin air filter. It took me 60-70 minutes; this was the first time I did it. This was definitely designed for a right-hand drive vehicle! I removed my floormat, slid my driver's seat back all the way, and tilted my steering wheel up to give me all the room possible.
1. Go out and buy 3 M6-1.0 nuts to replace the gas pedal lock nuts with.
2. Torx 25 3-places, remove cover below steering column. Requires first popping off panel to its left (the one with the rubber air vent that touches the door) and the panel behind the radio screen (panel is about 12x8") first.
Disconnect the floor light wire and the other one up between the steering wheel and radio if you have it. I think that's for the interior temperature sensor, so you might not have it.
3. Remove the 3 bolts that hold the gas pedal to the firewall. One is at its bottom left, the other two are up top. I got at them with a 10mm deep socket 1/4" drive, u-joint, and 10-12" extension to a ratchet. You'll want the extension long enough to get your ratchet past the pedals. The lock nuts are the hardest part of this whole job. That's why you bought 3 non-lock nuts to replace them with, right?
4. Some say disconnect the gas pedal wires and remove the pedal. I didn't want to break the clips so I just zip-tied it to my clutch pedal to get it out of my way. It was still in my way a little bit, but it was manageable. If you know how to undo the clip, go for it, it will help a little.
5. Roll the carpet down a bit by the filter. Using a 7mm socket, remove the filter cover. Pull the filter out and watch leaves fall everywhere. Brush the edge of the filter compartment out with your fingers in case there's a little bit of gunk left.
Old filter coming out: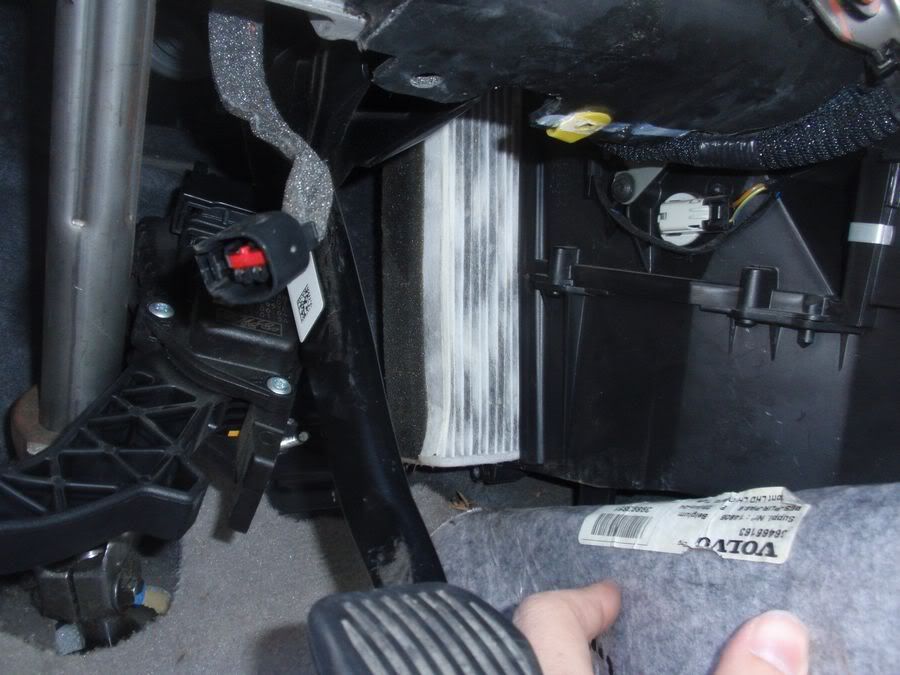 My carpet was clean when I started; this all came out of the filter/housing: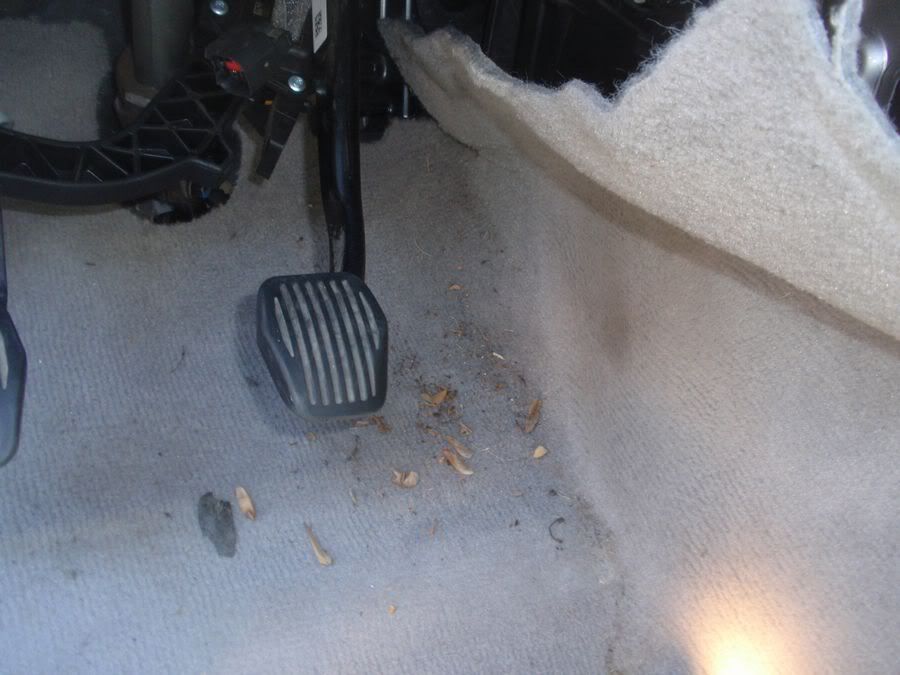 6. Put your new filter in. It requires some cajoling of the filter. Squish and bend it a bit; the corrugated design allows it. Once in, replace cover plate. From Tom: "The direction of the air flow is indicated on the top of the filter. Ensure that the filter is installed with the text side facing up and so that the arrows on the filter point straight back into the vehicle."
7. Reattach gas pedal with new non-lock nuts. Reassemble panel covers.
Some of the tools I used:
Modified by mattdoc at 6:10 PM 4-12-2009