Broinkrist's 2005 S60 T5 M66 with 4C
So I figured it is about time to start my own thread about my first Volvo.
I purchased the car in September of 2010.
Car was listed for sale here on swedespeed, but i purchased it from Volvo of Princeton, New Jersey. My best friend and his family had and still have a very good relationship with the dealer (purchased 4 vehicles from them over the years), so I had no worries about the price I was paying, or that I would be completely covered in the case of anything.
Car was previously owned by JoshV70, or
[email protected]
Seems like he never really drove the thing since when I purchased it, it only had 22,000 miles on it.
Listed for sale here:
http://forums.swedespeed.com/showthread.php?129052-2005-S60-T5-6-Speed-Manual-Body-Kit-4C-CPO-Warranty-located-in-NJ&p=1565212#post1565212
Summary of car specs:
2005 Volvo S60 T5, 6 Speed
4C Optional suspension (C/S)
CPO extended till Feb 2013 or 100,000 miles
Factory Lip Kit
Purchased at a hair over 22,000 miles.
So over the past 8 or so months, I have the car up to 37,000 miles now. Purchased a set of Blizzak LM-25 tires with generic tire-rack wheels, also found here on SS. All service has been performed on time either by myself, or Volvo of Princeton. Was in for Check Engine Lights twice, and both times went under the knife for warranty work, first time to replace the brake pedal position sensor, and the second time to replace the fuel pump.
Car has been great so far. I do have another car for the bad weather days, but I usually choose the Volvo because it is much more comfortable and enjoyable to drive in many ways than my Integra, which is just harsh all around.
As far as plans for the future, I pretty much just plan on driving it. The only real modifications I plan on doing in the near future is adding a boost gauge and ipd sway bars.
When the exhaust rusts away, I'll replace it with an EST downpipe and most likely make my own cat-back, with magnaflow mufflers and dual exits. But that is down the line. I also will be getting the ipd softloader with stage 2 tune, and am hoping to figure out a way to take the real-time datalogging feature and having it display those parameters in a more usable way, using the factory nav location for a screen for virtual gauges. It's a semi-tall order, I know, but I should be able to manage. If the 4C suspension goes, i'll probably keep it since it is nice to be able to switch between comfort and sport on the fly, although the KW Variant 2's have caught my eye...
A little about me, Engineer with a Bachelors and Masters in Mechanical Engineering from The Cooper Union. Spent several years specializing in the field of Automotive Engineering, mainly chassis and suspension design. Have my Master's thesis on chassis development for FSAE vehicles. I now work down in Princeton Junction at an Engineering firm that designs industrial gantry systems and other robotic scanning systems.
Anyway, the S60 has been great so far. I plan on keeping it for a while to come, taking care of it as well as I can, and hopefully it will last me for several years to come.
And some pictures to leave you with: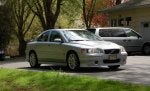 Comments/Criticisms welcome.