Let me set this up for you: For those of you not in the D/C Metro area, the Baltimore-Washington Parkway, a 30 mile, 2 lane in each direction straight shot parkway between, wonder of wonders, Baltimore and Washington, DC, is cut into a swath of dense trees and vegetation bordering both sides and is mostly unlit for a majority of the run. Because of this it is is also known for being one of the most treacherous highways in the region - doubly so at night.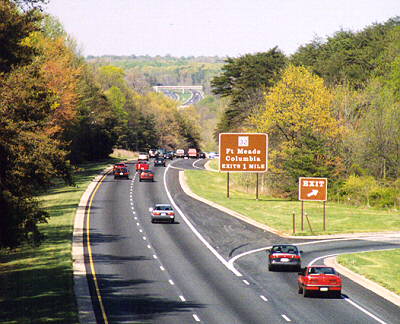 ​
Since it's a Federal Parkway for most of its length it is patrol mostly by U.S. Park Police, Special Police (where it passes by the NSA), and occasionally Maryland State Police in some sections - all agencies very limited enforcement.
What this translates to is a road that, that at night and especially on weekend nights, is used by drag racers - which results in dozens of crashes and fatalities, excessive speeders - which results in dozens of crashes and fatalities, and drunks leaving D.C. after games & partying en-route back to Maryland which results in several crashes and fatalities.
----------------------
So with the scene set, last Saturday night around 1am I'm coming from a friend's housewarming party. About halfway into my ride, I realize I'm closing in on a Cadillac ATS which is way underspeeding in the left lane - 10-15 miles under the limit. Typical sign of a drunk trying to 'safely' get home but standing out clear as day to anyone who knows this and also putting anyone else at risk who doesn't realize their closing speed.
I have a choice; I can either flash the highbeams, slow down and put myself at risk of being rear ended while I wait for drunky to realize they should be in the right, or change lanes, accelerate and get around him in the right lane.
Anyone who knows drunk drivers knows they are attracted to flashing lights like moths to a flame. This is why so many cop cars conducting traffic stops on highways are obliterated by impaired drivers. The strobing and flashing lights draws them in a like a control tower.
I elected to change lanes without using my signal. I check my mirrors, begin gliding over to the right while rolling on the gas pedal. About .5 second into my change my right BLIS light turns amber. I look at the mirror and don't see an.... sh*t(!). I yank the wheel back into the left lane and throw on the brakes slow my advance on the ATS. At that very moment I was making the change, a Hyundai with no headlights on blasts by in the right lane doing at least 85-90 (for reference the speed limit on the B/W is 50-55). Had it not been for BLIS, I'm certain I would have had 1/2 a Hyundai in my rear seat and most likely, given I was changing lanes, I would have been hit at an acute angle and spun me off into the woods possibly even flipping me one a tire dug into the soft ground or worse, thrown me into a tree.