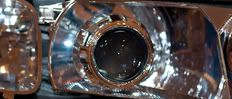 Bi-Xenon projector retrofit 01-04 S60
What I used:
Morimoto H1 4.1 kit from 'The Retrofit Source' with H7 canbus wire harness.
http://www.theretrofitsource.com/product_info.php?products_id=227
** quick note: the newer 6.0 version of the Morimoto mini projectors have a shorter stem, therefore the back of the H7 mount on the Volvo headlight needs to be cut down a bit to get the lock ring on. The 4.0/4.1/5.0 versions all fit without modification though. if you call TRS they may be able to supply you with the older version.
Summary:
Everything was plug and play, no cutting was required (but I did cut off an old dirty connector). The entire process can be reversed back to Halogen in the future if I sell my car.
No Bulb errors, no flickering, and everything worked on first try.
Notes:
1. The main beam (dipped beam) on an 01-04 car is an always on system. It does not run as a reduced voltage drl - so it works fine with the H7 canbus bow eliminator.
2. The beveled/fresnel lenses on 01-04 cars alter the beam pattern a little. Basically resulting in a slight curve on the top edge, and scattering the light a bit too. This is cured by replacing them with clear lenses (got mine from Eurosport tuning).
3. My H7 connectors were pretty corroded/dirty, so I cut them off and squeezed on new spade connectors ( $1.19 at auto parts store) -- this makes for solid contact and prevents any flickering (HID bulb flickering typically tends to be due to poor grounding)
4. Started after dinner and finished up at 11:30 p.m. -- so about 5hrs total including removing the bumper and reassembly at end.
Process:
1. Removed front cover from car and removed headlamp assemblies.
2. Removed bulbs and baked in oven at 130°C for seven minutes.
3. Removed lenses from the housings.
4. Removed H7 Halogen mounts from rear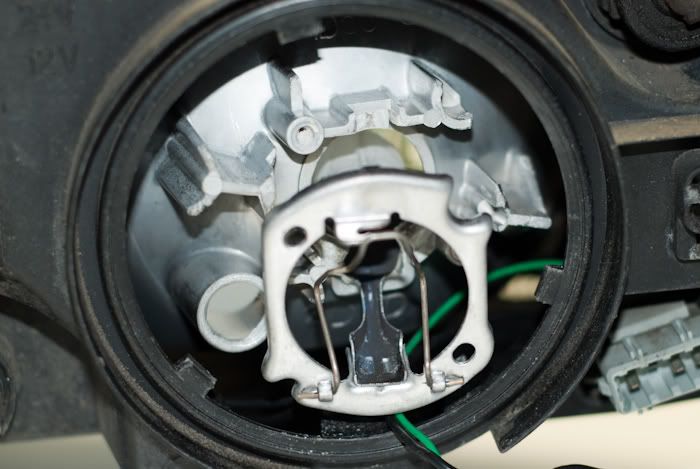 5. Inserted projector through opening and pulled through solenoid wires
6. Installed H7 adapter ring and retaining ring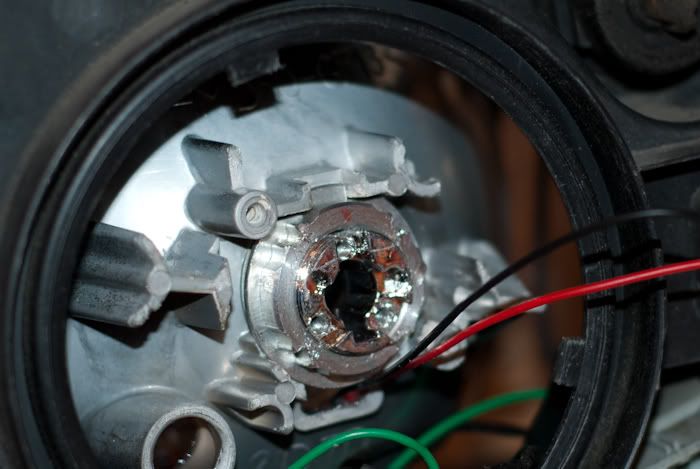 7. Test fit shroud
8. Cut bottom of shroud to give better clearance and fit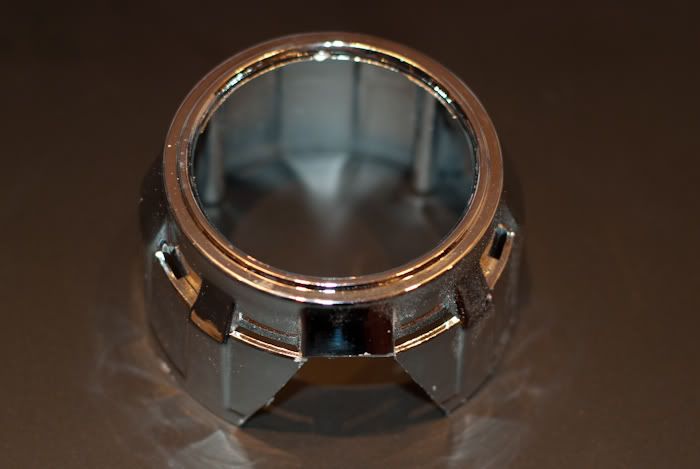 9. Installed shroud and headlight bezel, then put back in oven and rettached the outer lenses.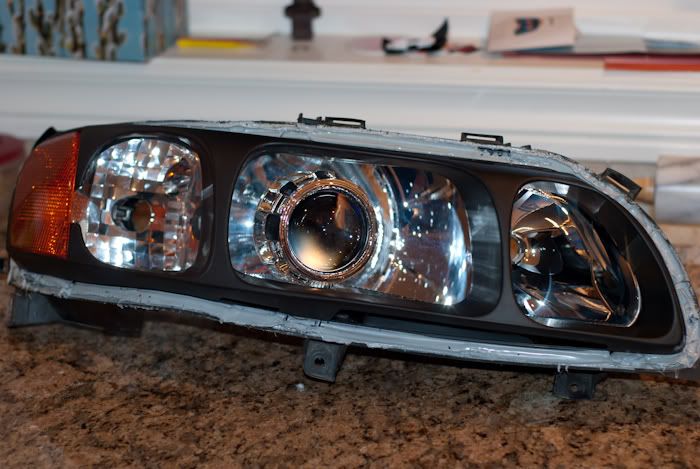 10. Attached Ballast and canbus harness to bottom of headlight assembly with industrial Velcro.
Connected harness wires to H7 and connected solenoid wires to high beam wires.
11. Tested functionality, including high beam. Reattached headlight assemblies to car.
Reattached front bumper cover.
12. Afterwards – used vertical adjusters to aim headlights to correct height.
Still to come:
Clear headlight assembly lenses >> the clear lenses have finally arrived, and are now installed.