I lowered my car last week, and it was sub optimal. So, I'm sharing what I've learned. I mean, it looked kind of great, but sadly, wasn't going to work for me.
Lowered: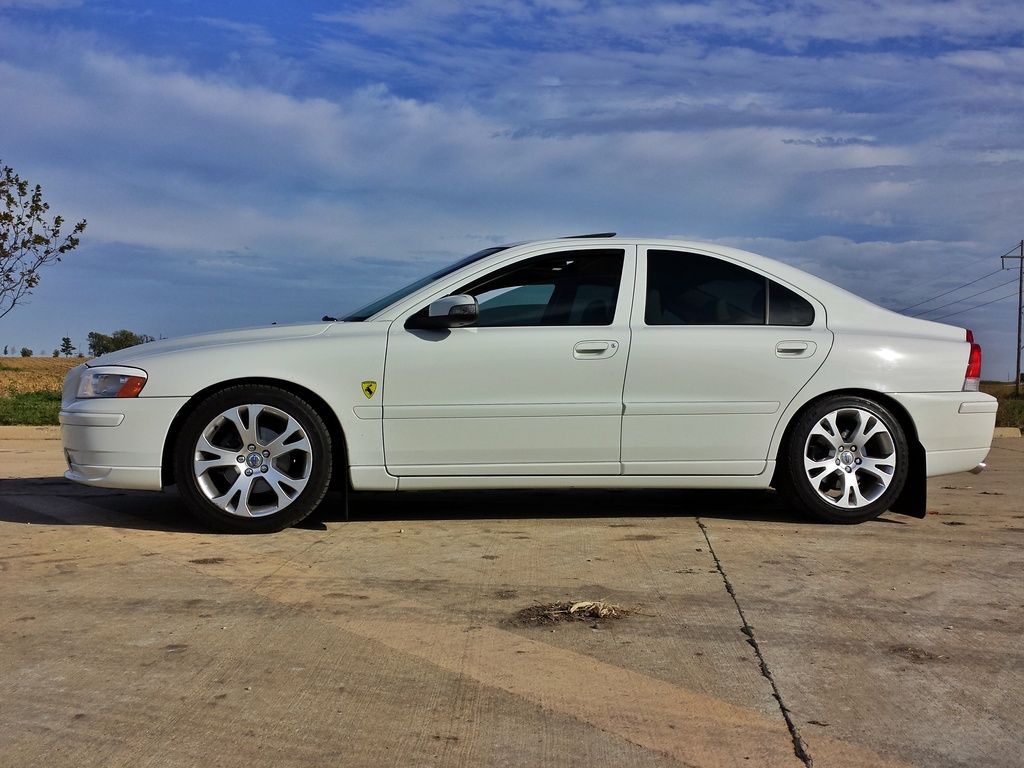 I currently own a 2009 s60 2.5t awd, and the car has about 54k miles on it, car's in great shape, still have a year of factory warranty left. I am not trying to dump a lot of money into extensive upgrades right now, got married last year, moved cross country, and planning a big honeymoon next year (with another big move on the horizon). So, as with past cars, I was hoping to drop lowering springs in and call it a day with a little negative rear camber (granted I've been looking into this for years, and have owned a few S60's).
I kept finding mixed information, so I tried the one simple drop spring option, the Eibach R springs (8434.14) on factory struts.
Here's the results of the height, OEM equipment measurement ((lowered measurement )):
- Ground to grill bottom 19.75" ((19.5"))
- Front wheel arch 26.25" ((25.5"))
- Rear wheel well 28.25" ((25.5"))
- Ground to bumper lip 24.75" ((21.5"))
And the alignment, Oem equipment ((lowered)):
- Rear left camber - 0.8 ((-3.1))
- Rear right camber -0.9 ((-3.4))
- Rear left toe 0.17 ((0.37))
- Rear right toe 0.17 ((0.31))
I'm only including the basic rear data, as that's the non adjustable end that will cause more issues. Common estimate at the alignment shop was 6k miles until tires were toast. (Factory specs call for - 1.3 to 0.7 degrees camber, and 0.0 to 0.2 degrees toe)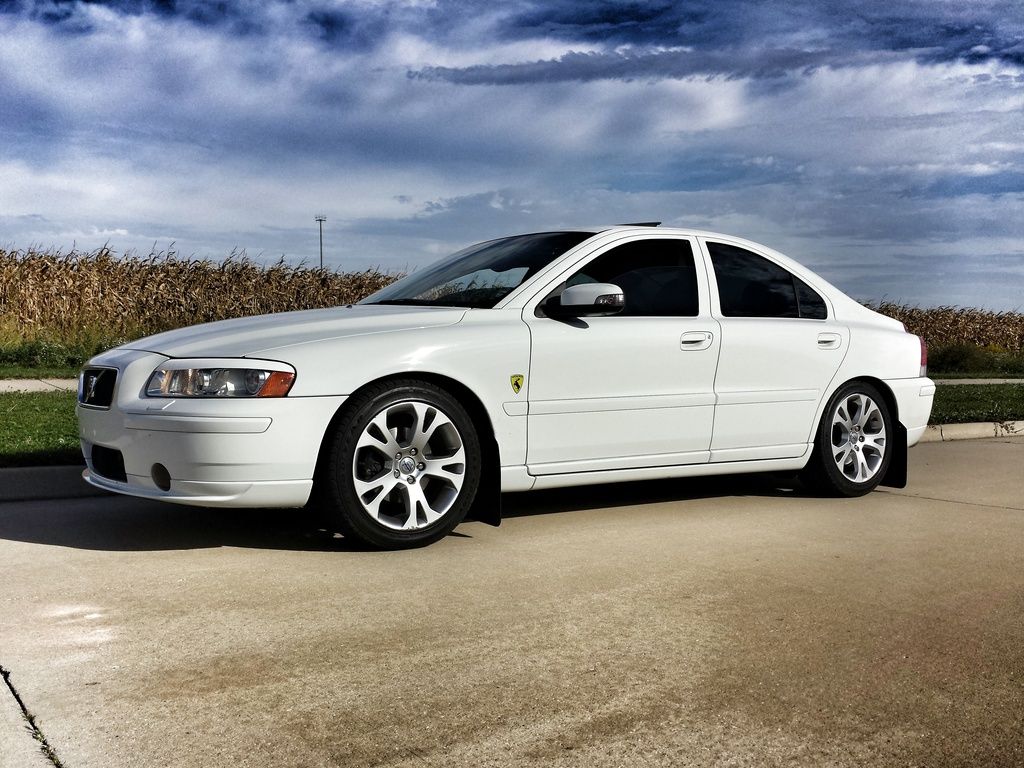 Oh, the camber
I chose to remove the Springs, put things back to factory, and pursue this at a later date.
Not lowered: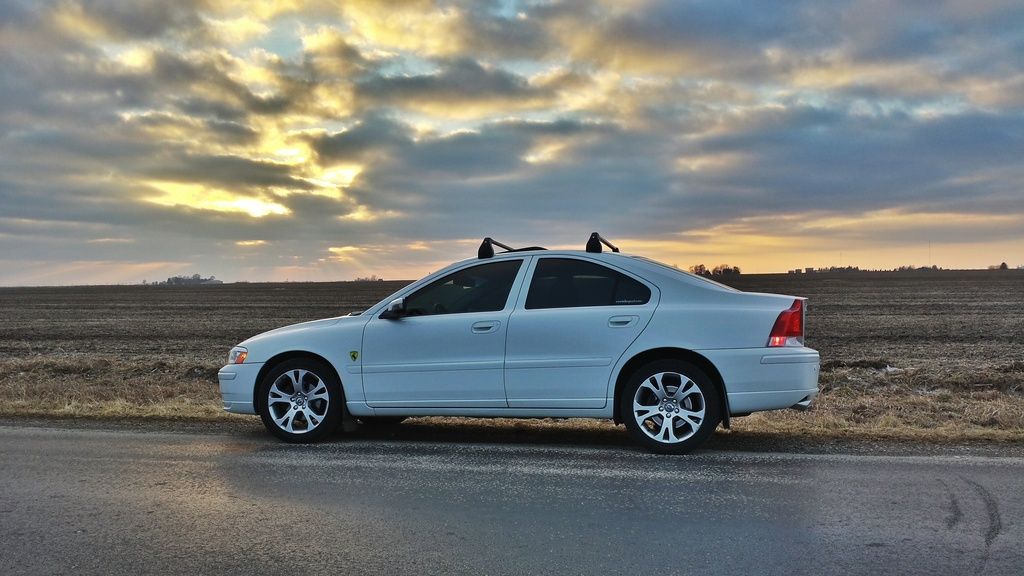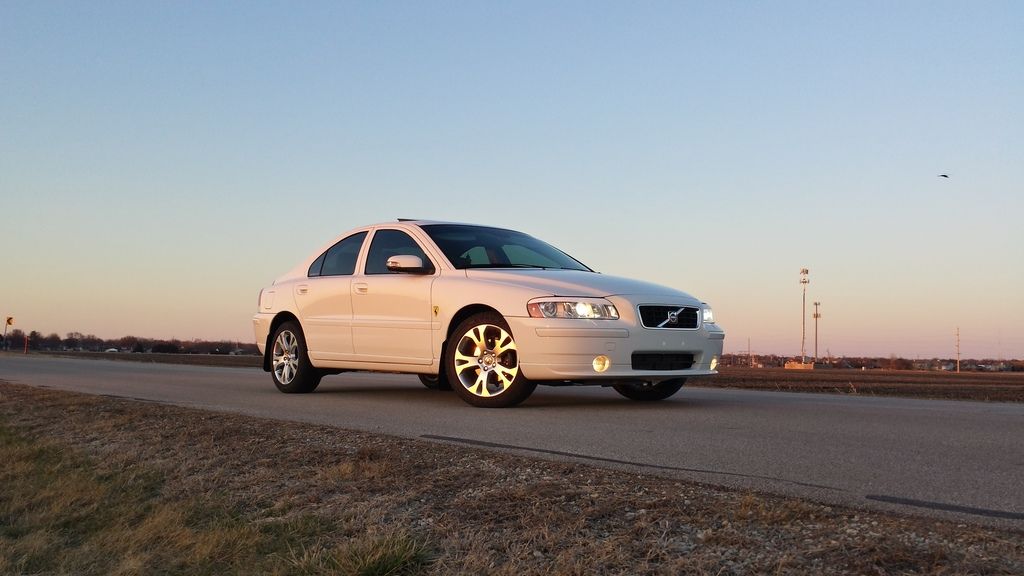 But since I made it here, and there have been a rash of new questions lately regarding some things, I'm sharing what I gathered. I am by no means an expert, but I've done some research, learned a few things, and very recently, played around a bit.
As always. Your mileage may vary.
Here in the US, we got 2 AWD variations for the P2 S60 (2001-2009), the R and the 2.4/5T. The R's have their own forum, I'm sticking to the non R's here.
We have 2 primary damper systems, standard struts or nivomats (
http://www.ipdusa.com/techtips/10024/what-are-nivomat-shocks-and-does-my-volvo-have-them
). I'm under the impression nivomats were much less common, but check it out before you start planning things. Everything here is for standard shocks, not nivomats.
I'm not touching struts here.
So, what options are there for Springs. All my research yielded 4 current options:
- Eibach pro kit #8434.14 (made for the R, nothing else)
- BC coilovers, kit ZG08
- KW coilovers, V1 (non adjustable)
- KW coilovers, V2 (adjustable)
- Scale Suspension Innovative Series (R&D pending? Eta unknown)
- CX Racing #*CO-B-Volvo-S60-AWD-0107-0512 (jeg5263)
http://www.cxracing.com/mm5/merchan...B-Volvo-S60-AWD-0107-0512&Category_Code=covol
____________
Discontinued options:
- Elevate Springs
- Volvo factory option sport springs (#?)
- Discontinued Eibach kit #8429.14 (the proper kit for the awd non R)
____________
In digging deeper, I've uncovered some POSSIBlLE alternatives that aren't on the radar. I have yet to test these, but there is a legitimate logic to them (I'm throwing these here for future reference):
- OEM front T5 Springs (lower than stock awd)
- OEM rear R Springs (non nivomat). In theory, these will bolt right on and give a slight lower stance in the rear. (I believe this has been done, waiting for pics from a friend on Facebook)
- And my favorite bastardization idea, OEM xc70 front Springs to lift the front a bit to match the rear.
The second 2 are based on the principle that the P2 chassis shares components, Springs are interchangeable. In THEORY, you can put oem XC70 Springs on for a lift, or oem R Springs on to lower a little bit (as always, pairing non nivomat to non nivomat).
Nothing new, but if you lower, and get bad camber and or toe, head over to IPD. They sell what's required to try and correct these numbers, an offset rear lower arm bushing that may get you 1.5-2 degrees of camber back (
http://www.ipdusa.com/products/5711/112394-rear-camber-bushing-kit
) and rear toe rods (
http://www.ipdusa.com/products/10249/121589-adjustable-rear-toe-rods
)
If you want long tire life and optimum tire performance, do it right and fix the rear.
Note, this rear bushing is pressed into the frame, so it's recommended to have a shop do it (didn't get quotes, but was estimated $150+) for this.
Also, because the rear bushing is going to pull the bottom of the tire inward, you may want/need spacers to push the wheel back out to the edge (maybe roll the fender too)
I've been trying to type and proof read this on my tablet, so if I've made a mistake someone call me out and I'll fix or remove.
Swapping Springs is potentially unsafe, always be careful and use proper tools.