Hello everyone
I'd like to introduce you myself and my 1992 Volvo 460SE. I'm form Poland and I bought my Volvo 3 years ago by accident
I was looking for a cheap car, good condition, A/C and LPG. The last thing was the most important because of fuel prices and because of car often use in the city. It was suppose to be as cheap in use as possible - no tuning planned at all...
So I bought this: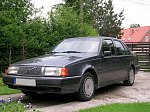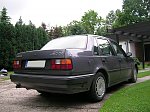 I hated the way it looks so I've made a few changes
(to make very long story short - final efect)
Main changes:
- Flip flop trunk lid
- Leather from 95-> version (probably will be changed to 2 color one)
- Flocked dashboard and door panels
- Alcantara/leather on pillars/tunnel etc.
- Car audio - Clarion, Infinity Kappa, Infinity Reference, JBL GTO, FLI, HW Energetic...
- 17" Wolfrace Katana + 205/40 Uniroyal Rainsport (will be changed to 16" + 195/45 and lowered)
There are many, many more bigger or smaller changes but I think that this overwiew is enough to show that 460 can look better