Discussion Starter
·
#1
·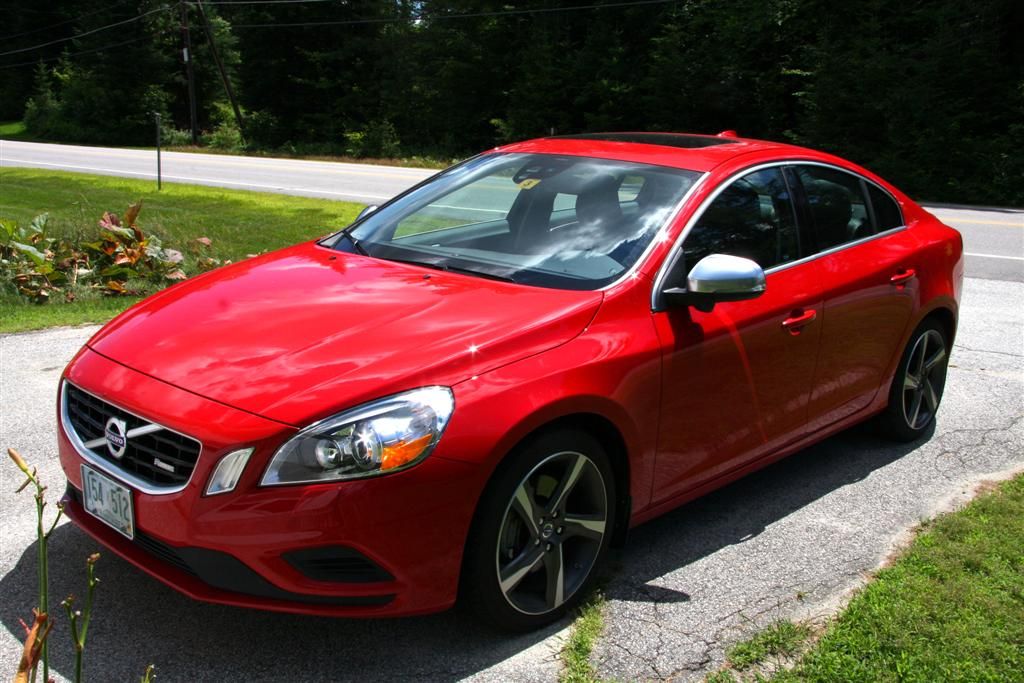 Finally hit the 5,000 mile mark on my 2012 S60 R-Design. It took me some time to get used to the way Volvo does things, especially compared to my last three Audi's. Now, after 5,000 miles in the car, everything has become "normal" and I am very comfortable in this car.
I have had absolutely no service issues at all. This car has been 100% trouble free to this point. It is free of rattles and squeaks, even over the roughest roads and broken surfaces. There are no water leaks, and almost no wind noise except in heavy crosswinds ... and even then it's very subdued.
At 1500 miles my right front fender got crunched while parked for ten minutes at a Connecticut rest area. My body shop replaced the fender, painted it off the car to avoid any masking seams, and matched the paint and orange peel perfectly.
One weekend, I had the car on a trip to a remote camp in northern New Hampshire. I spent over an hour on very poor, loose gravel logging roads. In spite of loose rocks, soft gravel, and blinding dust, the car got through unscathed. Traction on this crud was fantastic.
One winter on General Altimax snow tires proved how good the Haldex AWD system works on this vehicle. The car saw lots of snow, ice, and freezing rain. I never lost grip in even the worst driving conditions and the AWD performed seamlessly.
In spite of my earlier reservations, the car can comfortably seat 4 adults. I'm 6'3", and normally drive with the seat all the way back. If I pull my seat forward a bit, most adult passengers have no problem getting behind me. I have had rear seat passengers comment about how comfortable the rear seats are. Trunk space, while limited, has been adequate for anything I've had to stow. The folding rear seat backs are a big help with luggage.
I really like the adjustable steering. I have no idea who would ever use the light setting, but medium and heavy are really good. I prefer the heaviest setting and now just leave it there.
The inline six is an amazingly smooth and potent power plant. It's quiet, but does give off a nice growl when hammered. Acceleration is linear with no hint of turbo boost. It's fast.
When I first got the car, the ride in the R-D was, as expected, quite firm. Not uncomfortable, but certainly on the stiff side of ride control. At 5,000 miles, the ride has gotten softer. It's more than just getting used to it ... there is a difference that can be felt. Handling is the same, with minimal body roll and pitch, but there is noticeably more compliance over highway strips and pavement breaks. Even my wife has commented on this.
The headlights are excellent. Few of my local roads are lit, and the high beams light up reflective markers a long way off. No complaints at all.
Gas mileage has improved slowly over time. My starting averages were around 20mpg. That's now climbed to a 23.4mpg average on the car's computer. I know that the computer can be 1-2mpg optimistic, but it's still a valid comparison. I've yet to break 27mpg on any sustained highway driving, but level roads don't exist up here.
I do get many unsolicited compliments on the car and the Passion Red color. I hear "That's a Volvo?" a lot. My last Audi A4 never attracted much attention ... except for the LED light display under the headlights.
To this point, the car has been flawless and really enjoyable to drive. This is my first Volvo and I am quite impressed with the build quality and the practicality of the car. I miss my Audi less and less each day.