See "The Full Fred Thread" for the complete history of this car.
Price listed is Reserve Price in Ebay Motors Listing: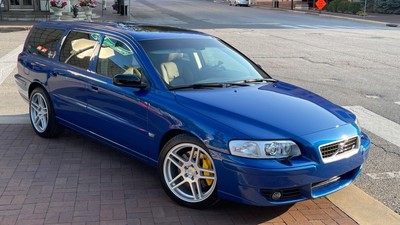 Find many great new & used options and get the best deals for 2006 Volvo V70 at the best online prices at eBay! Free shipping for many products!
Complete Repair History and Picture Portfolio Available on Request
2006 Volvo V70R (1 of 823) sold in US. Fully restored.Miles: 45,600 May be lowest mileage V70R in US. This Volvo has been completely restored to perfection, including: Doors off, windows out, strip and repainting in Sonic Blue (Volvo Paint Code 470 ) Custom Paint of Brembo Calipers and Engine Covers. New Leather Interior in Chocolate Brown. New Carpets and all Weather mats. Refinished 18" VST R Wheels, Custom Exhaust Downpipe, dual exhaust, Borla PRO XS 3 Inch Muffler 304 SS Tubing. Full Stage 0 Mechanical Including: * New Timing Belt * Brake Fluid Change* 4 Wheel Alignment* Engine Mounts Replaced * Fuel Filter Replace* Air Filter Replaced New Michelin AS/3 Sport Tires with 45K Mile Warranty * Update software * Replace spark plugs * Replace Battery * Cooling system flush and coolant replace * Replace thermostat * Radiator hose * Pressure test * Brake fluid flush(Dot 4) * Replace Upper Engine mount (Volvo)* Volvo PVC kit * New 4C front struts * New 4C rear struts * Replaced both Front and Rear w IPD Track Spec Anti Sway Bars * Replaced Front Lower Control Arms (IPD HD) * Replaced IPD HD endlink kit (all corners) * Replaced all subframe bushings (Volvo) * Installed Snabb Upper Charge Pipe Kit (FCP Euro) Performance Upgrades DO88 Intercooler Install Install New Air Mass Meter Install New Radiator Install Blue Coolant Install Hilton Custom Tune (2.0)Oil and Filter Change (5-30 AMSOIL) Adjust Headlight Wiper Adjust Headlights Wiring Cleanup Roof Trim pieces from 515 parts carCustom Exhaust Downpipe, dual exhaust, etcInstall Borla PRO XS 3 Inch Muffler304 SS Tubing Headlight Wiper Motor, Air Mass Meter Boot, Replace Boost Pressure Sensor, MAP sensorMass Air Flow Sensor w housing. Includes Dog Grate. Includes Custom embroidered Volvo V70R Car Cover. * Feynlab Heal Lite Ceramic Coating with Overcoat (for Gloss)* Expel Ultimate Plus PPF on bumpers, full hood and front quarter panels * Window Tint to 35 on rear doors and rear cargo areas * Ceramic Coating on wheels and Calipers * Engine bay detail and plastic protection * All rubber and plastic treated with appropriate protections * Interior Clean, Zymol Leather conditioner on all new leathers
As noted in listing, car has rebuilt/ salvage title.