Discussion Starter
·
#1
·
I've had two sets of tires wear oddly the last few years. It's like a cupping all across the tire on all four tires.
Shortly after putting on the first set of tires (Yokohama) and seeing the odd wear, I had the rear shocks replaced with Volvo parts. It didn't seem to have much affect. The front struts were replaced after getting the second set of tires (Continental Extreme DWS). Still no affect even though the wear looks like what I've seen on cars with bad shocks.
I've had the car at a local Volvo specialist and the nearby dealer, but they cannot suggest what the issue is. I've also had the tires road force balanced. Unfortunately, nothing has helped. The ride is terrible, especially when cold until things warm up, then it's just bad.
As winter is prepping to set in, I am now looking at a third set of tires. Before doing so though, I really want to figure out the odd wear and poor ride.
The wear was really pronounced when the tires were newer. Now that they are getting pretty worn, the issue doesn't show in pictures very well. So I added some exagerrated lines to the photo as illustration.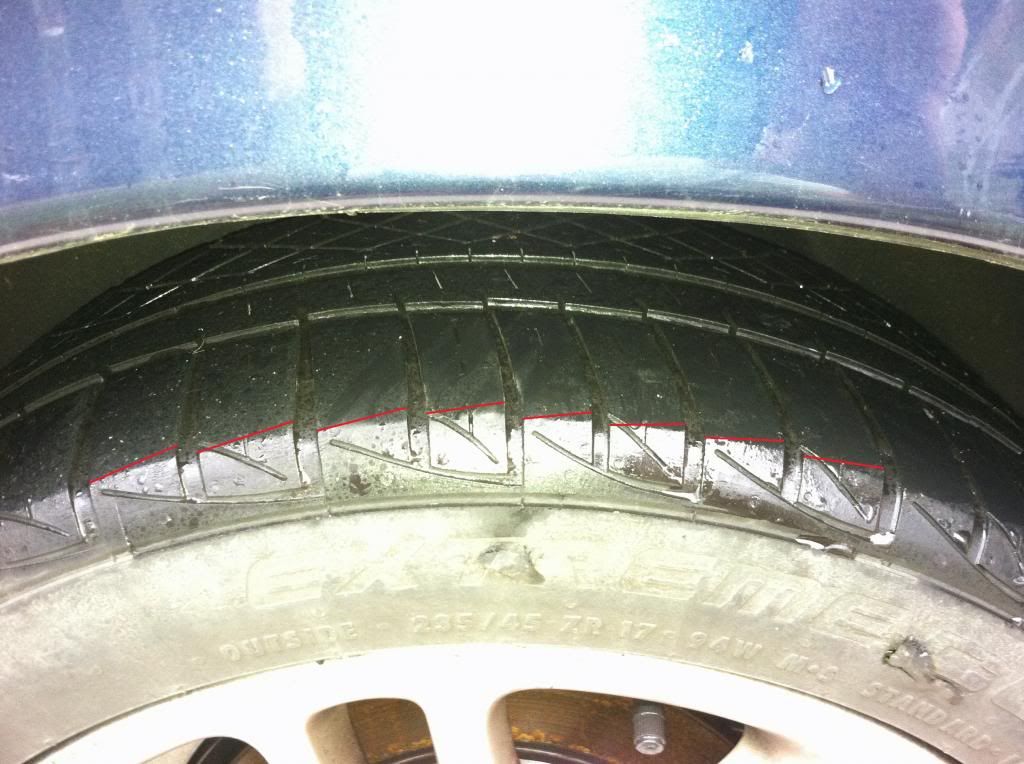 I can still feel the odd wear pattern when running my hand across the tires.
Can anyone make suggestions as to what's up?
The car is a stock '04 v70 t5 auto with 198K miles.